Latest News
News Media Updates on Shooting in Sterling, Va.
September 6, 2015
The published accounts have more details being provided than the official reports.
The sheriff has charged two attackers with crimes due to their illegal alien status.
From the Sheriff directly:
Two other suspects, Henry Ernesto Dominguez Vasquez, 20, and Juan Moises Aguirre Zelaya, 18, both of Sterling, have been charged with possession of a firearm by a person who is not a citizen of the United States and accessory after the fact.
Here are some of the published reports:
PARTIAL TIMELINE OF THREE DAYS OF LOUDOUN EVENTS
THESE ARE THE DELGAUDIO REPORTS SENT OUT FRIDAY AND SATURDAY (LATEST FIRST)
I visited the scene of the shooting first thing Friday morning within 5 minutes of being called.
Due to the volume of reports, I have posted reports as I get them and am writing you now. The victim has passed away, sadly. But the 3 suspects are in custody and are being held without bond.
Here are some of the reports with the latest report being posted first and the oldest being posted last.
Update: More details--Three Suspects Charged in Connection with Homicide of 17-year-old from Sterling
3 Suspects In Custody Over Shooting in Sterling, Victim's name revealed
Update:Sheriff on Scene of Shooting E. Cornell Drive and N. Duke Drive Sterling
Shooting in Sterling, Pembrook Area, Command Staff on hand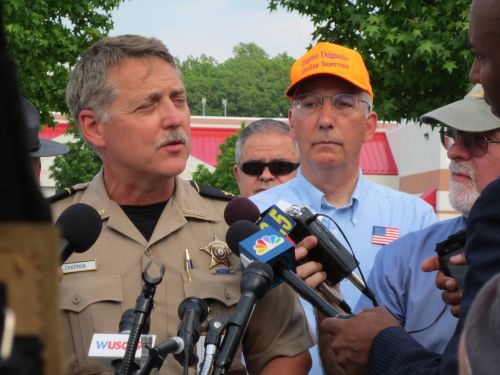 Sunday September 6
OFFICIAL RECORD HERE
The Sheriff's office announced the arrest of Shawn Williams here in an official statement.
http://sheriff.loudoun.gov/CivicAlerts.aspx?AID=641
"Loudoun County Board of Supervisor Shawn M. Williams, 44, was charged this morning with simple assault and unlawful entry, both misdemeanors.
Loudoun County Sheriff's Deputies were called to the 21800 block of Wingfoot Court in Ashburn, VA, around 1AM for a report of a male subject who pushed his way into a neighbor's home and pushed the victim during a dispute.
Williams was taken to the Loudoun County Adult Detention Center and will be released later today."
Chairman York and later Shawn Williams posted statements on the Loudoun dot gov official website.
Williams Resigned according to this public statement posted on the goverment website.
http://loudoun.gov/CivicAlerts.aspx?AID=2837
http://joineugene.com/news/article.php?article=10294
NEWS ARTICLES FOLLOW
Shawn Williams has resigned his post as the Broad Run representative on the Loudoun County Board of Supervisors following an early Sunday arrest for simple assault and unlawful entry.
http://www.loudountimes.com/news/article/broad_run_supervisor_arrested_for_simple_assault_unlawful_entry898

LTM(After Delgaudio and others demand)
Loudoun Chairman Scott York drops Williams as campaign treasurer
http://www.loudountimes.com/news/article/loudoun_chairman_scott_york_drops_williams_as_campaign_treasurer432