Latest News
Sterling Supervisor Delgaudio Invites you to 2 Sheriff Briefings Thursday Jan. 29 2015
January 13, 2015
Coffee with the Sheriff- Mug N' Muffin
I visited with the owner of Mug and Muffin in Stone Ridge and sampled
some of his hot chocolate with Virginia Delegate David Ramadan.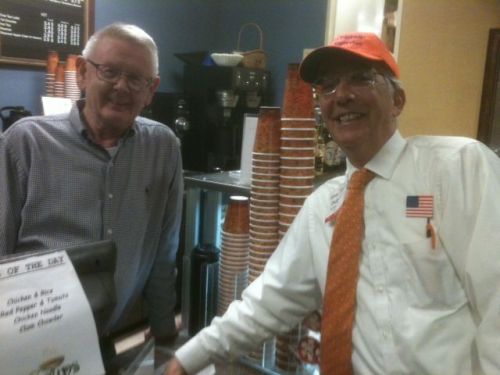 January 29, 9:00 AM?-?11:00 AM @ Mug N' Muffin
Join Loudoun Sheriff Mike Chapman to discuss public safety issues facing the county, specifically the Dulles South area, and other topics of interest. Loudoun residents are encouraged to attend and provide any comments or concerns regarding public safety and the Loudoun County Sheriff's Office. Mug and Muffin is termed "The best coffee house in Loudoun" and will provide free cofee and scones.
Date January 29, 2015
Time: 9:00 AM-11:00 AM
Location:
Mug N' Muffin
Address:
42020 VIllage Center Plaza
Stone Ridge, VA
Invite Friends
Coffee with the Sheriff- Mug N' Muffin
Eastern Loudoun Station Quarterly Meeting
Thursday January 29, 7:00 PM-9:00 PM @ Eastern Loudoun Station
Items to be discussed are recent crime and crime trends in your area, traffic safety concerns and other public safety related issues. The meeting will be led by a Loudoun County Sheriff's Office station commander.
Date Thursday January 29, 2015
Time: 7:00 PM-9:00 PM
Location:Eastern Loudoun Station
Address: 46620 East Frederick Drive
Sterling, VA
Invite Friends Eastern Loudoun Station Quarterly Meeting