Latest News
Governor McDonnell Announces Agreement to Create New State Park in Loudoun County 600 Acre Private Donation Applauded by Delgaudio, Local and State Officials
January 13, 2014
Governor McDonnell Announces Agreement to Create New State Park in Loudoun County
600 Acre Private Donation Applauded by Delgaudio, Local and State Officials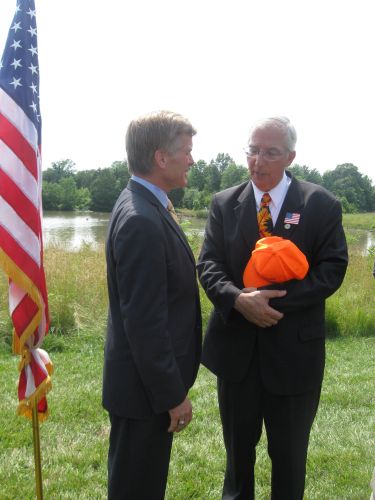 RICHMOND - Governor Bob McDonnell announced that his administration has reached an agreement that will result in a 600-acre state park in Loudoun County.
"Thanks to the generosity of several outstanding Virginians, the state will be able to add a scenic new park to its award winning state park system," Governor McDonnell said. "I want to commend Robert and Dee Leggett, whose foundation acquired land that became the Blue Ridge Center for Environmental Stewardship in Loudoun County and will benefit future generations as a Virginia State Park."
Located in Western Loudoun County, the Old Dominion Land Conservancy of Purcellville has reached an agreement with the Department of Conservation and Recreation to donate 600 acres of woodlands and pasture to the Commonwealth for development of a state park. The conservancy received the land from the Leggett Foundation. The property includes historic farmsteads, deep woods and wildflower meadows, and borders the Appalachian Trail. Much of the land witnessed action of Mosby's Rangers and others during the Civil War.
"Through the work of the Leggett Foundation and now the Old Dominion Land Conservancy, lands of both natural and historic significance have been preserved in an area of the state where such lands are rapidly disappearing," said McDonnell. "Because of their most recent efforts many of these lands will be available to future generations as a Virginia State Park."
The ODLC has signed agreements with the Commonwealth to donate the land for use as a state park. The transaction giving the Commonwealth final ownership is expected to close later this year.
"This is an exciting development that will benefit Virginians and visitors to Virginia forever," said Virginia Secretary of Natural Resource Doug Domenech. "Having lived in Loudoun County for 16 years, I know firsthand how important this Park will be to many individuals, organizations, and officials in Loudoun County."
"I want to thank Secretary Domenech and the staff at State Parks, the Department of Conservation and Recreation, and the Governor for all their work to make this happen," said Bob Leggett. "I have enjoyed this land for a long time and now I am pleased to share it with the people of the state."
Sterling Supervisor Eugene Delgaudio said "Sterling has been fortunate with the donation of land for Claude Moore Park and now another large gift for park land for Western Loudoun represents land that the county government does not have to use county tax dollars to purchase for its residents."
Delegate Dave LaRock, who represents the district in which the parkland is located, said "I'm excited about this new parkland being made available and thankful for the Leggett's generosity and Governor McDonnell and Secretary Domenech's efforts to bring this to pass. This Park will be a great addition to Western Loudoun's already-vibrant winery and tourism industries."
"As a Loudoun County Scoutmaster, I have had the opportunity to spend many campout weekends at the Blue Ridge Center for Environmental Stewardship enjoying its wonderful and scenic attributes," said Delegate Randy Minchew (R-10th). "Now, as our newest Virginia State Park, this land will provide our citizens with both active and passive recreation opportunities and an beautiful venue for conservation education and environmental stewardship training. As a member of the Virginia House of Delegates, I join Governor McDonnell and Secretary Domenech in thanking Bob and Dee Leggett for their generosity and leadership."
"As a lifelong outdoorsman who grew up in the Everglades of Florida, I have a fine appreciation for State Parks," said Dick Black, Senator of Virginia's 13th District. "I want to thank Governor McDonnell and Robert and Dee Leggett for their fine work in acquiring such a beautiful tract of land for public enjoyment. Such a beautiful addition to our state park system will certainly add to the tourism industry in Northern Virginia."
"The significance of this new state park is immense. This park will be a jewel to Loudoun County, the Commonwealth of Virginia and the Nation" said Supervisor Geary M. Higgins, Loudoun County Board of Supervisors. "From a historical perspective alone, Governor McDonnell has preserved a considerable piece of history as this land includes the route Mosby's Rangers took to attack the federal camp of Cole's Cavalry one-hundred and fifty years ago on January 10, 1864. I commend Governor McDonnell and Secretary Domenech for the foresight to create this park that will be enjoyed not only by residents of Loudoun County but by many future generations."