Latest News
TICONDEROGA FARMS JOIN SUPERVISOR DELGAUDIO AND SNOWS CALL TO SUPPORT
January 30, 2004
Peter RQ Knop, President of Ticonderoga Farms pledged \$2,000 to the Good
Shepherd Alliance on Thursday afternoon at the Good Shepherd Alliance's
Homeless Drop-In Center. Mr. Knop stated "Given this particularly extreme
and cold weather, Supervisors Steve Snow and Eugene Delgaudio made it clear
to business leaders in the community that it is imperative that we join
together to fund organizations like the Good Shepherd Alliance, who provide
a necessary service to those in need. We encourage others to follow their
lead."
This is the second recent public call from a local business leader to come
together and join hands with the Good Shepherd Alliance (GSA) in its work
to support the homeless and those living in poverty. In December,
Loudoun-based technology firm SER Solutions donated funds to support the
GSA; Loudoun's oldest organization dedicated to homelessness and
poverty. In a recent report issued by the Good Shepherd Alliance, a study
showed that a donation of one dollar to the Good Shepherd Alliance would
benefit the Loudoun community over time by over \$171 dollars. Good
Shepherd Alliance Executive Director John Brothers states Ticonderoga Farms
is joining a growing group of Loudoun business leaders who are starting to
realize that an investment in the Good Shepherd Alliance is a long-term
investment in their community and businesses. We salute Supervisor
Delgaudio and Snow for fostering this innovative partnership".
Ticonderoga Farms (TFI) is one of the largest remaining operating farms in
Loudoun County, specializing as a wholesale conifer nursery. The Farm
supports outdoor recreational activities throughout the year for boy scout
troops, various day schools and youth and church groups. TFI offers
hiking, camping, picnicking, hay rides and it's annual Christmas tree
festival brought an estimated 14,000 visitors to the farm.
The Good Shepherd Alliance has been working in the Northern Virginia
community since 1983 and currently provides emergency assistance to the
homeless and those living in poverty. Recently the Good Shepherd Alliance
has received national recognition and media attention for the opening of
its Street Outreach Program and its Homeless Drop-In Center, which will
help those living on the street with services including shower and laundry
facilities. The Good Shepherd Alliance is looking to form community
partnerships with local groups or individuals interested in helping the
homeless and those living in poverty.
For more information call (703) 433-2631 or on the web:
www.loudounhomeless.org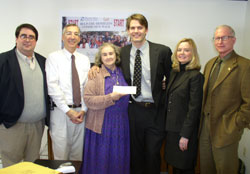 (LEFT TO RIGHT), GSA EX. DIR. JOHN BROTHERS, SUPERVISOR DELGAUDIO, GSA PRES. JOYCE TRICKETT, PETER KNOP, KRISTEN KALINA, SUPERVISOR SNOW.