Latest News
MUST ATTEND EVENT: DAVID LAROCK'S PETER PARTY-- NEW DATE WED. APRIL 7
March 27, 2021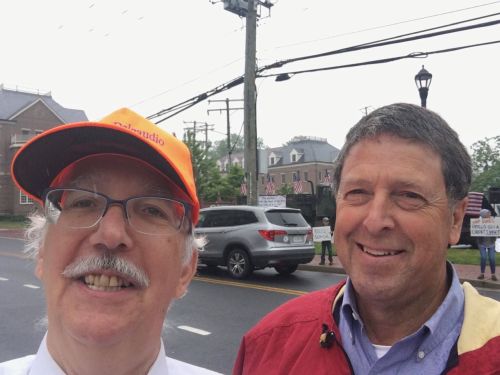 I have been busy helping conservatives everywhere or defending us all from liberals.
I have some major court victories slapping down wrongdoing LATER in this message.
The New York Times, leftist People for the UnAmerican Way, and democrat blue virginia attack me this past week so you should feel confident I am still advancing against liberal hordes.
I thank all patriots for all you do. You elected me National Convention Delegate and I know each
of you (MOST OF YOU) work harder than anyone I know against impossible odds here in the tenth Congressional District.
APRIL 1 ANNOUNCED EVENT MOVED TO APRIL 7
You R Invited to Peter Party at David's house April 7

NEW DATE FOR PETER SNYDER PARTY is April 7, with Eugene Delgaudio and Senator Dick Black, Commissioner of the Revenue Bob Wertz, Loudoun County Treasurer Roger Zurn, Michelle Staton, Callie Chaplow, Rachel Estrada and Joanne and Delegate Dave LaRock AS HOST at their home.
You are Invited to a Pete Snyder for Governor Meet and Greet next Wednesday April 7.
I have known Pete Snyder for 20 years. I have seen or witnessed his maximum legal personal donations to Donald Trump, the RNC, the RPV and many federal and local candidates for 20 years.
Pete has worked with me in party office or public office without exception for 20 years. Peter has helped me and thousands selflessly without regard to his own "political benefit". I watched him raise and donate $35 million to 2500 companies to pay their debts during COVID. This is a true leader that Virginia needs.
Join me and see for yourself. I know it is a tough decision as it is a crowded race.
Wednesday, April 7, from 6:00pm-8:00pm at the home of
Home of Delegate Dave LaRock
16017 Hampton Road Hamilton, VA 20158
You can also please encourage conservative David LaRock too as he has been under heavy assault from the liberal media, the local radical socialist race baiters on the Board of Supervisors and occupying Leesburg government buildings. Thank you.
This year, in order to be eligible to vote in the Republican Primary, we have to register in advance to be a delegate. Those forms will be on hand and people will be there to assist with any questions about the process, the mechanics of voting and how to get involved.
Numerous elected officials will be on hand and snacks will be provided. I hope you'll join us! RSVPs are not required but appreciated at: [email protected]

(following is not authorized by any candidate and is posted as a public policy position)
DISGUSTING CANDIDATE GLENN YOUNGKIN
Glenn Youngkin is a name you've probably not heard of before.
But disgustingly, there are many in the Virginia Republican Party who are promoting him as the next "conservative" candidate for governor in our state.
And with just two statewide races in the entire country, Virginia is being closely watched by experts and insiders as an indicator of how the nation will go in 2022.
So why I am I disgusted by the candidacy of Youngkin?
Because he is an unapologetic fundraiser for the Southern Poverty Law Center (SPLC), as co-CEO of the Liberal Establishment lobby group Carlyle Group.
The Carlyle Group has also hosted Hillary Clinton for a speech, paying her $200,000 for the privilege.
That's the very same SPLC that has put me, my family, my staff and 100s of other Christians on their Hate Map...


JUDGE ORDERS CDC TO SURRENDER EVIDENCE IN "Delgaudio Vs. CDC"
The smoking gun proof that the CDC lies was turned over to our lawyers recently with the discovery of an email in which a federal auditor agrees with me that the CDC improperly used over $10 million in taxpayer funds meant for fighting COVID, counter to Trump Administration and Congressional mandates, for pro-homosexual propaganda campaigns.
You may recall that years long legal battle that I have reported to you about. We have been continuing to work with a federal judge and the CDC has taken months to comply but the latest is that a federal auditor agrees with me that funds were abused.
Complete, updated report on how the CDC lies to Congress today, and throughout the Trump Administration here.
Judge Orders FBI to Reveal Evidence of Abuse of Catholic Church
The influential Western Journal published a 3500 word expose on my group Public Advocate's FOIA DOJ Documents That Show Jaw-Dropping Truth on Child Sex Abuse
Our two-year investigation has proven that the FBI and Department of Justice have turned a blind-eye to institutional child molestation almost everywhere while fixating on the Catholic Church.

The Church has faced undue judgements, while other institutions, such as our nation's public school system, foster care systems or even other religions are allowed to sweep their own cases -- which number many magnitudes greater -- under the rug without any federal investigation.
The national complacency to pedophilia and child molestation must be stopped!
Full details here on my 2 year court battle to prove corruption.
KRISTI NOEM, TRAITOR RHINO GOVERNOR, ABANDONS ALL OF US TO APPEASE LIBERALS
(Note: Noem is coming to Virginia to advance her national reputation. This message is directly relevant to all Virginians)
When it comes to predicting political betrayals, I often hate being right.
Weeks ago I wrote you about the multi-state effort to nullify Joe Biden's "transgender sports" assault on girls' athletics.
Several states, including South Dakota, seemed guaranteed to sign their own Stop Trans Sports bills.
But I warned you, that it's never over till it's over.
I stressed that even governors who have promised to sign a bill, "can still get cold feet."
Well no one's feet are colder right now than Kristi Noem, governor of South Dakota.
Despite her promise to sign the Stop Trans Sports Bill into law, Kristi Noem caved to pressure from the Homosexual Lobby as soon as it hit her desk.