Latest News
Merry Christmas, Seasons Greetings, Big Drug Bust
December 25, 2015
MERRY CHRISTMAS
SEASONS GREETINGS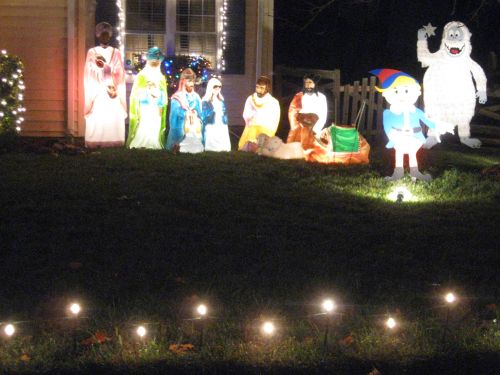 Another Sterling Christmas Success Story: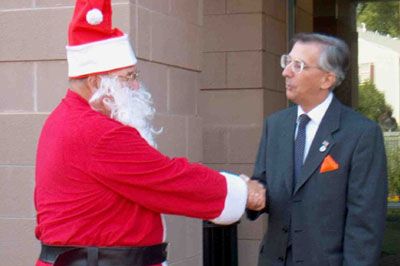 (correction: we are over 3,000 this year)
JUNIPER IN STERLING GETS RECOGNITION WORLDWIDE AND
IN THE CURRENT EDITION OF THE LOUDOUN TIMES MIRROR (CLICK ON LINK)
ALONG WITH OTHER LOCAL LISTINGS OF LIGHTS
With some Star Wars Celebrities Tonight AGAIN for 3rd visit to see Star Wars!
SANTA IN THE BOARD OF SUPERVISORS MEETING ROOM: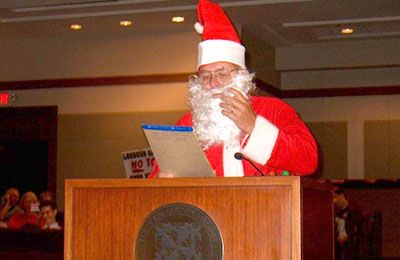 THANK YOU SHERIFF
Law enforcement on Monday seized nearly $900,000 worth of packaged marijuana after they received intelligence of a shipment coming into Loudoun.

The bust, according to the Loudoun County Sheriff's Office, is the second largest drug seizure this year.

Loudoun deputies, working in conjunction with the Drug Enforcement Agency, stopped the driver of a rental truck in the area of Old Ox Road and Route 267 in Sterling shortly before 10 a.m. Monday.

Law enforcement arrested Bryant W. Denison, 54, of Petaluma, Calif., during the traffic stop and charged him with possession with intent to distribute marijuana. Denison is being held at the Loudoun County Adult Detention Center on no bond. Further charges are pending in the case, according to reports.

The packaged marijuana, according to reports, was picked up by Denison prior to the traffic stop after it was shipped to Loudoun County, using a national cargo transportation company.

A total of 155 separately packaged bricks of marijuana, each weighing approximately 1.2 pounds, were found inside the rental truck. The gross weight with the packaging was 186 pounds. Also located was marijuana wax, commonly referred to as "shatter." The gross packaged weight of the marijuana wax was 15 pounds.

"The recovery of such an extraordinary amount of marijuana is unprecedented in Loudoun County and is a credit to the collaborative efforts between our Tactical Enforcement Unit and the DEA," said Loudoun Sheriff Mike Chapman said in a prepared statement.

In April, a Loudoun County Sheriff's Office felony drug investigation led to one of the largest seizures of narcotics and cash in the history of the county, according to Chapman.

The three-month long investigation recovered over 2.5 pounds of powder cocaine, 1 kilo of cocaine (brick), 5 ounces of crack cocaine, 1.5 ounces of heroin, 6 pounds of marijuana, 5 ounces of PCP, 429 ecstasy pills, prescription pills, $60,000 in cash and other drug-related items. Two vehicles were also seized as part of the investigation. Three men were ultimately arrested in the case by members of the Tactical Enforcement Unit in coordination with Loudoun Sheriff's patrol deputies.
AND GOD BLESS AMERICAN SNIPER SANTA HERE IN STERLING USA.