Latest News
Delgaudio Takes To the Streets with Sign Wave, Voting In Progress in Sterling Now
October 20, 2015
We are in the final weeks of our campaign.
Sterlingfest was awesome with 1,000 supporters wearing stickers. And we
had a crowd at the fundraiser.
The sign wave was greeted by supporters. Thank you.
My opposition was so shocked they called authorities who were able to calm them down.
There is really nothing wrong with supporters responding to a Delgaudio sign wave.
Perhaps these liberals should have, instead, called authorities on their own candidate prior
to his three arrests for DUI and other related offences.

SPECIAL ANNOUNCEMENT: THERE WILL BE MORE "SIGN WAVES"
To keep our momentum, I will announce tonight that there will be more sign waves but not announce the location and time.
REPEAT: Look for more "sign waves" before Election Day.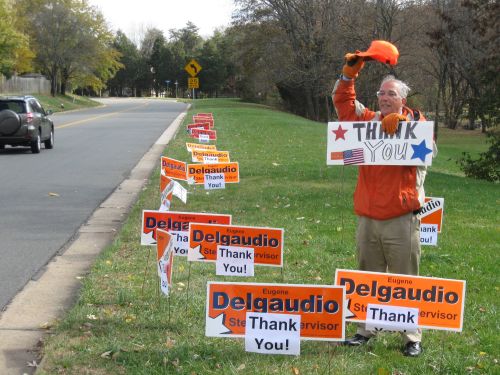 If you have to, consider voting early or by absentee
Here is a link to explain the details. The deadline to
fax or mail an application is Oct. 27.
Voting in advance is in progress but ends Oct. 31. DETAILS HERE.



Satellite absentee voting is also offered prior to all November
Elections at the Cascades Senior Center, 21060 Whitfield Place, Sterling, 20165
The Cascades Senior Center absentee location will be open one week prior
to the November elections only from 4:00 pm to 8:00 pm, Monday through Friday,
and maintain Saturday hours as well. (Starting Monday Oct. 26)
Partial List! Top Ten Accomplishments of Eugene Delgaudio for Sterling.
(CLICK ON LINK)
SOME HOUSES IN HIGH TRAFFIC AREAS NEED MORE SIGNS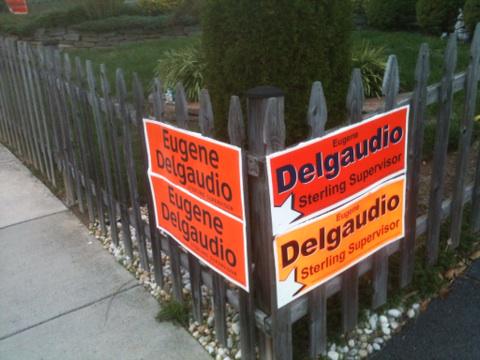 Still Time To Donate To My Campaign.
Postage is the biggest cost in my campaign followed by printing costs. We have
a lot of volunteers and some paid staff. Your donation is still needed to
get to victory.
Please send a donation check to "Friends of Delgaudio"
(address P.O. Box 1222 Sterling, Va. 20167) for $1000, $500,
$250 or $150 if you can.
This campaign for re-election is expensive and will cost $5,347.00 more to win again.
Or send me $100, $75, or $50 if you can.
Donate online if you do not want to write a check and mail it. That's quicker and
I get immediate notice when you donate.
Here is the online link to donate to Friends of Delgaudio
https://secure.piryx.com/donate/wS1hFIb4/Friends-of-Delgaudio/
YES YOU DID SEE THAT WITH YOUR EYES. SOME HOUSES HAVE DELGAUDIO SIGNS
ON THE ROOF.