Latest News
TUESDAY CRIME BRIEFING AT PARK VIEW HS 7 P.M.
September 21, 2015

LCSO to Hold Special Community Meeting for Sterling and Eastern Loudoun Resident
s
This is important for those interested in the latest progress.

The Loudoun County Sheriff's Office will be hosting a community meeting on Tuesday, September 22nd, 2015 at 7PM to discuss recent incidents in the Sterling, Virginia community.

The meeting will be held at the Park View High School auditorium, located at 400 W. Laurel Avenue in Sterling.

Loudoun County Sheriff Mike Chapman and representatives from the Loudoun County Sheriff's Office will be in attendance to address any questions and concerns.

All members of the public are encouraged to attend.
A juvenile and two adults are in custody in connection with the September 4th homicide of a Sterling, Virginia teenager.
Detectives with the Loudoun County Sheriff's Office worked throughout the day on September 4th and overnight conducting numerous interviews and following up on all leads.
Detectives were able to identify and locate the three suspects, a 17-year-old male, an 18-year-old male and 20-year-old male.
Loudoun detectives worked in conjunction with the Virginia State Police, the Office of the Loudoun Commonwealth's Attorney, Loudoun County Public Schools and the Northern Virginia Gang Task Force during the course of the investigation.
The victim was identified as Danny Centeno-Miranda, 17, a student at Park View High School.
Prayers for Danny Centeno-Miranda and his family are extended.
More details will be released as they become available.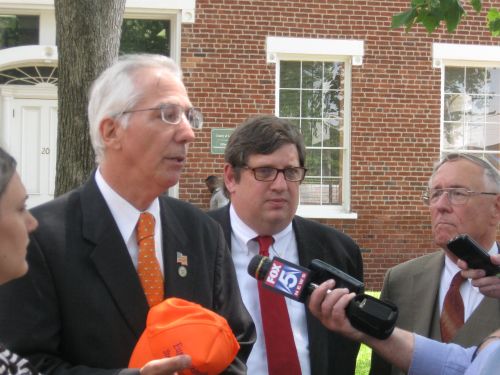 DELGAUDIO AT SCENE OF SHOOTING FRIDAY MORNING:
"As one of thousands who are horrified at this tragedy, I am hopeful justice can be brought to bear on the perpetrators. I said at the scene Friday that things are different from years ago and that the entire law enforcement organization is filled with dedicated and devoted public servants that will not rest until this tragedy is addressed. These apprehensions are beyond expectations and thank God and the Sheriff and his deputies and detectives for it," said Eugene Delgaudio, Sterling Supervisor.