Latest News
Hillary Clinton Deletes Sterling, Va.
August 20, 2015
The deadline for my reporting donations to Friends of Delgaudio this quarter is
5 p.m. Monday, August 31st.
Please donate now to help me beat my opponent.
Hillary Clinton is deleting emails, dodging reporters but make no mistake: Hillary
and her fundraising master Governor Terry McAuliffe along joined by AG Mark Herring
are counting the dollars they are raising for my opponent, while planning
Sterling's, and my end.
Hillary Clinton is wearing orange and that spells trouble for Sterling.
I can not match the density packing interests pouring money into my oppoonent. They
hate Sterling for what it is and what it can be.
I just need to keep up with 100 dollar, 50 dollar and 25 dollar donations from
some of you. I have raised $3,095 as of today but must reach $10,000 by Monday, August 31.
I can not do this without your help. I need your help.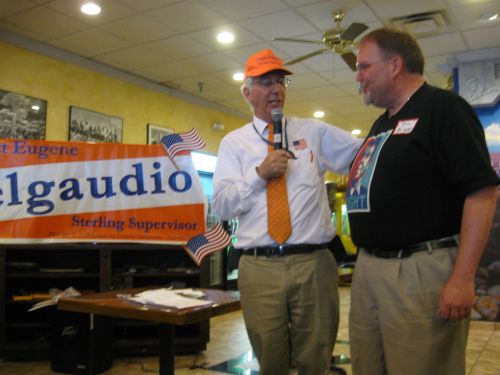 Sterling is a beacon of genuine goodness that shines bright to the world of darkness.
God's grace and God's people live here for years. The new arrivals proclaim their
love of Sterling and their fortune for arriving here.
All of this happiness will be destroyed if Clinton, her fundraising stooges McAulliffe
and Herring have their way with our innocent town.
Help me keep the #DelgaudioOrangeCap standing against the density packing Sterling haters.
Donate today. Write a check for $100, $50 or whatever you can afford and mail it to Friends of Delgaudio P.O. Box 1222 Sterling Va. 20167.
Or call me at 703-421-4599 my home phone and I will visit you today.
Please donate today so that Hillary Clinton and stop her determined liberal henchmen from destroying Sterling forever.
"One of the most important things that will most effect the way Loudoun county looks is
this supervisor election...it is crucial we re-elect Eugene Delgaudio,...." says Senator
Dick Black.