Latest News
Sterling's Friend Delegate Bob Marshall Uncovers Massive Voter Fraud by Governor
August 3, 2015

Delegate Bob Marshall Uncovers Massive Voter Fraud by Governor

In a statement today, Supervisor Eugene Delgaudio hailed Delegate Bob Marshall in uncovering massive voter fraud by Governor Terry McAuliffe. "Citizens should rise up and comment before midnight tonight," said Supervisor Eugene Delgaudio.
Delegate Marshall says: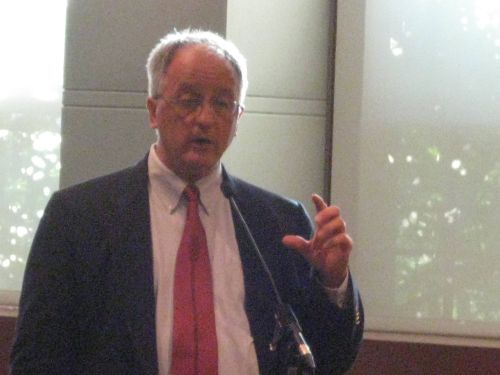 "Governor Terry McAuliffe and his Board of Elections are attempting to make an end-run around the General Assembly yet again by attempting to change the form to register to vote. The proposed changes will make it easier for non-citizens, those adjudicated to be mentally incapacitated and convicted felons to illegally register to vote.
The current voter registration form requires an applicant to affirmatively indicate by checking boxes on the form that they are U.S. citizens, that they have not been adjudicated to be mentally incapacitated, and are not convicted felons whose voting rights have not been restored. Under current regulation, failing to check these boxes would cause the application to be rejected. However, in most, if not all cases where an application is received in which the boxes are not checked, a letter is sent to the person attempting to register asking them to refile the application making sure that they check the boxes.
The McAuliffe administration has determined that this is too much of a barrier for potential voters and has proposed new regulations that would not allow an application to be rejected for failure to check the boxes. The new form will have an affirmation statement at the bottom above the signature line which will replace the check boxes. Both the public and many voter registrars across the Commonwealth have raised concerns about this change, noting that many people do not read the fine print before signing.
Whether or not you think this change is a big deal you should be concerned about this overstep by the McAuliffe administration. The State Board of Elections does not have the authority under the Virginia Constitution and state law to adopt this change to the voter registration form.
Article II, Section 2 of the Virginia Constitution states:
"Applications to register shall require the applicant to provide the following information on a standard form: full name; date of birth; residence address; social security number, if any;whether the applicant is presently a United States citizen; and such additional information as may be required by law. All applications to register shall be completed by or at the direction of the applicant and signed by the applicant, unless physically disabled."
Code § 24.2-418 states in part:
"The form of the application to register shall require the applicant to provide the following information: full name; gender; date of birth; social security number, if any; whether the applicant is presently a United States citizen; address of residence in the precinct; place of last previous registration to vote; and whether the applicant has ever been adjudicated incapacitated or convicted of a felony, and if so, under what circumstances the applicant's right to vote has been restored. The form shall contain a statement that whoever votes more than once in any election in the same or different jurisdictions shall be guilty of a Class 6 felony. Unless directed by the applicant or as permitted in § 24.2-411.1 or 24.2-411.2, the registration application shall not be pre-populated with information the applicant is required to provide."
Therefore, I question whether the State Board of Elections and the McAuliffe administration have the authority to make this change to the voter registration form.
If you are concerned about this proposed change I encourage you to please submit your comments here to the State Board of Elections BEFORE midnight TONIGHT, August 3, 2015."
https://www.townhall.virginia.gov/L/comments.cfm?stageid=7235

Bob Marshall's Post Script here:
Please consider making a donation to my campaign today using delegatebob.com/donate, or you can send a check made out to "Friends of Bob Marshall," to PO Box 421, Manassas, VA, 20108. My cell is 703-853-4213. Thank you.