Latest News
MUSIC MAN HERE NOW, Underground Railroad in Sterling, and New Reveal On Delgaudio HEADWEAR
July 24, 2015

Music Man Tonight OPENING NIGHT
Please run out and go to see the Music Man at Potomac Falls HS tonight (FRiday, July 24) or
go this weekend or next. You will regret if you do not go and see this show. It is the best
production in the history of Sterling Playmakers-- even better than the historically great
productions of years past. (no pressure here).
God Bless the families that make Music Man work so well tonight and bring such quality to
the community.

"SECRET" UNDERGROUND RAILROAD ROARS INTO STERLING
Sterling is the 4th most exciting place in Virgina and here's another reason.
A historic home is preserved in place in the public area courtyard of an assisted living
facility at Route 7 and Sterling Boulevard with public access 7 days a week.
"I think this is one of Sterling's best kept secrets" Supervisor Delgaudio said, "With so many people talking about monuments and looking for ways to remember African-American history, there's someplace right here in Sterling to do that." According to local historians, The "Dailey Cabin" is the only extant structure of its kind in Northern Virginia.
Sadly, the cabin was badly damaged by fire in 2005, but it remains in the possession of Loudoun County. The cabin has been surveyed for historical significance as part of Loudoun County's African American Historic Architectural Resources .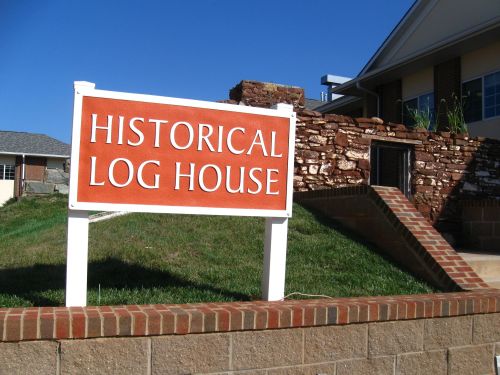 WHERE IS THIS HISTORIC HOME IN STERLING?
For those who would like to visit the Cabin, directions are as follows: From West: go east on Route 7 to Potomac View Rd. Proceed 1/10 mile east on Route 7 past this intersection and turn right into the first driveway entrance. Community Village is immediately ahead, and the Cabin is located between buildings.

Library Community Meeting Up in Air
The Library Administration has cancelled the September 15 meeting.
There is a meeting TBA in August. I will let you know when that is
scheduled.

Clocktower Stormwater Construction in Full Swing
Citizens of Sterling and all residents are cheered and delighted that construction has
begun by Patriot Construction at the Clocktower Shopping Center in Sterling which is also
a major cuttthrough for the neighborhood.
The clocktower shopping center is located off Route 7 Leesburg Pike and has Santini's and
a dozen other family owned restaurants there. Burlington Coat Factory is there too.
A complete new stormwater facility is being replaced at a cost of approximately $600,000
and will be finished in two weeks. This will permanently solve the stormwater issue at that
Shopping Center and also provide critical stormwater management.
The system was first installed 40 years ago.
The underground portion of the failed storm drain is being fitted for new components, which should be in place during the month of August.
After that, the work will begin to restore the parking lot that has experienced so much disruption, and will be graded to ensure proper drainage.
The Sugarland Crossing shopping center is projected to be back to normal by September.

SHERIFF CHANGES ADDRESS FOR COMPLAINTS
There is an online reporting system
http://sheriff.loudoun.gov/
and the non-emergency number:
703-777-0445
For those sending written reports to the Sheriff, the address has changed. Loudoun County residents and businesses are advised that effective immediately the mailing address for the Loudoun County Sheriff's Office is:
P.O. Box 7200
Leesburg, VA 20177-7200
The Physical address for the Loudoun County Sheriff's Office Administration building remains 803 Sycolin Road, Leesburg, VA, 20175. All mail correspondence to the Loudoun County Sheriff's Office must go to the P.O. Box mailing address for proper delivery.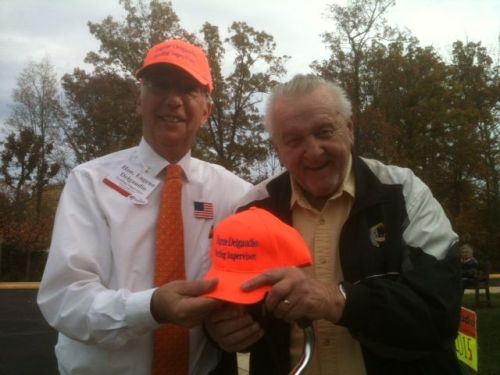 THANK YOU to the first 100 homes with Delgaudio Signs Up on their front lawns!
SUMMER PIZZA RALLY JULY 18
THANK YOU TO Chairman: Charles King, Senator: Stephen Hollingshead Delegates: Danny Vargas, Chuong Nguyen who speak and tell you their vision for Sterling.
I missed some of you last Saturday, July 18 at my 2015 Summer Pizza Rally where all Republican candidates in Loudoun County were welcome.
(Entire Republican ticket in Loudoun here) (link)
The event was a hugh success. Thank you to those who joined me and donated money to my re-election.
This is the number one supervisor race in Virginia and will cost $102,347.00 to win again. I need to raise $10,337 now. This top race must end in defeat for Gov. McAulliff, Hillary Clinton and AG Mark Herring.
Please send a donation check to "Friends of Delgaudio" for $1000, $500, $250 or $150 if you can. Or send me $100, $75, or $50 if you can. I can use $35, $25 or whatever you can send now. Thank you.
I promise to continue to boldly stand for traditional moral values, less government spending and lower taxes, accountability in government, less regulation if I win re-election. Thank you.
Please donate. I have had 110 individual donations now. I must have 100 more individual donors to win this race. Please be number 111. Thank you.
Please go online
https://secure.piryx.com/donate/wS1hFIb4/Friends-of-Delgaudio/
Or mail me a check for $1,000, $500 or $250 now at P.O. Box 1222 Sterling, Va. 20164. Tell me your employer, and job title. Thank you. (this request required by the Election rules).
Or Send $150, $100, $99, $50, or $25 or whatever $ you can afford to Friends of Delgaudio, P.O. Box 1222 Sterling, Va. 20167. Thank you.
FOR THOSE OF YOU WRITING AND ASKING:
YES, DONALD TRUMP COPIES MY HAT !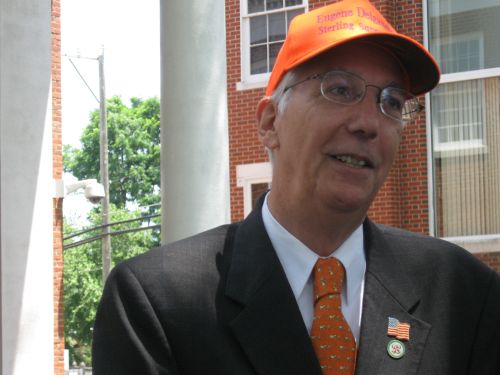 You have just finished reading the Sterling American, the number one community outreach in the world. I publish a public service newsletter titled the Delgaudio Report. I distribute the Supervisor Delgaudio Community report myself by hand delivery. I am on twitter, facebook and here's my home phone 703-421-4599.