Latest News
REACTION POURS IN, GIRLS AND BOYS STATE WINNERS, CRIME MEETING WEDNESDAY
April 27, 2015
Anybody Can Be President of the US!
My fellow American,
Reaction is pouring in for Sterling's Presidential Canvass Sunday May 17 2015 from
1 p.m. to 4 p.m. at Joe's Pizza.
Citizens, Candidates for President, their reps and supporters and members of the media
all have checked in. I need 100 reservations and have 25 now.
Thank you to those who want to make Sterling and Presidential history.
Please hit reply and say "I am coming to Eugene Delgaudio's Presidential Canvass" now.
More details here
http://joineugene.com/news/article.php?article=10158

Delgaudio Invites You to Crime Briefing
Please attend the Sheriff's station briefing at the Sterling Sheriff's station on
Wednesday April 29 at 7 p.m. next to the Briar Patch Park and the Rolling Ridge ES
at 46620 East Frederick Dr. Sterling. Civic leaders and citizens ask questions and
get answers. This is a one hour briefing on crime issues around the region by
top local law enforcement leaders.

WELCOME VDOT IN STERLING
Welcome to the dozens of vehicles AND many workers from the Virginia Department of
Transportation and their contractors as they repave large sections of Sterling Boulevard,
and various streets in the area of Williamsburg Road. They will be working on Sterling Blvd.
this entire month 10 P.M. to 5 AM to avoid disrupting day time traffic.
More photos Posted here.
http://joineugene.com/news/article.php?article=10160

Anybody Can Be A Virginia Delegate
In the Tom Rust 86th District seat, Danny Vargas filed and became the GOP candidate.
David Ramadan announced he is not running for re-election in the 87th District seat so
that seat is open. The district stretches from Sterling, south through parts of Ashburn
and down to South Riding in Loudoun county.
Best wishes to Tom Rust and David Ramadan for wonderful work as Delegates representing
Sterling. Now it is time for another citizen to step forward to be a candidate. Is that
candidate you or someone you know?

Roll Call of Precincts in the 87th District
(If you live in these precincts, you can be the next Delegate to Richmond)
Click on this link for listing and details on how to be a candidate
PRECINCTS IN STERLING DISTRICT
Claude Moore Pct., Mirror Ridge Pct., Park View Pct. (west of Sterling Blvd.),
Buchanan Pct., Guilford Pct. (now the new Sterling Pct.) and
Rolling Ridge Pct.
87th District outside Sterling
Countryside Pct.,Cascades Pct. Mill Run, Oak Grove,Legacy, Carter, Mercer, Pinbrook, Freedom,
Hutchison Dulles South, and in Prince William County: Evergreen and Alvey.
This is the link to the map for the 87th District
https://www.flickr.com/photos/omagi/9265165884/in/set-72157626945670659/
If you or someone you know wish to become a candidate the chairman of the legislative district,
This is "The process" from a statement of the party chairman Mike Haynes:
Quote "As per RPV rules the Legislative District Committee will choose a nominee - Diane Satterly is the Loudoun representative and chairwoman.
We have until June 9th to make the selection - so the convention on May 2nd is taking priority right now.
Loudoun legislative members along with the Virginia Republican House Caucus are in the process of identifying possible candidates. That is where we stand at the moment, and this is the process." Unquote
REMINDER TO ALL REPUBLICAN DELEGATES
There is a Loudoun County Convetion this Saturday May 2 at Stonebridge HS.
Doors open 8:30 AM as we gather to nominate a Sheriff candidate. You are welcome
to come as a guest or to observe.
LARGEST BOYS AND GIRLS STATE CONTINGENT EVER
(follows giant turnout for YOUTH IN GOVERNMENT DAY-PHOTO BELOW)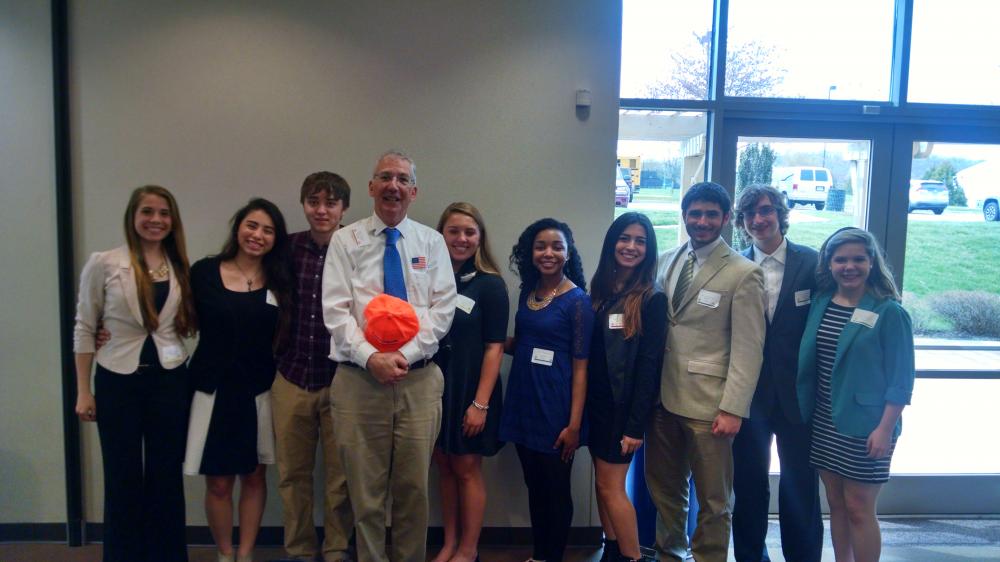 CONGRATS to Youth In Government delegates who were hosted by Loudoun County.
Now more Sterling teens have "joined govenment". 19 Sterling students applied to the American Legion for this years Boys and Girls State in response to alerts that I sent you. Good work.
The Post Commander has written me:
"Our Post's Boys and Girls State interviews were held this past week.
We had the largest selection of candidates, with 19 in recent memory.
Thank you for promoting this program. We selected boys and girls from each school.
Dominion HS: 4 Girls and 3 boys.
Potomac Falls HS: 5 girls and 1 boy
Park View HS: 3 girls and 3 boys"
Thank you Commander. Good luck to the students. Donate to American Legion Post 150
to help them with this program. You can donate to the Post Memorial Day May 25
at their ceremonies or write [email protected]