Latest News
Sterling's Other Delegate David Ramadan Will Not Seek Re-election
April 16, 2015
Richmond, VA | April 15, 2015 - Delegate David I. Ramadan (R-87th District; Loudoun) today issued the following statement about his decision to not seek re-election to the Virginia House of Delegates in 2015:
"Serving in Mr. Jefferson's Capitol has been the greatest honor of my life. For the past three and a half years, I have worked as hard as possible to represent my constituents and give back to the community, the Commonwealth and this great nation that has given me so much since I immigrated in 1989.
Serving in the House of Delegates has been a privilege, but it also has presented incredible challenges for my career and my family. The 87th District is one of the most Democratic districts held by a Republican in the entire Commonwealth, which means that my next election will be incredibly expensive and time consuming, just as my previous two have been.

Yesterday, I returned from an overseas business trip. There is no question that my business interests have suffered over the past few years, since my time and attention has been solely focused on my role as a Delegate.

Waging another successful campaign would require me to raise more than half a million dollars again this year. While I firmly believe that I would once again be able to win my race, it has become clear to me that the amount of time and effort that it will take to raise the funds needed will require me to continue to neglect my business for the next seven months. Unfortunately, this is just not sustainable for me and my family................

................Winning my first two campaigns against all odds and all my accomplishments wouldn't have happened if it wasn't for the help and trust of many friends, neighbors, and constituents. I'm blessed by the love of so many and humbled by the support you have given me since 2011 --Thank You!
I take pride in serving in a bi-partisan manner and representing all of my constituents in the 87th while holding on to my conservative principals. Public service is the duty of every American; I'm very fortunate to have been able to serve.
I will continue to be an active participant in the public process, and if my circumstances change in the future, I will certainly consider seeking elected office once again. In the meantime, I will continue to work hard to represent my constituents' right up until the end of my term."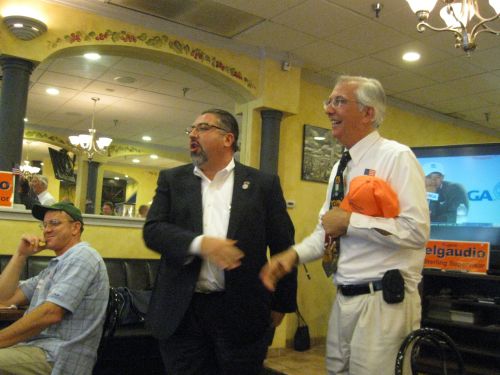 ---

Delegate David Ramadan represents the 87th House of Delegates District, which includes eastern Loudoun County and western Prince William County. He currently serves on the oldest & newest committees in the House of Delegates: Privileges & Elections (P&E) and Science & Technology (S&T), as well as General Laws Committee.