Latest News
Supers Buona & Williams "Piddle" On Delgaudio's "Embarrassing" Budget Cuts "I listen to people who can't afford to pay tax bill" says Del
March 16, 2015
Supervisors Buona and Williams Pound Delgaudio Over "Embarrassing" Budget Cuts
Delgaudio "I listen to people who can't afford to pay the tax bill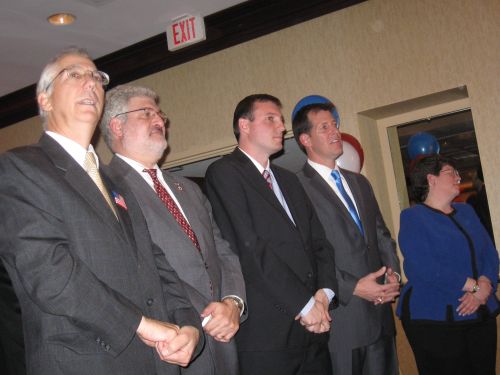 Partial Transcript from the FY2016 Budget Worksession - March 9, 2015
Here's a glimpse of the attempts by Sterling Supervisor Eugene Delgaudio and Supervisor Ken Reid to reduce spending at a board budget worksession last Monday March 9.

These motions failed but at the worksession but they could be brought up again at the Business meeting where the tax rate will be set Wednesday April 1st, 2015.
There are many motions. This is just a partial transcript of three motions to reduce spending dealing with the Sheriff's office.
Delgaudio motion to reduce spending
Mr. Chairman, from Page E 23 of the Executive Summary in the Budget

I move to eliminate two school resource Sergeants for a total of $198,837 for a school resource Sergeant
from the proposed enhancements (increases). Seconded by Supervisor Reid.
Opening appeal from Delgaudio: There has been a discussion tonight about this budget having a bunch of sereants being brought for the first time and I fell it is "no time for sergeants".
Motion Fails. 1 yes, 8 no. Motion fails.

2:20 mark on the March 9, 2015 webcast
Mr. Chairman, again from Page E 23 of the Executive Summary in the Budget
I move to eliminate the Western Loudoun Station Sergeant for the amount of $199,170. There is a again a 2nd from Supervisor Reid.
In the opening Delgaudio makes reference to Page E-52 in the Budget Book that compared to the other two operating stations
in Loudoun, the Western Loudoun station has a fraction of the incidents for an area much larger so there is no budget rationale for increasing staff while crime seems to be much lower. Delgaudio previously voted against the creation of the
Western Loudoun station so he is keeping his previous position. "We did not need this station at the beginning of our 4 year term.....I respectfully disagree with the standard, its too liberal for me...."
Other supervisors comment.
Motion fails 2 yes (Reid Delgaudio yes) 7 no
Delgaudio Motion to Reduce Budget $279,398.50 page E-24
I move to eliminate 3.30 FTE (Full Time Equivilent) from the Adult Detention Center Staffing for a savings of $279,398.50. seconded by Supervisor Reid 2:24
Discussion about humble observations by supervisors about some previous enhancements at the detention center explained by Delgaudio and his opinion that there is too many staff at the jail.

Sup. Letterneau says:
""I am not sold" is not a valid reason to cut a position"
Sup. Williams (2:25:57): "(You) have no chance.."
Can I just say, and I'm going to, every ridiculous motion made up here to cut something that everyone in this room knows there's no support to do is wasting a lot of people's time.
And I appreciate the pandering, but you know what, it's a waste, and it's disrespectful to this roomful of people.
If you've got a serious motion you want to research and find there's an actual inefficiency that the county government has that you want to seriously consider. But don't waste these people's time.
Don't waste our time with motions you know for certain have no chance.

Sup. Buona (2:29:00): "...I apologize to everybody....on the internet or on TV."
Thank you.
For the public's sake, anybody has a right as a supervisor to make a motion, and any
supervisor has a right to second that motion.
This is an annual ritual we go through with Supervisor Delgaudio, every year.
The previous Boards have done with this same ritual, it is something that, unfortunately, is rather embarrassing to me.
I think it's embarrassing the way the Board operates like this, and I want to apologize to everybody in this room and apologize to everybody watching this on the internet or on TV.
Thank you.
York Commented in part:
You guys haven't seen anything we havent done in the past. Sometimes he...gets one through.

Sup. Delgaudio (2:29:56): "...(You) piddle on me...(as) I propose the cuts...."
Thank you. And that's the kind of maturity that you should come to if you get to your second term.
Some of you will not be getting to your second term of your own decisions and so on.
And my -- I've been through it four times. And yes, it is a ritual.
Yes, it's embarrassing. It's embarrassing to people who can't come up with their own ideas, but they happen to piddle on me because I propose the cuts, and I actually listen to somebody who comes to me and says they can't afford to pay the tax bill and they would like to know what to do.
Yeah, it is embarrassing for people who don't have any of their own proposals to reduce spending.
If you want to think I'm out here to annoy you like I'm picking on you or I'm picking on Mr. Chapman. Mr. Chapman knows I'm not picking on him. It's nothing personal about Gary Clemens.
I certainly respect the judges.
I better. The point is, whether it's cooks for crooks, I take it in stride, and I try to propose some reductions and actually voted for an enhancement just a few minutes ago, Supervisor Williams, that you pulled down out the back of the program. So, yes, I vote for some enhancements. Yes, I vote to add things in. Some of it is noncontroversial. To me, if I can propose a reduction, it's a proposed reduction. Don't take it so personally.
Motion fails 2-7 Delgaudio, Reid Yes.
Chairman York announces "At present, the Rate stands at $1.121" ( per 100 dollars of value).
End of Partial Transcript
Here is a link to the webcast archives: http://www.loudoun.gov/index.aspx?NID=2203. The meeting is marked FY2016 Budget Worksession on March 9, 2015.
Here is a link to the webcast archives: http://www.loudoun.gov/index.aspx?NID=2203. The meeting is marked FY2016 Budget Worksession on March 9, 2015.