Latest News
Grafitti Attack in Sterling area Condemned...Attack On Dick Black Condemned
December 2, 2014

Ryan Sill Gets Sterling's Support. Thank you.
Later tonight we will learn if Ryan Sill made the cut on the Voice
talent program and I will let you know.
Thank you for voting in the "election" and bringing Ryan this far.

Grafitti Attack in Sterling area
Vehicles, homes tagged in obscenities,hate crime graffiti
This attack occurred just south of Potomac Falls HS, off of
Algonquian Parkway outside our Sterling District. But this
kind of attack must be condemned by all of us.
Loudoun deputies are investigating a rash of vandalism in
Sterling where at least one vehicle and one garage door was
tagged with obscenities and hate crime graffiti.
Vandals, according to reports, spray-painted a Swastika and
religious and ethnic slurs on at least one vehicle and a garage door.
Streets crimes occurred: Chelmsford Court Stafford Court.Environs Road.
"I condemn these attacks and attempts at intimidation in the Sterling area
and our Loudoun County," said Eugene Delgaudio.
Liberal Joe May To Challenge Sen. Dick Black
#BlackorBust.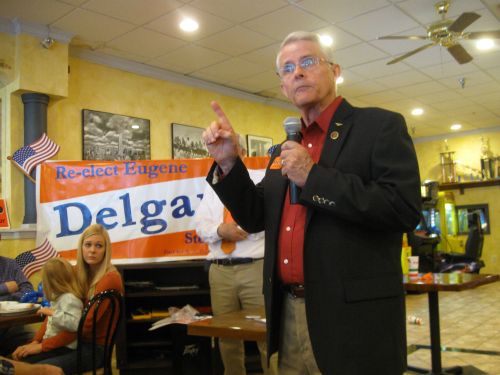 This former delegate Joe May defended a out of state porn business's
"right" to advertize on Loudoun's public streets and protested loudly
now-Delegate David Larock tearing the sign down to prevent children
from seeing the lowering of community standards..
He campaigned for State Senator in Sterling as a "conservative"
after pushing through tax hikes and promoting other liberal schemes.
Tonight , The Bull Elephant reports: "former Delegate Joe May- who was ejected
from his seat in a 2013 primary challenge- is now planning to challenge Dick
Black for the GOP nomination in Virginia's 13th Senate district.
And if that doesn't work, he may have Terry McAuliffe's endorsement as an Independent."
Here's a link to the posted news report:
http://thebullelephant.com/joe-may-to-challenge-sen-dick-black/

Sheriff Offers Burglary Prevention Tips for Holiday Season
As the Holidays approach, so do the number of burglaries in
Sterling and Loudoun County and the Sheriff wants you to know
how to prevent these crimes and what to do if you are a victim.
I have posted them for you to see at this link
http://joineugene.com/news/article.php?article=9900
CHANGES IN STERLING'S BUS SCHEDULES
The following is a brief rundown of the changes to Sterling's buses:

The Sugarland Run Route is eliminating underutilized stops in favor
of the Cascade Village Senior Center on Rt. 7.
Also, they are changing the Atlantic-Pacific schedule times to
improve efficiency and cut down on lateness. On reverse commuting,
they are going to send smaller shuttles to pick up reverse commuters
rather than coaches. Finally, at my request , the county staff
will address the new Sterling Metro Center known as "The Fairfax Connecter 924"
(on Dranesville Rd.and route 7) "next year" at the second meeting in January due
to a packed schedule this week.