Latest News
STERLING'S RYAN SILL NEEDS YOUR VOTE TONIGHT Voting Begins 10 PM Monday to 11 AM TUESDAY
December 1, 2014
STERLING'S RYAN SILL NEEDS YOUR VOTE TONIGHT
Voting Begins 10 PM Monday to 11 AM TUESDAY
Its sound's silly, but Sterling is on the national map AGAIN. This time its for a young singer.
For three weeks, Sterling's Ryan Sill barely makes it back to the top ten in the Voice competition.
Can we do it a fourth week? The competition is fierce and there are new challengers.
It is due in part to some of you Sterling Americans voting for him. I need you. Sterling needs you
to vote "online" for Ryan Sill starting at 10 p.m. tonight and before 11 a.m. Tuesday.
Ryan has made it to the top 10 of the NBC show "The Voice" only with your votes.
He is a 2012 graduate of Dominion HS and he needs the help of all Sterling citizens by voting for him in the online Voice TV program voting.
Not since 2008 when Sterling citizens elected Michael Monrroy to represent America's Hispanic Americans has Sterling faced such a national "online" challenge. Monrroy currently serves as Sterling's GOP chairman.
Tell me after you have voted. Thank you.

Step one
Register with your email address. (you get 10 votes per email address)
http://www.nbc.com/the-voice/vote
Step two
click on the Ryan Sill photo to cast your "vote"
Step three (critical)
Cast all 10 votes for Ryan Sill and not some other non-Sterling area artists.
Ryan Sill's mother Linda Sill is a long time local vocal teacher who has taught many students.
Please vote at 10 p.m. tonight or tomorrow before 11 AM.
The official voting period from the Voice website:
9:55 P.M. Mon (12/1) 11:00 A.M. Tuesday 12/2
This link is where you cast ALL 10 votes, all for singer Ryan Sill
http://www.nbc.com/the-voice/vote
Step four
Please tell your friends, family and anyone you know who appreciates singing that has access to a computer.
There is an 800 number to call in to cast votes during the show for anyone who can do more.
2nd plug
LINK'S CHRISTMAS HOLIDAY EVENT DEC. 13
"LINK" will host the Christmas Holiday event on December 13th. LINK will need to collect more food to distribute.
LINK needs YOUR help!! - Food Drives, Toy Drives and donations. If you would like more information, feel free to email us at holiday@linkagainsthunger.org. Businesses can contact our Business Liaison, Carrie, at businessliaison@linkagainsthunger.org. Volunteer? go to http://www.signupgenius.com/go/904044ea9a7292-20144/

2nd plug
Christmas in Sterling.
Event: Story of Christmas Family Sing A-long
Date: 12-12-14 Time: 7 PM
Location: Sterling Park Christian Church
All are Welcome. Snacks provided.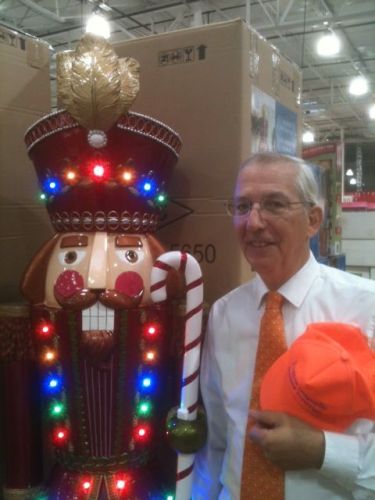 2nd plug
"Sing for Their Supper" Holiday Caroling & Food Drive- DEC 6, 3:30pm-5:30pm.
The Sterling Girl Scouts will be collecting non-persihable foods and providing holiday carols at the Sterling Community Gazebo.(at the intersection of Commerce and Enterprise) All food collected will be given to Loudoun Interfaith Relief. For more information, contact the Girl Scout Service Unit Manager at su_manager703@yahoo.com
STERLING PLAYMAKERS THIS WEEKEND
Holiday Happening 2014 A holiday variety show!
December 5 at 7:30 PM December 6 at 2 PM & 7:30 PM
December 7 at 2 PM at Sterling Middle School
THE SECRET OF THE ORANGE HAT REVEALED FOR THE FIRST TIME
Sterling Secret Hat Factory. Several people told me face to face: "I wear orange or include orange as it reminds me of you." One national leader said "your hat has done well by you since 1999." So here is the Sterling secret hat factory that produces the now legendary orange hat known for its being seen for miles in every direction and always identified instantly:http://www.allinstitchesva.com/
Christmas Lights in Sterling
The World famous Juniper Avenue in Sterling and some other great places around Sterling are setting up their lights and gearing up right now for Christmas. This one place should not be missed. Park on E. Maple Avenue near S. Garfield just off Maple Circle.
They will have a box for LINK canned food donations. They are building right now and "only" have 50 GIANT decorations up (behind Sully ES).