Latest News
Update and Photos On Sterling Bank Bandit Today
October 28, 2014
The Loudoun County Sheriff's Office is investigating an armed robbery that occurred at the Wells Fargo Bank in the Community Plaza in Sterling, VA.
The suspect entered the bank shortly before 1PM and demanded cash.
The suspect, who was using a scarf to conceal his face, is described as a dark skinned, possibly Hispanic male, and was wearing a dark jacket, a gray sweatshirt, and tan pants with yellow and black gloves.
He was carrying a firearm and left the bank with an undisclosed amount of cash. He was last seen in the area of Sugarland Road near Dranesville Road and was possibly riding a bicycle.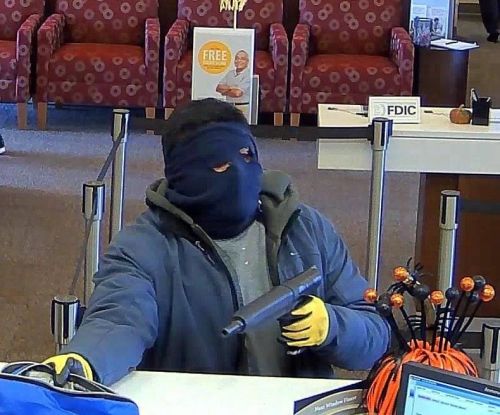 Loudoun County Sheriff's Deputies and Detectives remain on the scene as the investigation continues.
Anyone who was in this area at the time of the robbery, saw anything suspicious, and did not speak with law enforcement is asked to contact Detective M. Grimsley of the Loudoun County Sheriff's Office at 703-777-0475. Callers wishing to remain anonymous are asked to contact Loudoun Crime Solvers at 703-777-1919. If the information provided to Loudoun Crime Solvers leads to an arrest and indictment, the caller could be eligible for a cash reward of up to $1,000.