Latest News
850 Reports of Telephone Scams--callers threaten arrrest of victims
October 24, 2014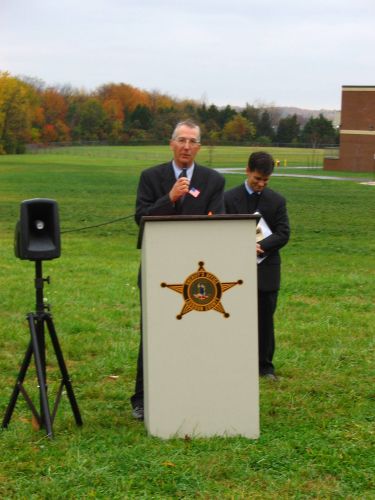 The Loudoun County Sheriff's Office developed a flyer on how you can protect yourself from becoming a victim of money card scams. The flyer is being distributed via Alert Loudoun, Social Media and handed-out to local businesses. Business owners and managers are also encouraged to print out the flyer and post it near areas where money cards are sold and review the information with employees to help them identify potential victims of the scam.
Since January 2014, the Loudoun County Sheriff's Office Financial Crimes Unit has received over 850 reports of telephone scams. In many cases the scammers claim to be from the IRS, utility companies threating to turn off your electricity, and even state they are a deputy from the Loudoun County Sheriff's Office warrants section.
It starts with a simple telephone call. The voice on the other end of the phone claims to be from a government agency of authority and threatens arrest if you don't pay fines owed. The fines range from failure to pay back taxes, missing a court appearance, or not paying a speeding ticket. The caller assures you all of this can be easily resolved if you obtain money cards from a local store and provide them with the serial numbers.
The outreach initiative was launched in October as part of National Crime Prevention Month in an effort to further educate the community and reduce the number of fraud victims. The Loudoun County Sheriff's Office is reaching out to residents and business owners alike to inform them how to recognize potential scams and possible victims.
The flyer is available here and reminds residents to:
http://sheriff.loudoun.gov/moneycard
" Never provide personal or financial information to anyone who e-mails or calls you unsolicited.
" Don't wire money, provide debit or credit card numbers or money card numbers to someone you don't know.
" Government agencies and utility companies will not contact you demanding immediate payment by money cards.
"The suspects prey on a person's fears by using the appearance of authority and by threatening arrest," said Loudoun Sheriff Mike Chapman. "We hope to stop these crimes before they occur by educating residents and ensuring businesses who sell money cards are aware of the scams," added Sheriff Chapman.
Residents are also reminded that law enforcement will never ask for money in lieu of an arrest, and residents are encouraged to contact the Loudoun Sheriff's non-emergency number at 703-777-1021 to verify a caller claiming to be from the Loudoun County Sheriff's Office.
If you are a resident of Loudoun County and believe you were a victim of a scam, please contact the Loudoun County Sheriff's at 703-777-1021 or file a report online atsheriff.loudoun.gov/reportonline. Scams are occurring with great frequency and take various forms. Please visit the website www.lookstogoodtobetrue for further information on the variety of consumer scams that are taking place.
This alert is posted originally at this link
http://sheriff.loudoun.gov/CivicAlerts.aspx?AID=459