Latest News
Delgaudio Court Battle Victories Pile Up in 2 years...... No Outstanding Legal Issues For Delgaudio After 2 Years.
June 25, 2014
News Release
Delgaudio Court Battle Victories Pile Up in 2 years
No Outstanding Legal Issues For Delgaudio After 2 Years.
Today after nearly two years of investigations into allegations made by a former employee against Eugene Delgaudio, Sterling Supervisor ending in no charges, yet another proceeding has ended in dismissal by a judge.
Last week an unrelated federal case involving Delgaudio was setttled in Denver Colorado.
http://publicadvocateusa.org/news/article.php?article=9540
There are no outstanding legal issues concerning Delgaudio.
Photos Posted From News Conference
http://joineugene.com/photogallery/gallery.php?id=745

Statement of Eugene Delgaudio in response to Dismissal of a petition to remove him from office today:

"The long process of false accusations that made up the Delgaudio Snipe Hunt is over. Thank you to God, my wife Sheila and the people of Sterling for standing by me during this wrongful effort to
deprive the people of Sterling their representation on the board of supervisors," Delgaudio said.
Statement from Charles L. King, attorney for Supervisor Delgaudio commenting on the Dismissal
Commenting on the dismissal of the removal petition filed against Supervisor Eugene Delgaudio, Charles L. King, Delgaudio's attorney said:
"The two year snipe hunt for Eugene Delgaudio is over."
"Before the bloggers chime in, everybody should know this case ended because there was no evidence."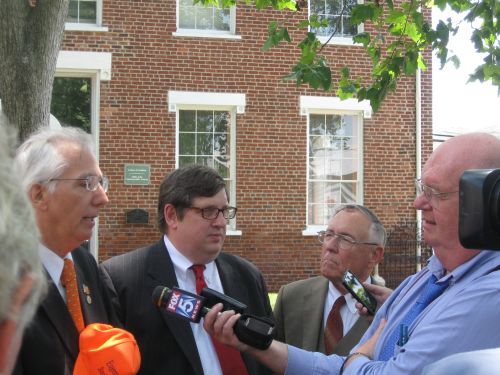 "There was no evidence because Donna Mateer lied."
"Donna Mateer perjured herself before the Special Grand Jury and in her deposition."
"In 2012, she lied to Chairman York and the Washington Post."
"Why would she lie? She got bad advice."
"Donna Mateer made two serious allegations. One, as a County employee she did nothing but make calls to set up fundraising appointments between January 3 and March 2, 2012. Two, Hannah Scoggins, a Public Advocate employee, ran Supervisor Delgaudio's office in the county building," said King
Statement Continued in Plain Text Posting
http://joineugene.com/news/article.php?article=9557
Entire Statement in PDF
http://www.joineugene.com/library/Press_Release_6_23_14_final_version.docx
Pleading in support of Motion to Dismiss granted Judge Sheridan written by Theo Stamos, prosecutor and joined in court as in agreement by Charles King
22 pages from Commonwealth Attorney Theo Stamos, from page 22
The Commonwealth cannot rely on conjecture, speculation, suspicions, and assumptions to support this extraordinary statutory procedure......
http://www.joineugene.com/library/CWA_Mtn_to_Dismiss-Delgaudio_6-24-14.pdf

NEWS REPORTS ON COURT VICTORY
FIVE FOX TV NEWS VIDEO John Henrehan Reports on Delgaudio Court Victory
http://www.myfoxdc.com/video?autoStart=true&topVideoCatNo=default&clipId=10299303
http://www.myfoxdc.com/story/25861047/effort-to-remove-loudoun-county-supervisor-fails
Loudoun Times Mirror: Dismissed: Recall effort against Delgaudio tossed out
http://www.loudountimes.com/news/article/dismissed_recall_effort_against_delgaudio_tossed_out432

Leesburg Today: Judge Dismisses Recall Case Against Supervisor Delgaudio
http://www.leesburgtoday.com/news/breaking-judge-dismisses-recall-case-against-supervisor-delgaudio/article_e47b985e-fbbd-11e3-8e8e-0019bb2963f4.html