Latest News
EUGENE DELGAUDIO TO HOLD NEWS CONFERENCE TUESDAY MORNING JUNE 24, 2014
June 23, 2014
CHARLES L. KING ATTORNEY AT LAW Leesburg, Virginia 20176
___
Office Phone 703-669-3500 charleskingesq@verizon.net
For immediate release: Monday,June 23, 2014 1:15 P.M.
EUGENE DELGAUDIO AND ATTORNEY CHARLES KING AVAILABLE
AFTER APPEARANCE IN COURTHOUSE
TUESDAY MORNING June 24, 2014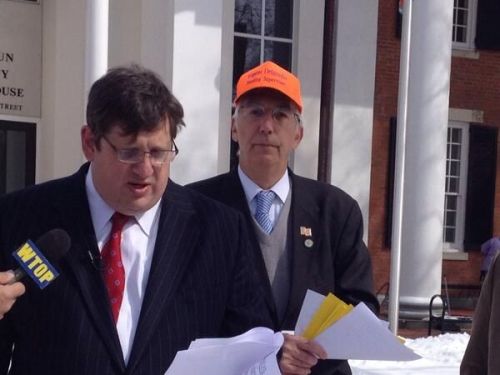 After a court hearing Tuesday at 11 AM, Sterling Supervisor Eugene Delgaudio and his attorney Charles King will be available to speak to members of the press outside the Loudoun County General District Court at 18 East Market St. Leesburg, VA 20176.
The legal proceeding involves efforts to remove Supervisor Delgaudio from office and Delgaudio has said there is no basis for the removal and that is politically motivated.

This could be approximately up to one hour after a 11 a.m. "Pre-Trial proceeding" before Judge Paul Sheridan. Details follow:
Date: Tuesday June 24 2014
Time: Approximately 11:30 am -to 12:30 PM Start, (AFTER Court Hearing)
Who: Supervisor Delgaudio and his Attorney King
What: Comments on Court Action If Any
Where: Loudoun County Court House, southern lawn, facing the Loudoun Times Mirror
building.
DIRECTIONS TO COURTHOUSE Via Route 7 Loudoun County, Va.
From the East:
Heading west on Route 7, Harry Byrd Highway to Leesburg, Va.
At the town's edge, Route 7 becomes Market Street.
At the split by Mom's Apple Pie stay right to continue on Market Street into downtown Leesburg. The Loudoun County Courthouse is on your right. Parking is before the Courthouse, right turn on Church Street N.E. in Leesburg,