Latest News
Emily Marie Mooney Addresses Park View HS, Keynote Wendall Fisher Wows Crowd
June 16, 2014
Developing
I attended Dominion High School graduation yesterday, Father's Day, and greeted graduates.
Dominion High School biology teacher Kimberly Evans addressed the school's graduates June 15, in the Dominion High School gym. Evans holds a bachelor's degree in zoology from Miami University of Ohio and a master's degree in education from Marymount University. She has taught at Dominion since 2004.
Today I was at the Park View HS graduation at the Patriot Center at GMU and congratulated graduates.
Tomorrow, a 3rd High School that has students from Sterling District has their graduation.
Congratulations to Potomac Falls HS students who graduate at 9 a.m. at their school Tuesday.
Potomac Falls High School English teacher David Quirin spoke to the school's class of 2014 (9 a.m. Tuesday, June 17, Potomac Falls High School Stadium). Quirin is the longtime SCA sponsor. His speech is entitled "Don't Let Fear Make You Uncomfortable."

At Park View HS, Wendall Fisher was the keynote and was wonderful with "you are the one" theme. Emily Marie Mooney gave a tremendous speech and the special Laurie Mooney-Avila family section reserved stood and cheered. Potomac Falls HS (also now in Sterling Dist) is 9 a.m. Tuesday.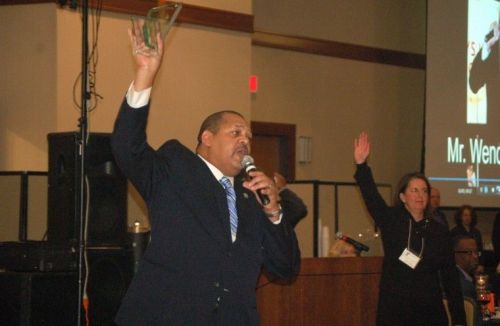 Fisher is the Loudoun County Public Schools supervisor of outreach Wendall Fisher and addressed students, families and faculty of PV HS at George Mason University Patriot Center. A former member of the Loudoun County School Board, Fisher served for 20 years as the executive director of the Loudoun County YMCA.
He is a great motivational speaker and was in wonderful form today.
Fisher's talk was a salute to families and the students in the Matrix theme with "you are the one" resonating.

Here is a video of Wendall Fisher at another Commencement in 2010.
http://www.youtube.com/watch?v=KjY5l3BIGXg