Latest News
Sheriff Releases Composite Sketch of Suspect in Sterling Area Robberies
June 5, 2014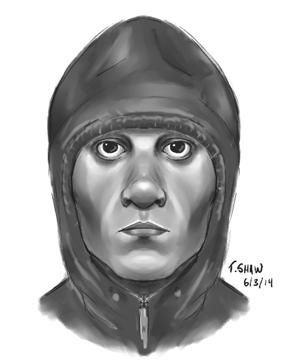 Sheriff Releases Composite Sketch of Suspect in Sterling Area Robberies

Attached: Composite Sketch of Suspect in May 31st Stanford Square Robbery
Detectives with the Loudoun County Sheriff's Office released a composite sketch and are asking for the public's assistance in identifying the suspect responsible for two street robberies reported on May 31st.
Sheriff's deputies first responded to a female who was found injured around 5:30AM in the 1200 block E. Severn Way. The 62-year-old was approached by an unknown male who attempted to grab her purse. After a brief struggle, the suspect struck the victim with a blunt object described as a handgun by the victim. The victim received minor injuries during the assault. The suspect fled the area with the purse and its contents.

The suspect was described as a male, 5'8" to 5'10" tall, and was wearing a blue hooded sweatshirt and sunglasses. The suspect had the hood pulled up over his head to conceal his face.

Around 9:30PM Sheriff's deputies responded to Reston Hospital for a victim who was being treated for an assault that occurred earlier in the day. The victim, a 52-year-old Ashburn woman, reported around 5AM on Saturday she was going to a friend's house when an unknown male knocked on the window of her vehicle in the 21000 block of Stanford Square. The suspect opened her car door, brandished a firearm, and demanded money. The suspect then ordered her out of her vehicle and told her to remove her pants. At one point during the robbery the suspect sexually assaulted the victim.

The suspect fled after the victim's friend was heard coming to meet her. A composite sketch of the suspect was developed in this case. The suspect was described as a Black male, approximately 6' tall, and in his late 20's. He was wearing a blue hooded sweatshirt with the hood up to help conceal his face.

Anyone with any information regarding the possible identity of this suspect is asked to contact Detective W. Promisel of the Loudoun County Sheriff's Office Criminal Investigations Division at 703-777-0475. If the caller wishes to remain anonymous they are asked to call Loudoun Crime Solvers at 703-777-1919. If the information provided to Loudoun Crime Solvers leads to an arrest and indictment, the caller could be eligible for a cash reward of up to $1000.