Latest News
Awesome Turnout as 1,200 Students and Parents Attend Teen Job Fair
May 6, 2014
The board meets Wednesday May 7 and as usual I plan on being there representing you and Serling.
I continue to attend 100 per cent of all board meetings and serve as a voting
member on the Board's Transportation and Land Use Committee which meets May 16 from 9 am to 4 p.m. -- all day.
As noted by members of the board, a lot has been done by that committee in recent
months due to consistent quorums making the conduct of business possible.
I am meeting daily with residents, including Sunday evenings.
Last week's Crime briefing was packed. And here's a community update on other
major projects.

Neighborhood Watch
Briefing Thursday May 8
The next meeting for the Sterling Area Neighborhood Watch Group will be held on Thursday May 8th at 7:00PM at the Sterling Sheriff Sub-Station. Deputy Spurlock plans to discuss scams and the process for reporting alleged zoning violations. The public is welcome as these are open meetings.
This public briefing is at the Sterling Sheriff's Station next to Rolling Ridge Elementary School by Briar Patch Park on East Frederick Road, just one block in from Sterling Boulevard. (The crime briefing hosted by the Sheriff on May 1st was packed and we learned a lot).
1,200 Attend Delgaudio's 6th Teen Job Fair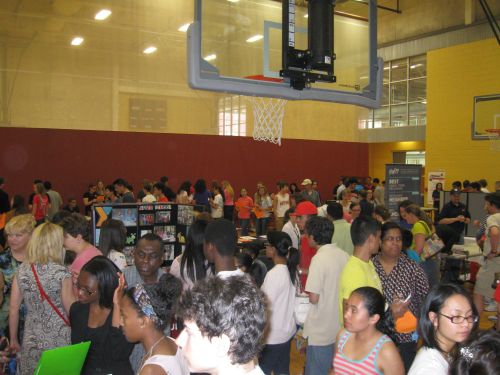 Thank you to everybody who volunteered on Saturdays's teen job fair.
1,200 Sterling area teens and their parents attended the 6th Teen Job Fair May 3rd.
For teen agers 14-18, here are some of the 30 companies: Atlanta Bread Company, Ashby Ponds, Old Navy-Dulles Town Center, Continental Pools, Potbelly Sandwich, Loudoun County Parks, Rec. & Community Services, YMCA. For a complete list please email me at eugene.delgaudio@loudoun.gov.
Job Fair, Tuesday, June 20, You are welcome.
I am being asked "how about the adults"? So I am promoting adult job seekers to go to the Loudoun Workforce Resource Center Job Fair on Friday, June 20, 2014 from 10:00 a.m. - 2:00 p.m. at the Rust Library 380 Old Waterford Road, N.W. Leesburg, VA 20176. The LWRC has helped Sterling residents for years. Call 703-777-0150.