Latest News
CAPTURED! SUSPECT IN CUSTODY WHO INJURED TWO DEPUTIES AT STERLING COSTCO
May 1, 2014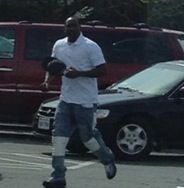 THUG WHO INJURED DEPUTIES CAPTURED
The man who alledgedly shoplifted and fled the Sterling Costco and injured two deputies has been captured.

More details will be forthcoming but the suspect in this photo has been apprehended. One deputy
has fully recovered. And the other deputy is recovering and is expected to return to work.
I learned this tonight at the well attended, and successful, crime briefing at the Sterling Sheriff's Station.

Recent Major Event in Sterling:
Synder's Massive Generosity to Sterling
I attended and cheered the gift of $200,000 at Park View High School to build an artificial turf football field last week by Dan Synder, who gave $100,000 and the National Football League that gave $100,000 respectively.
LAST NIGHT 50 CITIZENS AND DELEGATE AND SENATOR
I attended and answered a few questions when asked at Delegate David Ramadan and Senator Jenifer Wexton's town meeting on their legislative session held at Sterling ES.
TODAY WITH A DOZEN ELECTED OFFICIALS
I presented an official proclamation, on behalf of the entire Board, at the National Day of Prayer ceremonies held in the Leesburg Town Council chambers in Leesburg for Loudoun.
Volunteer Dinner Meeting Success.
The rain was really coming down extremely hard for a long while! But deteremined volunteers "swam" throught the rains and came to the Teen Job Fair Volunteer meeting. Hot apple pie was a bonus provided by Joe's.

If you can join the dedicated volunters, please be at the Claude Moore Recreation Center at 12 noon this Saturday, May 3, we can definitely use your good efforts in the Teen Job Fair! When you get there, just ask for Supervisor Delgaudio or Art Kelly.


30 COMPANIES CONFIRM TONIGHT
6th Annual Sterling Teen Job Fair Set for May 3rd, 2014
The 6th Annual Sterling Teen Job Fair will be held Saturday, May 3rd, 2014, from 1:00 to 3:00 p.m. at the Claude Moore Recreation Center, 46105 Loudoun Park Lane in Sterling.
The Rec Center is located in the park off of Cascades Parkway about a half mile north of Church Road in Sterling.
The fair, sponsored by the Loudoun County Department of Parks, Recreation and Community Services, and Sterling Supervisor Eugene Delgaudio, will feature a variety of employers in the fields of retail, catering, entertainment, technology and more.

Senator Dick Black wrote me and is having a fundraiser this Friday evening
He said "Join Us For an Old Fashioned Cook Out!"
What: Senator Black's B.B.Q.
When: Friday, May 2nd from 5:00 pm to 8:00 pm.
Where: Home of the Honorable Mick and Mrs. Michelle Staton
43471 Thistlewood Court, Ashburn, VA 20147
Who: Everyone! A fun time for the whole family.
RSVP to: Chris@senatorblack.com, or 703-468-1342

STERLING Neighborhood Watch-Join Up Thursday May 8
The next meeting for the Sterling Area Neighborhood Watch Group will b held on Thursday May 8th at 7:00PM at the Sterling Sheriff Sub-Station. Deputy Spurlock plans to be there Topics include: recent scams and the process for reporting alleged zoning violations. The volunteers who run this operation set the standard in Loudoun and the region.