Latest News
Sheriff Seeks Public's Help to Identify Larceny Suspect who Injured Two Deputies in Sterling
April 20, 2014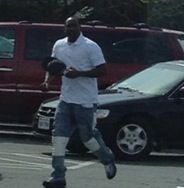 Sheriff Seeks Public's Help to Identify Larceny Suspect who Injured Two Deputies in Sterling
The Loudoun County Sheriff's Office is seeking the public's assistance to help identify a suspect who injured two deputies as he attempted to flee from the scene of a larceny at the Costco in Sterling, Virginia.
Loudoun County Sheriff's Deputies responded to the Coscto on Price Cascades Plaza around 3:45PM on Saturday for a report of a larceny in progress. A male suspect was attempting to take televisions from the store.
Deputies confronted the man and attempted to stop him from fleeing the area. The suspect entered his vehicle, closed the driver's side door on one deputy's hand. A second deputy attempted to grab the suspect through his window. The suspect drove away, dragging the deputy for approximately 60 feet and striking a Loudoun County Sheriff's Office patrol car. Both deputies were taken to a local hospital and have since been released.
The Loudoun County Sheriff's Office has released still photos of the suspect and the suspect vehicle. The suspect was driving a 2004-2006 model Acura with New York tags.
If you have any information regarding the possible identity or whereabouts of this suspect, you are asked to call Detective W. Promisel of the Loudoun County Sheriff's Office at 703-777-0475. Callers wishing to remain anonymous are asked to call Loudoun Crime Solvers at 703-777-1021. If the information leads to an arrest and indictment, the caller could be eligible for a cash reward of up to $1000.
###