Latest News
Liberal Opponents of Sterling Produce Nothing For Court- "ZERO DOCUMENTS"
April 19, 2014
For imediate Release April 14 2014
ATTORNEY FOR SUPERVISOR DELGAUDIO COMMENTS
ON DOCUMENT SUBPOENA RESPONSES

Commenting on the responses to document subpoenas issued to the Citizens of Sterling activist protest group who organized the removal petition now pending in the Circuit Court and Jonathan and David Weintraub, Charles L. King, attorney for conservative pro-family Republican Supervisor Eugene Delgaudio said:
"One person provided zero documents. The others sent newspaper articles, internet snippets, FOIA responses, social media screen shots and Board briefing packets."
"Where is the evidence of wrongdoing the petitioners swore under oath they had?"
"I asked Supervisor Delgaudio's adversaries to show me the smoking gun, and they won't do it!"
"I guess we know the Sterling activistsprotestors don't have any evidence not given to the Special Grand Jury."
"The documents provided don't solve the great mystery of the missing thousands of calls over hundreds of hours three hundred and five hours of phone calls Donna Hackett swore, under oath, she made."
"Perhaps the records can't be found because she didn't make never made the calls?"
END OF STATEMENT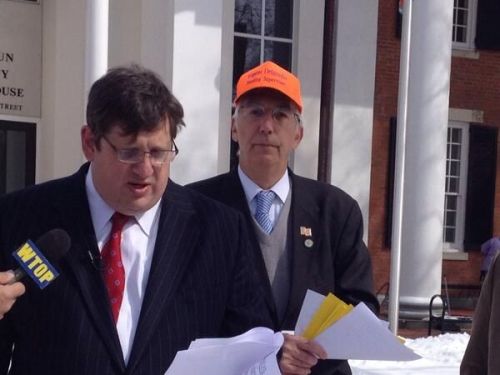 Photo from WUSA Peggy Fox Twitter account. Charles King attorney on left and
conservative pro-family rights Republican Supervisor Eugene Delgaudio on right at
Leesburg Court House news conference earlier this year.