Latest News
Snow STILL HERE in Sterling--Still Much Work To Do in Sterling... AND THERE ARE PLAYS TO GO TO ALSO
February 16, 2014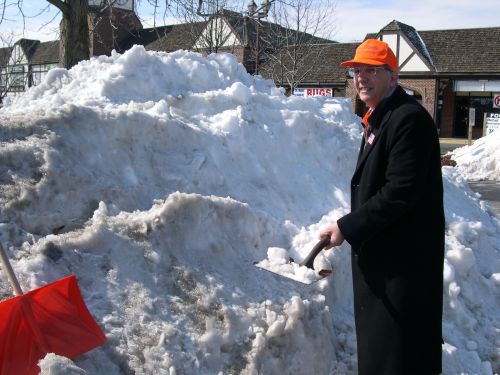 VDOT workers were still working to clear major intersections as late as TODAY. Private schools and public schools are clearing their lots and the areas directly around their schools.
I was asked by school officials and others tonight to request sidewalks be cleared for school children who return to School on Tuesday. So if there is any way, please clear your sidewalk for the sake of pedestrians.
Fire Hydrants. If there is a fire hydrant not cleared please consider this a community interest.
Drains.
Yes, I do go around and clear drains to prevent flooding and dangerous icy conditions. I do note that this is sometimes difficult for the VDOT crews as they have cleared the roads as much as they can. Please go out and clear that drain as the temperature rises.
Sterling Teen and ADULT Snow Removal Squads
Fantastic response by people who needed help and young teens and their siblings who
went out to clear the respective homes. Thousands of Sterling residents helped their neighbors. I posted on facebook a video about one person who towed people out for free. I shoveled one neighbors walk as usual-- thank you all for keeping Sterling functioning.
General Situation: I have a lot of complaints about driving conditions. I acted on 30 different complaints regarding snow. The workers are still clearing snow. There is still a lot of snow around. Please be aware most sidewalks have not been plowed and the line of sight for all corners is severely reduced.
Drive slowly due to ice melting and re-freezing, keep an eye for pedestrians all hours.
TWENTY "DRIVE WAY BLOCKED " COMPLAINTS
Mr. Delgaudio I have to say VDOT had certainly done a good job compared to years ago. But I do have one negative thing to say. After shoveling for over 2 hours to remove snow from our driveway AND in front of our driveway we woke up this AM to see a mound of snow sitting at the end of our driveway! It was well over 4 feet tall and solid ice!! says Leah R. M.
Response: this happened over and over again as drivers kept clearing wider and wider sections of roads and then returned
to clear even more snow from the streets at intersections in the residential areas and I heard this frequently.

THANK YOU TO VDOT FROM RICHARD T.
Here is a thank you from Richard T. directed to VDOT
I don't know if you can convey a big thank you to the (VDOT) person(s) who plowed Pinewood Ct. but I wanted to let you and them know that I was really impressed. They took great care to not pile great amounts of snow in front of driveways, fire hydrants, and mail boxes. It was a nice surprise to see that there was only a small amount of snow in front of these areas after they plowed and I appreciate it. I am sure others appreciate it as well.
Response: Yes, I did convey it to the VDOT staff and they posted it in their command center in Chantilly.

TAX FREE HOLIDAYS
COMING UP IN VIRGINIA
I heard about a "tax free holiday" but it is Maryland this weekend on purchases of washing machines.
and there is one TAX FREE DAY left on Monday Feb. 18 in Maryland (February 16-18, 2013. A tax-free weekend on select ENERGY STAR products)
It reminded me that there are 3 tax free holidays in Virginia coming up, so please mark your calendar.
May 25-31, 2014: Hurricane and Emergency Preparedness Equipment
August 1-3, 2014: School Supplies and Clothing
October 10-13, 2014: Energy Star and WaterSense Qualified Products
http://www.tax.virginia.gov/site.cfm?alias=STHoliday

RAPUNZEL IN STERLING NOTICE IN THE MAIL
FRIDAY FEB. 21
A musical fairytale for all ages. Friday Feb. 21, 7:30 p.m. Sat. Feb. 22 3 p.m. and 7:30 p.m., Sun. Feb. 23 3 p.m. hosted by the Sterling Playmakers. Tickets $10.
The best acting in Sterling, Loudoun and the world.
At Sterling Schools This Week
HERE ARE SOME BIG EVENTS AT SCHOOLS THIS WEEK
LATIN DANCE FIESTA FUNDRAISER
Friday Feb. 28 3 dollars admission to students
six to 8 p.m. Sterling Middle School
Park View High School This week
Be sure to see High School Arts: The Tempest Tuesday February 18th and Wednesday Feb. 19th at 7:30pm Park View High School Theater
Park View HS Just Posted!
Girls/Boys Conference 21 Basketball Quarterfinal Games re-scheduled to Tuesday, February 18th (click for schedule) Conference 21 Basketball Quarterfinals (Tuesday, February 18th)
Park View HS Girls 6:00 @Loudoun County HS
Park View HS Boys 7:30 @Loudoun County HS
Probably the best sports website in Loudoun County and the world--its got everything about Sports at Park View HS Its called Patriot Nation.
http://www.parkviewsports.org/
Dominion HS--All Sports
SPRING MEET-THE-COACHES NIGHT ON WEDNESDAY, FEBRUARY 19TH AT 7:30 PM
Meet-the-Coaches Night for the upcoming spring athletic season will be held on Wednesday, February 19th at 7:30pm. Prospective Titan winter student/athletes and their families are strongly encouraged to attend this informational meeting for all ten sports activites at Dominon HS.

DONATE TO PASTA FOR PENNIES At SRMS
Seneca Ridge Middle School will be participating in The Leukemia & Lymphoma Society's (LLS) Pasta for Pennies, presented by Olive Garden. Students will collect money to help support LLS's mission: "To cure leukemia, lymphoma, Hodgkin's disease and myeloma, and to improve the quality of life of patients and their families." Donate by cash or check (checks should be made payable to The Leukemia & Lymphoma Society) at school.