Latest News
Projects Announced and In Progress in Sterling: LITTER PICK UP, Potholes Being Filled, Rolling Ridge ES Walk Ramp, New Community Center
February 4, 2014
Dear Sterling American,
Thank you for all the support expressed in personal visits, phone calls and
other messages.
Today was another day in the news media and I am focused on using the opportunity
to report on Sterling's accomplishments and our needs to a wide audience.
I have to do that now and then as the nature of some is to simply attack Sterling.
Many thousands have heard of our projects here and I will list them here in a minute.
Many more thousands have heard about them today.
Before I get to that community report could you please take a minute to vote in a
tight poll that you can have a big impact on?
One newspaper has a poll and no registration is needed but it is close so please
vote now in that poll. You the voters have returned me four times and if you do not
vote, the liberals -- who do not believe in Sterling have the right to vote-- will be
unchallenged. Thank you.

Please vote in the Leesburg Today Poll, "no, let voters decide"
http://www.leesburgtoday.com/do-you-support-the-delgaudio-recall-effort/poll_f8c27068-8916-11e3-9f80-0019bb2963f4.html

Sterling is getting the best Sterling District Supervisor possible right now-- and every day.
I am working to support community events and turn citizens out for them this week and
in the future.
I hope we all can do this.
Events or projects all of Sterling and Loudoun can support and are open to all:
Here are Up front the most urgent:
Pick Up litter This Saturday
Sterling Boulevard Cleanup will be from 9:00 a.m. to noon on Saturday, February 8th.

I am asking Sterling citizens to join the Sterling Foundation and come to BRIAR PATCH PARK (located along Sterling Blvd. between Charlotte St. and Frederick Dr.) at 8:45 a.m. to receive orange bags, safety vests, and instructions. Please bring work gloves!
Last TUESDAY NIGHT: 40 members of my Women's Self Defense Advisory Group met at Buffalo Wing Factory on Shaw Road in Sterling at 7 p..m. The volunteers of Virginia Open Carry pick up litter on Cascades Parkway and have been the volunteer staff that train hundreds of women in Sterling how to defend themselves.
Last Wednesday night and again Thursday night, I promoted a fundraising event for the Sterling Foundation at Joe's Pizza Wednesday, Jan. 29, and Thursday January 30.
Last Thursday Night, January 30 : there was a full room of citizens at a community briefing on crime at 7 p.m. at the Sterling Sheriff's station on East Frederick Road next to the Rolling Ridge Elementary School.

Urgent Community wide Projects
The Rolling Ridge Elementary School PTA would like to build a special walkway between the school and the Sheriff's station and they are $40,000 short of their $50,000 cost. This is a lot of work and will take a lot of community spirit.
This is a fifth of mile ten foot wide circle behind the parking lot in a circle in the field with 5 lanes.
Checks should be made payble to "Rolling Ridge Elementary PTA " for the "exercise track construction fund" and that checks can be mailed to ROLLING RIDGE ELEMENTARY SCHOOL 500 East Frederick Drive Sterling, Virginia 20164.
Like the wonderful Sully Elementary School "Discovery Park" playground built with $200,000 in private and grand funding in 2006 by Sterling parents and volunteers, the Rolling Ridge exercise track will benefit the whole community 7 days a week and will be open to the public.

PARK AND RIDE BUS STATION


The $150,000 construction of a turn lane for Sterling's first-- and already completely built- park and ride for commuter buses will take place shortly and contracts have been finalized so that this new station for 160 Sterling and Loudoun County commuters at the intersection of Cascades Parkway and Church can open this year.
The board approved that last summer and I am working on that.
I say Aye, Aye and the board of supervisors voted "Aye" for the appropriation.

NEW SIDEWALK AT THE HERITAGE CHASE APARTMENTS
I am working on the final stages working with several local agencies including Loudoun Water and Loudoun County officials to get a $44,000 sidewalk by the Chase Heritage apartments on Sterling Boulevard by Greenthorne Avenue.
POTHOLES MUST BE FILLED
Virginia Department of Transportation (VDOT) crews are out in full force patching potholes following recent winter storms. Patching operations are prioritized by pothole severity and location, with potholes on high-traffic roads filled within 24 hours of being reported.
I have reported potholes on the four miles of Sterling Boulevard.
My office is conducting a full district audit of potholes and need to know exactly where
all the potholes are in the Sterling district and I need calls to my home phone number to
tell me where the potholes are to be fixed that is 703-421-4599 or the district office
at 703-771-5819 ( frequently announced phone numbers for the public to reach me).

NEW STERLING COMMUNITY CENTER
NEW STERLING SAFETY CENTER
The board of supervisors are seeking input on budgetary plans to replace the old Sterling community center and the fire and rescue station on the ballot this November.
These facilities are over 30 years old and were constructed when Sterling was first founded. They are long over due being
built but we must respect the indepdence of the Volunteers of the Volunteer Fire Department and Rescue Squad.
The facts are that Sterling Volunteers publicly deferred these improvements so that Middleburg and Ashburn could get their capital improvements under way first.
That is the kind of volunteers that make up the Sterling Fire and Rescue Squads.
The time for waiting is over this year 2014.
The county estimates the cost to be in the $10 million range and some additional expense is necessary to move the library to a retail space nearby.
These projects were placed in the county Capital Improvement plan 2 years ago and are scheduled for a formal bond referendum this Fall 2014.
Purchasing some land, working out the operational transition and signing contracts are taking time but once the bond referendum is passed construction of the new Sterling Safety Center and Community Center will begin.
That has been supported by the board and I am working to keep that support and to work to get county voters approval, too.
I want to hear from citizens on what they think of completely rebuilding the Sterling Safety Center at the intersection of Commerce and Enterprise Streets?
I ask the public to please encourage the board to budget funds, authorize bonds, and contracts for these worthwhile projects I have described as they are long over due.
This is a partial list. As always, I encourage everyone to join me or tell me of some other project to promote.
There is plenty of work for citizens dedicated to Sterling's success.
LCSO on Scene of Bank Robbery in Cedar Lake Plaza Today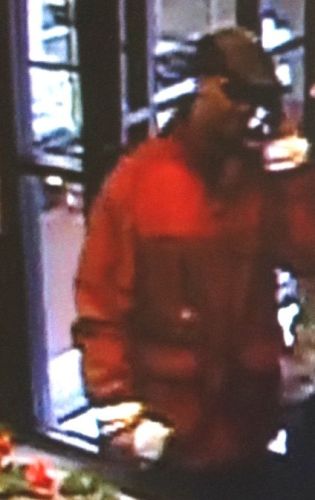 The Loudoun County Sheriff's Office is currently on the scene of a reported bank robbery in the Cedar Lake Plaza in Sterling, Virginia. (This is the bank in the IHOP shopping center opposite Grand Mart on route 7)
Around 12:45PM today an unknown subject walked into the Washington First Bank, implied he had a weapon and demanded cash. The suspect did not display a weapon. The subject is described as a dark skinned male, approximately 5'10" tall and was wearing a red zip up jacket, a brown golf-style cap and black pants.