Latest News
Finding: Sterling Costco Shooting "Justified"....Wolf Asks Holder to Crack down on child trafficking....Breakfast and Lunch Saturday
July 31, 2013
Dear Serling American

Eugene Delgaudio Invites You to Crime Briefing
Learn about Fraud and Scams!

Wednesday, August 14th 7:00pm, Sterling Sheriff's Station, 46620 E Frederick Dr. in Sterling Please join me at the Sterling Sheriff's Station for a regular Neighborhood Watch meeting and a Briefing on fraud and scams.

Costco Shooting "Justified"
Jim Plowman announced the results of the investigation into the shooting today.
Plowman released findings that the shooting of a 38 year old woman inside Sterling's
Costco on May 29 by a deputy was justified.
Plowman said the deputy's shooting of Mhai Scott was in self-defense and in the defense
of the customers in the store when she began charging him with a knife and scissors.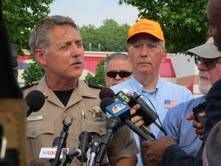 WOLF APPLAUDS LAW ENFORCEMENT IN NATIONWIDE ANTI-TRAFFICKING OPERATION,
CRITICIZES AG HOLDER FOR FAILURE ON ISSUE OF HUMAN TRAFFICKING
Following the FBI's rescue yesterday of 105 children from 76 U.S. cities who had been forced into prostitution, Rep. Frank Wolf (R-VA), chairman of the House Appropriations subcommittee that funds the Department of Justice (DOJ), again urged U.S. Attorney General Eric Holder to prioritize the issue of human trafficking and criticized Holder for his failure to respond to repeated written requests to prioritize prosecution of Web sites which serve as a conduit for the buying and selling of human beings.

Meet me Saturday 9:30 a.m.
VOLUNTEERS GATHER SATURDAY MORNING August 3
This is the 103rd breakfast with some of you!
Please meet me Saturday morning, August 3, at Chick Fil-A at 9:30 a.m. for our usual breakfast and leafleting.

Chic Fil-A is located in the Route 7 Clocktower shopping center opposite Burlington Coat factory
near Santini's in Sterling. We will meet 9:30 a.m. Saturday August 3rd at Chic Fil-A.
Let me know you are coming. Thank you.
and here's lunch?!
STERLING PARK CHRISTIAN CHURCH
Also On Saturday August 3 the Sterling Park Christian Church is sponsoring in cooperation with the Sheriff's Office and the Fire Department a community Picnic. The church will provide hot dogs, frizbees, and information while the Sheriff and Fire Department provides demonstrations and information to the members of the community. Everyone is invited and will be welcome to the event.