Latest News
Delgaudio "Church Picnic" Success....Witnesses Sought In Accident on Sterling Blvd.
July 11, 2013
Park and Ride "Church picnic" is success
BOS committee meets Friday--Sterling Awaits Board Action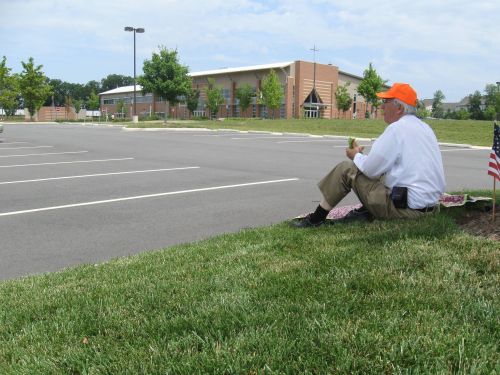 Delgaudio Invites You to Pick Up Trash Saturday 8:45 AM
Please come to the Sterling Boulevard Cleanup from 9:00 a.m. to noon on Saturday, July 13th.

All participants should come to BRIAR PATCH PARK (located along Sterling Blvd. between Charlotte St. and Frederick Dr.) at 8:45 a.m. to receive orange bags, safety vests, and instructions. Please bring work gloves!

In case of inclement weather, the cleanup will be postponed until Saturday, July 20th.

(This project is organized by the not-for-profit Sterling Foundation to preserve the beauty of the community. For more information, contact Kevin Chroninger at 703-406-7749 or visit www.sterlingfoundation.org.)
Delgaudio Invites You To Sheriff's Briefing July 24
Loudoun County Sheriff Mike Chapman will hold a public safety meeting for Sterling residents Wednesday, July 24, 2013.

The quarterly public safety meeting is part of the agency's effort to better utilize resources, while at the same time providing a higher level of service to county residents. The meeting will be held at 7PM at the Eastern Loudoun Sheriff's Station located at 46620 East Frederick Drive in Sterling (adjacent to Rolling Ridge Elementary School).

The Loudoun Sheriff's Office hosts quarterly public safety meetings in each of the four service areas of the county. All residents, homeowners associations, community groups, and town representatives are invited to attend.
LCSO Seeks Witnesses to July 11th Crash on S. Sterling Boulevard



Loudoun County, VA- The Loudoun County Sheriff's Office is seeking witnesses to a two vehicle crash that occurred Thursday, July 11th on South Sterling Boulevard near East Maple Avenue.

The crash occurred shortly before 1:30PM and involved a Toyota Camry and a Mitsubishi Montero. Loudoun County Sheriff's Office Crash Reconstruction Investigators would like to speak to those in the area that witnessed the crash and left the scene prior to speaking with law enforcement.

Both drivers were taken to local hospitals with non-life-threatening injuries.

If you witnessed this crash and did not speak with a deputy, please call SD D. Lake at 703-771-5798 x 8307.
America-Hating Former Opponent Attacks Me For My Patriotism
My former opponent who supports the legalization of drugs, wants to turn Sterling into a welcome mat for illegal aliens and attacks organized religion in every breath claimed, on the evening prior to July 4, I was not a patriot due to my conservative beliefs.
My former opponent thinks I am Captain America and he's the Red Skull trying to crush me. Extremely twisted.
This is what made my former opponent sputter his wild claim that I am not a patriot due to my conservative beliefs.
GOVERNOR BOB MC DONNELL ATTACKED FOR VISITING STERLING! Liberals to Sterling Americans: Drop Dead
http://joineugene.com/news/article.php?article=8700
Eugene Delgaudio: 66% of Sterling Residents Favor Sterling Park And Ride....It is wrong to stall fully built Sterling Park and Ride

Next Sterling Foundation Fundraiser Thursday July 25
The Sterling Foundation asks you to "eat at Joe's" --Joe's Pizzaria 22360 S Sterling Blvd, Sterling, VA 20164 (703) 444-9500 http://joespizzaria.com/
On Thursday, July 25, 2013 From 5-8 pm Joe's will generously donate a percentage of the receipts from that evening (including take-out orders - must mention Sterling Foundation when ordering) to the Sterling Foundation