Latest News
EUGENE DELGAUDIO "MY FORMER OPPONENT PUCKERS UP-- DREAMS IMPOSSIBLE DREAM".......DAVID LA ROCK ROCKS STERLING AND LOUDOUN WITH RUN FOR DELEGATE
May 16, 2013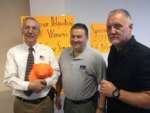 DEFENDERS UNITE WITH STERLING LADIES
The women's self defense seminar was a capacity audience and extremely successful. Frankly it was a through all options briefing and a lot of information was imparted with some practical application in an effecient manner by professional
defenders.
I witnessed some really amazing presentations that were sustaining and inspiring.
Thank you to the volunteers, my staff Joe and Jeff, the presenters and the Sterling Ladies who attended.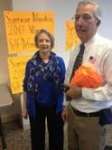 DAVID LA ROCK ENDORSEMENT
This Saturday over 100 Sterling Americans and hundreds of Loudoun Republicans will join me at the Richmond Collesium to nominate Ken Cuccinelli for Governor, one of 7 candidates for Lt. Governor and hopefully Mark Obenshein for Attorney General.
Knowing some of these candidates for years gives me some perspective and judgement as to who will be a conservative voice.
One local conservative who has worked for property rights, against the wasteful Metro and humbly obeys moral values like honoring a right to life committment in public policy is David LaRock. He deserves the opportunity to give voters a choice.
David La Rock will be a strong voice. I have seen La Rock work over the years and he will be faithful to his promise not to vote to raise taxes and will defend the unborn.
Take some time to consider working or donating to David La Rock or attending one of his events (email events@larock.us) or call 540-751-0901. Spend a week or month helping La Rock, his election is June 11, just days away.
Please do not delay. Opportunities to support a family man who believes as many of you do and is willing to stand with us in the public spotlight and scrutiny are rare.

ROUTE 7 CONSTRUCTION BRIEFING
June 4
Save the Date. Briefing number 3 on the Transportation improvements at Route 7 and Sterling Blvd. in Sterling. Let's make sure your questions are answered and your transportation problems get addressed. Meeting is Tuesday June 4 at 7 p.m. at the Sterling Sheriff's Substation.

500 Expected: HONOR OUR VETS MAY 27
21 Gun Salute honors our vets Monday May 27 at 11 a.m. at the Sterling VFW memorial corner at Holly Avenue and Sterling Blvd. THANK YOU to those who attended in the past, fly the American Flag year round and thank you in advanced for coming.
DELGAUDIO OPPONENT PUCKERS UP
DREAMS IMPOSSIBLE DREAM
One of my former opponents who recieved 30 per cent of the vote has managed to get in the news by gathering up
his former supporters and demanding that a small minority of voters still want me defeated for Supervisor.
"Get over it, the election was in 2011," says Eugene Delgaudio. Maybe a good chicken sandwich at Chic Fil-A will snap my former opponent out of his obvious deep depression.
Four times I have been on the ballot in Sterling and been elected. I hope I can run again in 2015. I have said that previously.
In the meantime, some -- a minority-- still think a majority in Sterling are not entitled to an elected representative working for them in Leesburg.
A majority of Sterling Americans voted for Eugene Delgaudio for Sterling Supervisor.
To protest a majority vote is sour grapes by my former opponent who is misleading other Sterling Americans.
THERE HAS NEVER BEEN A REVERSAL OF AN HONEST ELECTION IN VIRGINIA
There is no legal basis for this anti-Delgaudio effort. He knows it is completely unfounded. And there has NEVER (never is a long time) BEEN a successful reversal of an election in Virginia in the history of the Commonwealth of Virginia.
MAY 30 FOUNDATION FUNDRAISER
Thank you to those of you who attended the Sterling Foundation fundraiser previously at Joes. Here's another opportunity to help the Foundation. Eat at Joes Pizzaria 22360 S. Sterling Blvd. Thursday May 30 from 5 to 8 p.m.

SAVE THE DATE
NEXT GARBAGE PICK UP
JULY 20
Thank you for participating (recently)in the cleanup of Sterling Boulevard. Also wanted to left you know that collectively we filled 32 bags...... Kevin, president of the Sterling Foundation says "I also want to extend a special thanks to Willie West for bringing his stake body truck in so we could cart away all of the clippings from the ornamental grass beds. It was a bigger task than you might imagine." The next cleanup of Sterling Boulevard is planned for July 20. Do hope all of you can help out again. (Sterling Foundation is a non-profit that maintains the trees in the media on Sterling Blvd.)