Latest News
Eugene Delgaudio (REPOST)"LOUDOUN COUNTY INCOME TAX DEAD -FOR NOW"......Scott York Wants To Increase Taxes, he calls it "options"....other news....Squads of Youth Sports Teams and Boy Scouts visiting next 4 Saturdays....
July 29, 2013
Eugene Delgaudio "LOUDOUN COUNTY INCOME TAX DEAD -FOR NOW"......Scott York Wants To Increase Taxes, he calls it "options"....Loudoun SWAT summoned.....Bank Robbery Suspect Photo....Squads of Youth Sports Teams and Boy Scouts
visiting next 4 Saturdays....
(REPOST FROM FEBRUARY 15 2013 REGARDING MY HONEST DIFFERENCES WITH CHAIRMAN YORK)
Liberals in the news media are more excited about Marco Rubio drinking a glass of water than they are about the lack of economic prosperity in America.
The Virginia Senate sent a bill allowing Loudoun to institute an INCOME TAX on Sterling residents but it was killed in the House of Delegates by Conservative Tim Hugo.
SB1313 would have allowed localities to raise taxes without consent of the people.
SB 1313 would have allowed permanent tax increases through the simple adoption of an ordinance by the local governing bodies.

I voted "no" to giving Loudoun the power to institute any "tax increases" with a referendum
and imposing an INCOME TAX on Sterling Americans.
WHO SUPPORTS IMPOSING MORE TAXES WITHOUT VOTER APPROVAL?
Scott York the chairman of the Board of Supervisors frequently embraces any form of additional tax revenue ("OPTIONS") and in particular endorsed Richmond granting (under the Dillon Rule) Loudoun Supervisors "additional options" by a formal vote and emphatically supported a meals tax every single time for referendum and voted in favor of a meals tax "authority" without referendum.
Voters in Sterling and Loudoun have defeated the meals tax three (3) times with 65 to 70 per cent opposition each time Chairman York and four other supervisors (not Eugene Delgaudio) voted to place it on referendum.
LOUDOUN SWAT TEAM OVER IN NEWBERRY AREA STERLING 02/12/13
Late at night (1843 hrs.) in the 1000 block of Marsden Ct. in Sterling by the Newberry subsection.

An "Assist other Jurisdiction/Search Warrant" according to authorities : "The Loudoun County Sheriff's Office SWAT Team assisted detectives with the Herndon Police Department in the apprehension of a robbery suspect."
BANK ROBBERY IN COUNTRYSIDE STERLING AREA

Attached: Video Surveillance Still of Suspect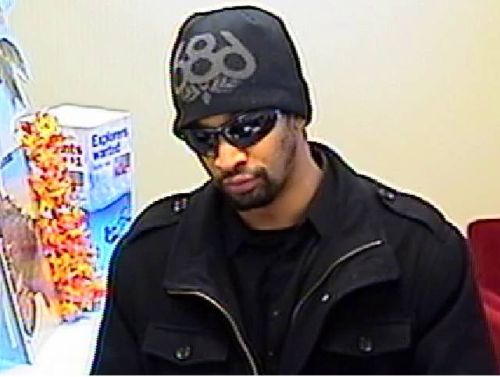 The Loudoun County Sheriff's Office is on the scene of a bank robbery in the Regal Plaza in the CountrySide area of Sterling, Virginia.
Shortly after 11AM on February 14th an unknown Black male entered the Bank of America and handed the teller a note implying he had a weapon. The note demanded cash and the suspect left the bank with an undisclosed amount of money.

KESARI, DEBT MONSTER SLAYER will return?
Here on the county front I will have to nominate Dimitri Kesari again next year.
I salute four supervisors who voted for Dimitri for the Water Board: myself, and Supervisors Volpe, Reid and Higgins voted for Dimitri. He needed five to be selected by the board. The Republican board selected no Republicans for the two spots.

40,000 STERLING AMERICANS GET NEWSLETTER
Please respond to the petition to ban panhandlers at busy street intersections in the Delgaudio Newsletter.
Please read the newsletter and tell me your opinion of the newsletter. Thank you.

HELP NEEDED FOR PROJECT GRADUATION
Cheryl Villalobos, Park View Project Grad co-chair,says
Your volunteer help is needed now. You can help by: Asking local businesses for donations,
Assisting at the craft show on March 16 (from 8am-3:30pm), Coordinating spring fundraising events, Participating in our fundraisers and Donating gift cards or money. Contact her now at
pvhsprojectgraduation@gmail.com

Boy Scouts and High School Sports Teams Selling Mulch
Along with the Boy Scouts, here come The Park View Football and Boy's Basketball Team for their 3rd Annual Mulch Sale Fundraiser.

The sports teams will distribute flyers all throughout Sterling on Saturday, February 23 and Saturday, March 2. On these dates we will need Parents, Players, Volunteers, and Coaches to help pass out and sell mulch to homes in the community.
Delivery is expected April 13.
BOY SCOUTS MULCH SALE
The Boy Scouts will distribute flyers for their mulch project Saturdays March 2, 9 and 23 and deliver mulch on Saturday April 19. Please watch out for these hundreds of "junior citizens" and their respective parents as they drive or walk to your front steps.

State Central Committee Member Eve Barner Reports
Eve Barner is going to the Republican State Central Committee meeting in Richmond on February 16th.

Another plug in this Sterling American:
Spring Craft Show March 16
Spring Craft & Vendor Show March 16, 10am-3pm
Park View High School 400 West Laurel Ave. Sterling, Va. 20164
Over 60 artisan & local businesses. Free admission. Proceeds benefit Park View Project Grad & Park View Choral Boosters
Loudoun Board of Supervisors Considers
Master Plan for Sterling Area Public Facilities
And promises to keep volunteers whole!

In a public statement this past Tuesday before the board of supervisors and given to members of the public, I said
"The Sterling Safety Center was constructed in the '70s and renovated twenty years ago, but now a larger firehouse is now needed to accommodate the expanded role of the Sterling Volunteer Fire Company and Sterling Volunteer Rescue Squad.

Staff and all stakeholders agree that "Option 1" is the way to go. This plan would provide for a new combined fire and rescue station for the volunteer squads, leave the old trees in the neighboring park intact, and renovate the community center next door with the existing voter-approved bond money from 2007.
This new Sterling Park Safety Center will cost the County around $10 million. The good news is that the volunteers have refrained from spending $3.6 million approved for renovations in 2007 so that it could be better spent on a new firehouse.
The management of the facility is the remaining issue, and I ask for language granting staff the power to work that out to keep the autonomy of the volunteers and their title authority with the new facility and the land."
The board of supervisors finance committee sent the Master Plan to the full board budget worksession to consider for the construction program and possible financing in the years ahead. And a motion was passed to recommend that the county staff work on keeping the integrity and autonomy of the number one volunteer first responders intact during this process.

No Toll Increase dot Org Flys True Colors of
Red, White and Blue for Freedom and Liberty

Tired of seeing your tolls go to enrich the transportation lobby (transit unions,etc.) instead of reducing congestion?.... The ink is barely dry on the new Silver Line partnership and Metro has figured out that before adding the Silver Line trains, the system is already at capacity. Subscribe to No Toll Increase.org | 16017 Hampton Rd | Hamilton, VA 20158.

MARK GUNDERMAN "REMEMBER THE HUNGRY PEOPLE AMONG US!"
Mark Gunderman, Sterling's Man of the Year, reminds all of us: ".....there are many families in the county that still require emergency support from our Loudoun-based food banks. LINK against Hunger is an all volunteer-run organization providing food and financial assistance to people in need in the Herndon, Sterling and Ashburn areas for more than 40 years. LINK, along with other area food banks in Loudoun, reach out to all four corners of the county and are as follows:
Mt. Olive Baptist Church - Five Loaves Two Fishes, Leesburg (703-286-5030)
Loudoun Interfaith Relief, Leesburg 703-777-5911
Messiahs Market at Community Church, Ashburn 571-209-5000
Grace Ministries at Crossroads, Ashburn 703-729-5100
Guilford Baptist Church, Old Sterling 703-430-6444
LINK against Hunger, Sterling 703-437-1776

TALK ABOUT FOOD THE FOR THE HUNGRY
Saturday, February 16th: Loudoun, Fairfax & Prince William

In Loudoun County: Tim Phillips & John Whitbeck are Hosting a party for Mark Obenshein for Attorney General at 11:00 AM to 12:30 PM at 40780 Grenata Preserve Place, Leesburg, 20175. They will feed you and give you a form for the Republican convention to fill out too.

Teen Job Fair March 16
Teen Job Fair March 16
Save the Date, Saturday March 16 from 1 to 3 p.m. at the Claude Moore Community Center on Cascades Parkway. That's the date for Supervisor Eugene Delgaudio's Fifth Annual Teen Job Fair. Let me know if you can volunteer and let me know if you want to hire teens. One new company that prepares food wants to hire 1500 teens for the summer just ten minutes from Sterling.
VOLUNTEER TODAY PLEASE. OR SPONSOR A TABLE NOW.

Dominion HS "Little Shop of Horrors"

Dominion HS is producing Little Shop of Horrors for its Winter production on Thursday Feb. 14m Friday Feb. 15, and Saturday Fe. 16, 7:30 p.m. nightly.