Latest News
Eugene Delgaudio Salutes Smokey Robinson....Attacks Sterling Street Creep....Help Find Missing Teen.... Buses From Sterling For Inauguration and Right To Life March......Three Druggies Bagged.... Free Events for Inauguration, MLK Day
January 19, 2013
Eugene Delgaudio Condemns Sterling Street Creep....Asks for Help with Missing Teen....
40 Buses Leave Sterling For Inauguration of President......Three Druggies Bagged....
Free Events In Connection With Inauguration, MLK Day, Right To Life March
Monday and Sunday and Friday........
DELGAUDIO'S "PANIC PLAN" for Attending Obama's Parade

Help Find Missing Teen
Zandi Englebrecht, age 14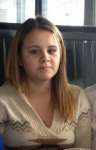 The Loudoun County Sheriff's Office continues to seek the public's assistance to help locate a third missing teenager who is believed to be in the Leesburg or Sterling area.
Zandi Englebrecht, 14, is a White female, 5'6" tall, 135 pounds with brown hair and brown eyes. Zandi was last seen on January 9th in the area of Meadowview Court in Leesburg when she left a county facility on her own accord with two other teenagers
Anyone with any information regarding the whereabouts Zandi is asked to contact Detective A. Harper of the Loudoun County Sheriff's Office at 703-777-0475.

STREET CREEP ALERT
On this date 01/16/13 at this time 1545 hrs. (time of report)
300 block W. Valery Ct. in Sterling
Suspicious Event: A 12-year-old female reported she was walking home from her school bus stop when a vehicle pulled up behind her. The driver slowed down and then turned around and drove slowly passed her again. No verbal or physical contact occurred between the driver and the 12-year-old girl.

3 Drug Suspects Bagged In Sterling
Three suspects have been charged in connection with a robbery reported on January 16th in the Sterling, Virginia area.
More details at this link here


Loudoun County Sheriff's Deputies responded to the 48000 block of Shaw Road around 2:30PM where an 18-year-old male reported that he was robbed by three suspects who were in a vehicle. One of the suspects reportedly brandished a firearm. The victim reported that his smart phone and wallet were taken.

It was later determined the robbery took place on Saynamkhan Court and was possibly drug-related. A lookout was posted for a suspect vehicle to neighboring jurisdictions.

The suspect vehicle was located by the Town of Herndon Police Department in Herndon, Virginia. Three suspects inside the vehicle were taken into custody.

Jean Bertrand Ehounoud, 20, of Sterling, and Steven D. Fields, 19, of Sterling were charged with robbery. A 17-year-old male from Ashburn was charged with robbery. The name of the 17-year-old cannot be released because he is a juvenile.

Ehounoud and Fields remain held at the Loudoun County Adult Detention Center without bond. The 17-year-old is being held at the Loudoun County Juvenile Detention Center.

STERLING'S AMAZING ONE STOP ZONING COMPLAINT FORM
"ASTOUNDING RESULTS" says Helena Syska

It took me years but the Loudoun government finally agreed to organize itself
so that all departments can work together to RESPOND to Sterling citizen
complaints.
These are the most frequent complaints that used to take weeks for Leesburg
to act on due to just plain confusion. Now response is in days.
go to this link to see more details. Thank you.
The secret is regular reporting and/or let your Sterling Supervisor know about it.
I am always interested and often file many reports on these topics.
Cable TV complaints
Health and safety
Rodents/vermin issues
Stormwater problems
Tall Grass (uncut grass over 1 foot in height)
Zoning violations (overcrowding, commercial trucks, etc.)
Here is the link for the following quality of life issues which require vigilence.
http://www.loudoun.gov/index.aspx?nid=265
If you want me as a private citizen to file the complaint for you so that you are not
the person of record, please contact me by email and I will work on the complaint
on your behalf as a citizen.

Free Events In Connection With Inauguration, MLK Day, Right To Life March
Monday and Sunday and Friday
DELGAUDIO'S "PANIC PLAN" for Sterling Americans Attending Obama's Parade
Planning to attend the Inaugural Parade on Monday, Jan. 21? Start planning now. Parade route entry points open at 6:30 a.m. and will close as each area fills to capacity.
Clink on this link for "DELGAUDIO'S PANIC PLAN"-- public gates open for the Inaugural parade at 6:30 AM (credit to WTOP)
http://www.wtop.com/41/3184000/Inauguration-Day-survival-guide-Road-closures-parking-Metro

$2 STERLING BUS SERVICE TO PRESIDENTIAL INAUGURATION
Anybody with $2 can get a ride to the Presidential Inauguration from Sterling starting at
4 a.m. on Monday morning and every five minutes. Its the normal commuter bus from Sterling's "park and rides" at
the Dulles North Transit Center (by the airport and Route 606), Our Lady of Hope RC church,
or Lowes Island. See full details at this link

Inauguration Day (Monday) Bus Service Connects Loudoun County and Metrorail
Loudoun County Transit will offer commuter bus service on Inauguration Day, Monday, January 21, 2013. Buses will operate between several park and ride lots in Loudoun County and the West Falls Church Metrorail station.
Morning buses to West Falls Church (Metro's Orange Line) will depart as early as 4:10 a.m. Buses will return to Loudoun County at regular intervals between 3:00 p.m. and 7:45 p.m. LC Transit representatives will direct passengers to their appropriate buses at the West Falls Church Metrorail Station.
The 2013 Inauguration Day schedule includes service from the following park and ride lots:
" Harmony Park and Ride Lot (Hamilton): Departures from 39464 E. Colonial Highway every 30 minutes between 4:15 a.m. and 6:45 a.m. Returns from West Falls Church Metro every 30 minutes between 3:00 and 7:45 p.m.
" Leesburg Park and Ride Lot: Departures from 19730 Sycolin Road every 10 minutes between 4:10 a.m. and 7:10 a.m. Returns from West Falls Church Metro every 15 minutes between 3:00 and 7:45 p.m.
" Dulles North Transit Center: Departures every 5 minutes between 4:15 a.m. and 7:05 a.m. Returns from West Falls Church Metro every 10 minutes between 3:00 and 7:45 p.m.
" Cascades Area: Five scheduled departures from Broad Run Farms, Cascades and Lowes Island to West Falls Church between 4:39 a.m. and 7:10 a.m. Five scheduled returns between 3:10 p.m. and 6:55 p.m.
Rides on LC Transit buses will cost $2.50 when paying with exact cash or $2.00 with a SmarTrip� card. Passengers boarding Metrorail will need to purchase fare cards or use SmarTrip� cards at Metrorail stations. Purchasing fare cards in advance will ease travel on Inauguration Day. Loudoun County's Department of Transportation and Capital Infrastructure has a limited supply of Inauguration Day Commemorative SmarTrip� cards (pre-loaded with a one-day pass for unlimited Metrorail travel) that can be purchased with cash or check. The office is located on the 4th floor of the Loudoun County Government Center, 1 Harrison St., S.E., Leesburg. Business hours are Monday through Friday from 8:30 a.m. to 5:00 p.m.
For complete details on the Inauguration Day bus service, including Loudoun County Park and Ride Lot locations and all LC Transit bus schedules for Inauguration Day, visit www.loudoun.gov/bus or call 703-771-5665. Additional Metrorail passenger information is available at www.metroopensdoors.com.

Right To Life March
Friday Jan. 25 10 a.m. buses leave from many local churches for free or a nominal fee. Program at 12 noon.

March at 1 p.m. Over 100 members of Congress and the U.S. Senate and one million pro-life citizens from around the Eastern USA visit for the day.

Martin Luther King Day Monday
Some of us have to work. The county is closed.
Monday Free Events
Free Admission to all state parks: Great Falls (just 9 miles from Sterling)
Claude Moore Colonial Farm (in Sterling) Manasas National Park....George Washington's House
Harpers Ferry.....Wolf Trap....Arlington House
Sunday Jan 20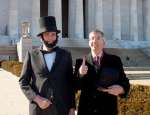 Meet George Washington and Abe Lincoln at the Portrait Gallery 1 to 6 p.m. Sunday at
8th and F Streets Northwest in Washington. They will explain their swearing in ceremonies.
Sunday Jan. 20
Smokey Robinson and the Let Freedom Ring choir will sing a free performance at the Kennedy Center at 6 p.m. Tickets are free and will be distributed at 4 p.m. at the Kennedy Center so you better get on line by noon the latest and dress warmly.