Latest News
Jobs, Breakfast, lunch and Dinner for Vets and families
November 12, 2012
Jobs, Breakfast, lunch and Dinner for Vets and families
Dear Sterling American,
REMEMBER VETS ON VETERANS DAY
Dulles Regional Chamber's Job Fair November 16
FREE FOR ACTIVE SERVICEMEN AND VETERANS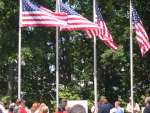 The Dulles Regional Chamber of Commerce is holding its first Teaming, Training and Transitioning Conference and Expo on Nov. 16 and there is a $50 admission fee.
The half-day event starts with breakfast and features an address by keynote speaker Michael Cardarelli, principal deputy undersecretary for benefits at the US Department of Veteran Affairs.
The Chamber will treat Veterans and Active Duty Servicemen/women to breakfast with Undersecretary Michael Cardarelli from the Veterans Administration, as well as Marine Corps' 16th Sergeant Major, Carlton Kent.
The conference takes place from 7:30 a.m. to 12:30 p.m. Friday, Nov. 16 at the Mason Inn Conference Center and Hotel at George Mason University.
The cost is $50 for preregistered business individuals or $60 at the door.
Veterans and active servicemen may attend the conference for free if they bring their resume or attend in uniform.
Lots of Details Here on Nov. 16 Dulles Chamber Job Fair
http://business.dullesregionalchamber.org/events/details/t3-teaming-training-and-transitioning-9015?utm_source=feedburner&utm_medium=feed&utm_campaign=Feed%3a+dullesregionalchamber%2ffeaturedevents+(Dulles+Regional+Chamber+Featured+Events)
Gunderman's Request for Volunteers and Donations for Poor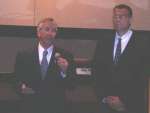 LINK is seeking volunteers SATURDAY, NOVEMBER 17, 2012
Food Distribution, 8 am to 2 pm
Locations: Christ the Redeemer Catholic Church (46833 Harry Byrd Highway, Sterling, VA 20164) and Trinity Presbyterian (651 Dranesville Road, Herndon, VA 20170)
Winter Coat Distribution, 8 am to 3 pm
Location: Sterling United Methodist Church (304 East Church Road, Sterling, VA 20164). We are in need of children's coats in particular this year even one or two coats will make a difference!
http://www.connectionnewspapers.com/news/2012/nov/07/link-needs-childrens-coats-winter-clothes/
http://herndon.patch.com/blog_posts/link-seeks-donors-volunteers-and-winter-clothingcoats-for-food-distribution-events#photo-12004243
FREE FOOD FOR VETERANS OR ACTIVE DUTY SERVICEMEN MONDAY
Denny's Veterans Day Appreciation Event, Nov. 12 2012. Free all you can eat pancakes from 6 a.m. - 2 p.m. on Monday, Nov. 12 for all active, retirees, and veterans with a valid military ID or proof of military service. Offer available in every Denny's nationwide.
FREE FOOD FOR VETERANS OR ACTIVE DUTY SERVICEMEN MONDAY

T.G.I. Friday's - Free Lunch, Monday Nov. 12, 2012. Valid for all US Military personnel and veterans. Must wear uniform (if permitted by your service) or present military ID or other proof of service. Only valid at participating locations for anyone with an old or current military ID. More details on TGIFridays.com.
Other Special Offerings for Veterans at this link
http://themilitarywallet.com/veterans-day-free-meals-and-discounts/

MONDAY: Giant Veterans Appreciation Cookout
Free Dinner with American Hero Everett Alvarez!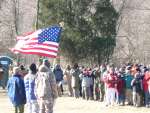 Sponsored by Delegate David Ramadan.
Special Speaker-- American Hero The Honorable Everett Alvarez, Jr.
A distinguished Naval officer, attorney and former government executive, is best known to the public as the first American aviator shot down over North Vietnam.
He was taken prisoner on August 5, 1964 and held in North Vietnam as a POW for 8 years.
Join Delegate Ramadan in recognizing & thanking our veterans. THIS IS A FREE FAMILY EVENT
BBQ will be served Monday, November 12th 5:00pm -6:30pm
Where is this event? Delegate Ramadan's District Office
23465 Rock Haven Way #105A in Sterling, VA 20166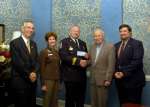 STERLING VOLUNTEER FIRE DEPARTMENT
The envelople has the words "Join the Bucket Brigade" and "Help Us Fight the Financial Fire." Open the envelope and please be generous. These are the top volunteers-- our resident heros-- who give thousands of hours out of devotion to their community. Or just send a check to "SVFD" 46700 Middlefield Drive Sterling, Va. 20165. THANK YOU.