Latest News
HYPERBOLE ALERT: DELGAUDIO HAS TWO JOBS LIBERALS WANT TO ELIMINATE BOTH. WHAT A SUPRISE!
October 20, 2012

For over a year and on the major nightly news there is a drumbeat against Mitt Romney.
Loudoun Liberals and Washington Liberals know they can call on the news media as their partners.
We do not buy the Washington Post in Sterling and worship the false god of liberalism.
We attend youth sports practices in our fields and go to church or a place of genuine worship for our social and spiritual enrichment.
BIG LIBERALS BIG MEDIA ATTACK ME AND YOU and our values
The major news media is in the tank for President Barack Obama and for all liberals.
Now a days, all an aimless liberal has to do is issue a sentence attacking Republicans and you get favored front page top of the news treatment.
And if you live in Loudoun, BESIDES working for Barrack Obama's re-election, Tim Kaine or any other
Democrat -- most of the media and Democrats work together to regularly attack me and Sterling!
Its the same old same old since 1999. Somehow a member of the board of supervisors in Sterling makes the news for his mere existence and working at two (count them: two) jobs.
ALL OF STERLING KNOWS I HAVE TWO JOBS. So what. Most of Sterling has two jobs in their household.
Every single parent has at least one full time job.
Every single person in Sterling WANTS to work at more than one job.
I promise to work for that for you.
Liberals by their attacks on me, show they do not want you to have a job.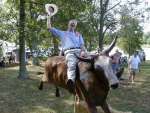 Large High Quality Photo (What Liberals See When They See Eugene Delgaudio)
WASHINGTON LIBERALS CRY AND PROTEST DAILY
I am not on the ballot again until 2015 but Washington liberals refuse to accept the mandate of the majority of people of Sterling
A former supervisor who ran for several offices and lost, is a Big Washington Liberal and is raising money for his selfish career attacking me-- a self-proclaimed worshiper of a false liberal god.
This liberal is mad he can no longer literally vote to take your money from your wallet and food off of your table that you purchased for your family.
He wants you to kiss his ring and worship his false god of liberalism.
I STAND IN HIS WAY. I BLOCK THE LIBERAL THREAT AGAINST YOU.
I promise to continue to stand in his way as God allows and the people support me. Thank God and you.
This full time leftist agitator should put this effort into any Sterling charity like I do, like most (liberals and conservatives) do between elections. But no, he is do busy feathering his own nest.
I remember when this one FORMER local elected official in his official capacity bluntly said to hundreds of Sterling Americans at Park View HS "he will not assist cleaning up Sterling if there are bigots who are racially motivated."
This "bigot" refrain is used by cowards and sore losers about Sterling

BLIND LIBERALS HATE YOU-- ALL OF STERLING
Sterling is a majority minority.
It is mathematically impossible for Sterling to be "bigotted".

STERLING MINORITY MAJORITY MUST REJECT LIBERALS AGAIN
So, as always you are the solution.
Thats where you come in. A majority of Sterling Americans vote for me since 1999. You have presided over my administration as my boss.
Your support has resulted in a better Sterling. Now. And it is a great turnaround.
Sometimes you vote Democratic. That is your choice. Sometimes you vote Republican.
We all worked together: Congressman Frank Wolf, former Governor George Allen and I believe a late comer former
Governor Mitt Romney will help as President.
I am asking you to come out and vote again. If you like a failed foreign policy, increased taxes, and reckless spending, you have a choice as you always do.
If you prefer a world where American ambassadors and other Americans (liberal or conservative) are not killed
in our embassies abroad, a world where taxes are kept down and spending is kept down: you have a choice
I trust you will look at your choices and its made a lot easier by the constant drumbeat in the news media against Mitt Romney and all conservatives.

LIBERALS SEE US AS OPEN WALLETS
When I need help for Sterling, I assure you these candidates will not treat us as the liberals have treated us as open wallets for their selfish spending schemes.
I will work to make sure these conservatives will open their hearts to Sterling and love Sterling for what it is: a diverse community that trusts honest representation and accountable officials.