Latest News
Government Is Spending Without Limits
April 17, 2011

TAXPAYERS HURT BY SPENDING
At the last business meeting, I voted "no" to a tax increase approved by the board in their new 2012 budget. The vote was five yes, four no with York, Delgaudio, Waters and Buckley voting no.
I tried to get $100 million in savings but did not have a majority of votes. York tried at the last minute to reduce spending by pairing back the pay raise from 3 per cent to 2 per cent which would have netted 7 million dollars back to the taxpayers. York also failed.
METRO CROOKS ROB TAXPAYER BLIND WITH BOARD MAJORITY PERMISSION
I have voted "no" on your tax dollars going to Metro because the Metro board has been irresponsible with money for years and funding buses is cheaper, faster, and supported (paid for) by riders.
I am the only Loudoun County Supervisor of the 9 Loudoun Supervisors who votes "no".
On Monday April 4th, the Board voted 8 yes, Delgaudio NO, to give Metro $40 million.
Just a few days later, the governmental body building the Loudoun Metro Stations voted to add $300,000,000.000 to the building budget. (That's Three hundred million dollars). This extra cost is the beginning estimate to "cosmetically improve" the Metro rail.
Simply keeping Metro above ground at the airport will not add any costs to the project already budgeted.

Congressman Frank Wolf, both Fairfax and Loudoun Boards of Supervisors voted unnanimously opposed to this "undergrounding" but were ignored.
The same Dulles Rail contractors (Metropolitan Washington Airports Authority-- MWAA)also moved to operate under a "union-friendly" labor agreement which cuts out Virginia based workers and firms located here in Sterling and in Loudoun.
Again, local authorities and local laws promoting Virginia workers for Virginia projects was ignored. Costs will skyrocket even further similar to the "Mixing Bowl" which doubled in costs.
All local, state and federal elected officials are "shocked" and "disappointed" about these recent disappointments.
I asked for no "taking" from taxpayers who drive cars and do not use Metro-- for Metro-- . I stood for you.I
I have said on the record that un-elected governmental bodies will not listen to elected bodies. Setting them up in the first place is wrong. Now hundreds of millions of dollars will be wasted due to the "MWAA" action.
I hope the board will do more than pass a resolution and will join citizen John Grigsby who has filed a class action suit stating "Dulles Tolls can not fund Metro". Grigsby says "MWAA does not have the legal authority to raise tolls fifty cents to $1.25 from cars using the Dulles Toll Road to build Metro". Or file their own lawsuit.
If you agree, please tell the board to "please reverse its decision to send $40 million on July 1 to MWAA in the 2012 Loudoun Budget" and to take legal action to prevent $300 million in unnecessary cosmetic undergrounding costs.
Write the Board at bos@loudoun.gov. Or as Leesburg Today says in their Editorial (see below) "Dear BOS don't vote to participate in Metro." Thank you.
News Reports on this:
Examiner: Airport agency's pro-union pact angers Va. officials
Virginia officials are seething over a recent move by the Metropolitan Washington Airport Authority requiring Dulles Rail contractors to operate under a union-friendly labor agreement.
MWAA Bucks Localities, Adopts Plans For Underground Option Dulles Station
"This modified option..................costs about $300 million more than the above-ground station option, advocated by the Loudoun and Fairfax boards of supervisors and state leaders."
Leesburg Today Editorial: Partnership Balance
.........to date Loudoun has no commitment to funding the operational cost of the WMATA system. The final vote to move ahead with participation in Phase 2 will change that, committing future generations of Loudoun taxpayers to tens of millions of dollars in annual payments to help operate and upgrade the region's entire subway system-to keep the escalators running and replace aging rail cars. It will be a tremendous new obligation. Some supervisors may not need much of an excuse, something less than a $300 million one, to balk at that responsibility.
Mark Gunderman Reports: Bible Reading Marathon welcomes volunteers to the courthouse lawn from April 30 to May 5.
http://leesburg.patch.com/articles/bible-reading-marathon-encourages-local-residents-to-exercise-their-faith
>>>35th Women's Workshop NOW FULL
The 35th Women's Self-Defense workshop is now full. The Loudoun County Sheriff's Office plans to hold an additional Self-Defense workshop in May. An announcement regarding the date, location and time of that workshop will be announced in the near future.

'Off-Duty' Deputy Apprehends Armed Suspect involved in Domestic Assault
Spurlock is a hero and is the dedicated officer who organized Sterling's Neighborhood Watches over the years.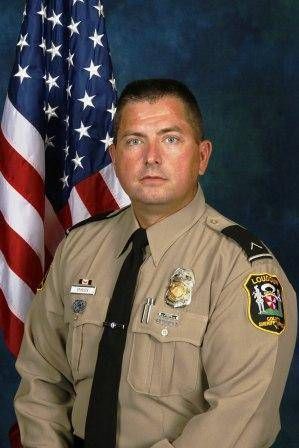 It was a typical Sunday afternoon as Deputy First Class James D. Spurlock, Jr., was running some errands with a family member in the Front Royal, VA area. Spurlock was off-duty- If there is such a thing when you are a member of law enforcement.
DFC Spurlock was in the area of Route 522 and Water Street on April 10, 2011 when he observed a man running in the middle of the street and in between cars with what appeared to be a knife in one of his hands. The suspect then became agitated as he approached a pick-up truck occupied by a man and woman. The suspect reached into the vehicle and grabbed the driver and then punched the hood of the pick-up truck. He approached the female passenger as she was exiting the vehicle. The suspect grabbed the woman by her neck and started to shake her in what was later to be determined a domestic assault.
Spurlock called 911 and parked his car to secure his family member before taking action.
As DFC Spurlock approached the scene he saw the female involved in the altercation running towards him. He continued towards the suspect and displayed his off-duty firearm. He then ordered the suspect to get on the ground. The suspect eventually complied and he was found to have two knives in his pockets.
A few moments later members of the Warren County Sheriff's Office and the Front Royal Police Department arrived on the scene and took the suspect into custody. The suspect was charged by the Front Royal Police Department with destruction of property and two counts of assault and battery.
"Often we hear the terms 'routine patrol' and 'off-duty' when it comes to law enforcement. I can tell you nothing is routine when a deputy is patrolling the streets and in law enforcement - you are never off-duty," said Loudoun Sheriff Steve Simpson. "Deputy Spurlock's actions in this case and Deputy Heller's potentially life-saving actions last week are two prime examples of members of law enforcement expecting the unexpected and taking the proper actions," Simpson added.
Last week Loudoun Sheriff's Deputy Robert Heller was waived down by a distraught mother on Route 7 near Inova Loudoun Hospital. Her 14-year-old daughter was in the car and had gone into anaphylactic shock after an asthma attack. Heller quickly assessed the situation and decided based on the child's grave medical condition and his close proximity to the Lansdowne campus of INOVA Loudoun Hospital, it would be best to place the teenager in his cruiser and rush her to the emergency room. Emergency room personnel said Heller's meritorious actions likely resulted in the child's recovery.
DFC Spurlock has over 17-years of law enforcement experience and is currently assigned to the Special Operations Division in the Crime Prevention Unit. In 2009 he received the Virginia Veterans of Foreign Wars Outstanding Law Enforcement Officer of the Year Award.

Captain Rick Frye Graduates from the National FBI Academy

Loudoun County Sheriff Steve Simpson is proud to announce that Captain Rick Frye recently graduated from the 244th session of the FBI National Academy Program at Quantico, Virginia.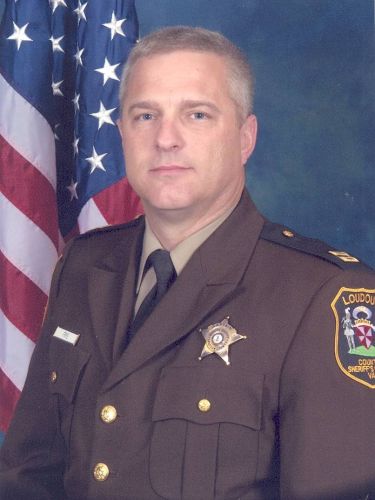 Frye was one of 258 law enforcement officers who graduated March 18, 2011 from the 11-week program. This session included men and women from 49 states, 20 countries, four military organizations and four federal civilian organizations.
Frye is a 25-year veteran of law enforcement. He began his career in 1986 with the Leesburg Police Department and moved to the Loudoun Sheriff's Office in 1997. He was promoted to sergeant in 2001, to 2nd Lieutenant in 2002 and to 1st Lieutenant two years later.

He obtained his current rank of Captain in 2006. Captain Frye oversaw the design and construction of the Eastern Loudoun station and now serves as commander of that facility.
Frye is the eighteenth member of the Sheriff's Office senior staff to have graduated from the FBI Academy since 1970, when then-Sheriff Robert W. Legard completed the training with the 86th session. He is the twelfth member of current senior staff members who have graduated from this prestigious academy.
Internationally known for its academic excellence, the National Academy Program, held at the FBI Academy in Quantico, offers 11 weeks of advanced investigative, management and fitness training for selected officers having proven records as professionals within their agencies.
On average, these officers have 19 years of law enforcement experience and usually return to their agencies to serve in executive-level positions.
Training for the program is provided by the FBI Academy instructional staff, Special Agents and other staff members holding advanced degrees, many of whom are recognized internationally in their fields of expertise.
>>>> DID YOU GET THE NEWSLETTER ?
A newsletter from the office of the Sterling Supervisor is in the U.S. Postal Mail. Did you get it?