Latest News
INCIDENTS SATURDAY NIGHT
September 15, 2008
"Good News"
STERLING RAPE SUSPECT IN CUSTODY OF Loundoun County Sheriff's Office

Martin Jose Morales-Mancia, 24, of no fixed address, is now in the custody of the Loudoun County Sheriff's Office for allegedly entering a residence of a senior citizen on Ironwood Road. Inside he brandished a knife and sexually assaulted the female victim.

Morales-Mancia, also goes by the first name Arnold or Jose, is a light skinned Hispanic male. He is described as being 5'9" tall and weighs 170 pounds.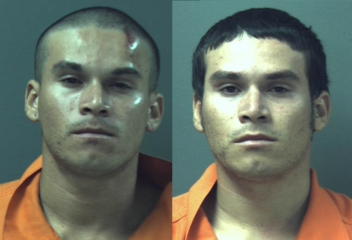 "Bad News"
>>>Sterling Shooting, Stabbing Investigated
I got this from the LCSO and an online report:
The Loudoun County Sheriff's Office is investigating two attacks that occurred overnight in Sterling.
Shortly before 10 p.m. deputies were called to North Argonne Avenue where two victims suffering from gunshot wounds. An 18-year-old male and 17-year-old female were airlifted to Inova Fairfax Hospital. The preliminary investigation indicates the victims may have been targeted by their attacker.
(Helicopters landed at Rolling Ridge Elementary School and Sully Elementary according to reports).
Around midnight, deputies responded to North Amelia Street where a 25-year-old man was found stabbed in the street. He also was flown to Inova Fairfax Hospital for treatment. Investigators are working to determine where the assault occurred.
Anyone with information about the cases is urged to contact the Criminal Investigations Division at 703-777-0475. Callers wishing to remain anonymous may call Loudoun Crime Solvers at 703-777-1919. If the information leads to an arrest and indictment the caller could be eligible for a cash reward of up to $1,000.
http://www.leesburg2day.com/articles/2008/09/14/news/fp412attacts091408.txt
Same Story from the Loudoun Times
>>>>Three sustain life-threatening injuries during two violent crimes in Sterling Park
Two people were shot, and one person was stabbed Sept. 13 into early Sept. 14 in Sterling Park.
(Award: Leesburg Today notices)
>>>No Overcrowding Fines Issued In Proactive Enforcement Operation
Despite six months of proactive enforcement and 935 field inspections on 204 properties along two roads in Sterling Park, the county's zoning enforcement staff discovered no residential overcrowding cases.
That information came forward from the enforcement program manager Keith Fairfax Tuesday during an information item on the program, which was created by the previous board of supervisors in November 2007.
http://www.leesburg2day.com/articles/2008/09/04/ashburn_today/news/8682fine090408.txt
>>>BLUNT REPORT FROM CITIZEN
QUOTING REPORT FROM CITIZEN "Regarding "County Staff Reports to Board", I beg to differ that everything is cleaned up on Williamsburg (Road). There are 2 homes needing work for over 2 years now.
401 Williamsburg has boarded up windows in front of the house. They have been boarded up for at least a year now. People live there and the windows are boarded up. (UNQUOTE).
My comment: I wonder what "pro-active" actually means anymore with zoning. The staff said they found "no violations". I will ask staff.
>>>"1,000 poll workers needed in Sterling" Reads the Headline
I got this from the Loudoun Times. This number "1000" is repeated in story as well. There is no way they need 1,000 poll workers. More like 100. But you already know they need you because I plugged it in my previous letter.
Call 703-777-0548 or visit www.loudoun.gov to learn more.