Latest News
Details On Stalker Released
September 15, 2008
NAME AND PHOTO RELEASED OF VIOLENT CRIMINAL

The Sheriff's Office is asking for the public's assistance in locating a violent criminal who is wanted for an August 29th burglary and sexual assault in Sterling.

Martin Jose Morales-Mancia, 24, of no fixed address, is wanted by the Loudoun County Sheriff's Office for allegedly entering a residence of a senior citizen on Ironwood Road. Inside he brandished a knife and sexually assaulted the female victim.

Morales-Mancia, also goes by the first name Arnold or Jose, is a light skinned Hispanic male. He is described as being 5'9" tall and weighs 170 pounds.

If you have any information regarding the whereabouts of Morales-Mancia, you are asked to immediately contact the Loudoun County Sheriff's Office at 703-777-1021 or your local police department. Callers who wish to remain anonymous can call Loudoun Crime Solvers at 703-777-1919. If the information leads to the suspect's apprehension the caller could be eligible for a cash reward of up to $1000.

This is a photo of the suspect.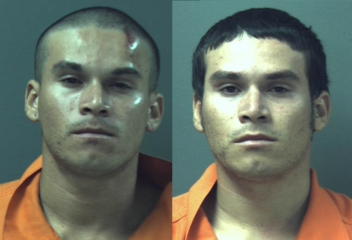 >>> ALLEDGED BRICK THROWING GANG MEMBER CAPTURED
I saw deputies yesterday as they apprehended this fellow. On 9/11/08 at "1630 hrs." (4:30 p.m) at the
22300 block of Sterling Blvd.Sterling
I got this report: Disorderly Subjects: Deputies responded to a report of several males being disorderly in the area. The suspects fled the area. Prior to law enforcements arrival the subjects were allegedly in a verbal altercation when one of the men threw a brick at several other subjects. One of the bricks hit a vehicle. One of the subjects, Yermand Beltran-Henriquez, 18, of Sterling, was apprehended and charged with gang participation and destruction of property. He is being held without bond.
>>>PVHS Music Department's Tag Day Saturday
Park View High School's Music Department students will be in the Sterling neighborhood visiting homes on Saturday, September 13, 2008 asking for donations during their annual Tag Day Fundraiser. In years past contributors were tagged with ribbons showing their support and thus the name. Thanks to the generosity of the Sterling Community the Music Department has been able to fund senior scholarships, fees for clinicians working with the students, equipment repair and replacement and competition expenses for their growing program.
If you are not personally contacted by a student on Tag Day and would like to make a contribution, please send it to PVHS Band Aids, 400 W. Laurel Ave., Sterling, VA 20164.
>>>STERLINGFEST COMING 0CTOBER 11
Please set your calendar for Saturday October 11. 5,000 people will attend this year's Sterlingfest. We have had some heavy rain two years in a row, so this year should be a successs due to the previously "lean" years. There is also a parade down Sterling Boulevard starting at 9 a.m. with the Knights of Columbus in honor of Christoper Columbus! This is such a big event that you can expect U.S. Senate and Presidential and vice-presidential candidates will consider attending. If Sarah Palin comes, allow me to revise attendence figures to 100,000.
>>> STERLING POLL WATCHERS NEEDED
>>> Help Keep Elections Fair, Get $100
Election Officers are needed in the Sterling area. You must be a US Citizen and registered to vote in Virginia. The pay for a full day 5:00 am to about 10:00 pm is $100. The pay for half day is $50. The hours for a half day shift is 5:00 am to 1:30 pm or 12 noon to about 10:00 pm. The electoral board offers training sessions throughout the county at various times and we pay $20 for attending. If you are interested you may download forms at www.loudoun.gov/voting or email elections@loudoun.gov or call 703-777-0548 and press 5. Leave your name, address, and phone number we will mail you the necessary forms. Fill them out and send them back to Loudoun County Electoral Board PO Box 31, Leesburg, VA 20178.
>>>> TRAFFIC LIGHTS PLANNED
Traffic lights are expensive and they take time. More frequently we employ other safety measures with street markings, and signage to make improvements.
Light to be installed: Intersection at Old Ox Road & Ariane Way, county staff has told me the traffic signal is currently being designed and the plans will sonn be sent to VDOT for their approval. Following VDOT approval of the plans, the signal will be installed. I do not have a date but will tell you when I get that date.
>>>Light now planned at Beech Road and Sterling Blvd.
I was informed by VDOT that the intersection of Sterling Boulevard and Beech Road is warranted for a traffic signal. VDOT will be designing and planning the installation of the signal. I do not have a date but will tell you when I have it.
>>>> OTHER TRAFFIC IMPROVMENTS
There are new "stop" signs at the Post office and "do not enter" signs to prevent future accidents. This measure has improved traffic there.
Over at Maple Avenue on the west side at Sterling Boulevard, there was a cutting down of hedges and the removal of a giant bush and the adjustment of some fences to remove a dangerous blind spot for car and pedestrian traffic. County and VDOT staff helped here.
Six foot high weeds, grass and trees had grown at the Thomas Jefferson bridge by the church obscuring pedestrians from seeing the road. VDOT crews cut down the out of control tall grass recently.
The county board unanimously asked VDOT to consider stop signs at N. Argone Avenue and Fletcher to slow traffic.
I do not make this up.
>>> COUNTY STAFF HOSTS "DROP IN" OCT. 1
100s still watch the youtube videos on the May and July outpouring of citizens asking for county action. I just got a report that during the month of August, county staff continued to research a number of issues and discuss potential strategies with several departments in preparation for the Potomac/Sterling Community Outreach Project final report. A draft of the final report is expected for completion by the week of September 22nd and will be publically accessible for review on our project web page, www.loudoun.gov/potomac-sterling. You will receive notification via e-mail when the draft has been posted.
A Drop-In/Open House is scheduled for: Wednesday, October 1, 2008
Time: 6:00PM Place: Cascades Senior Center
Address: 21060 Whitfield Place Sterling VA, 20166
Please save the date. This made me cringe (quote) "The drop-in gives citizens a chance to meet with staff to provide feedback on the draft recommendations." (unquote) I hope it is good news and credible.
>>>>>COUNTY STAFF REPORTS TO BOARD
The staff reported to the board on two things recently 1. pro-active zoning enforcment on Argonne and Williamsburg resulted in the correction of all observed violations without penalties, with compliance following citizen meetings and the initial letter. In other words, Staff says that after a written warning, abandoned cars were removed and other observed problems were corrected. This was done with spare staff time over six months.
The staff report on Tall grass enforcement followed a similar trend. As warnings were issued and the county responded to my call for leadership, most of the 200 properties grass was cut and only 20 properties remained for the county to actually go out and cut "at taxpayers expense". Again it was clear that county leadership restored order with little cost.
This was done with $9,000 in costs due to size of lots and other variables.
>>> COMING UP IN OCTOBER
>>> WRITE OR ATTEND PUBLIC HEARING
At the October 14 Public Hearing the county will consider a prohibition on large commercial trucks and commercial trailers in the residential area of Eastern Loudoun. The county will consider prohibiting the use of front yards for parking cars. These two measures will address some of the blight being pushed upon Sterling by a strage and alien culture intent on destroying our quality of life. Tell the board you are in favor of these measures and write them at bos@loudoun.gov and come to the meeting in Leesburg to tell them your opinion.