Latest News
Missing Person; SWEAR-IN TODAY
December 16, 2003
17 year old Loudoun County Girl Gone. Missing Since Friday
PLEASE FORWARD THIS STORY!!! This has been reported on Local TV News Programs in Washington Area "OUR CHILD IS MISSING!" A PLEA FROM JEFF AND LISA ROGALINER of LEESBURG, VA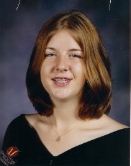 A 17 Year old Loudoun County girl has been missing since Friday, December 12, 2003. Christa was last seen Friday morning at Dulles Town Center Mall in Sterling, Virginia. She had driven to the mall in a 1993 green Ford Escort Wagon and developed car trouble along the way. She arrived at the mall at approximately 10:00 am, went in to pick up a package and was seen as very distraught by associates in the mall. She was given directions to a local auto parts store in Sterling and left the mall with her package. She has not been seen since.
The car she was driving was found on Shaker Woods at Wiehle Avenue in Herndon, Virginia. According to neighbors, the car was left around 11:00 am parked in a turn lane at a 45 degree angle and must have been left in neutral gear as it apparently rolled into a ditch and became stuck later that afternoon. The car was found Saturday afternoon by Fairfax County Police unlocked with the keys in the ignition and her package still in the backseat.
Her family was notified and retrieved the vehicle. Friends and family have had no word from her at all.
Leesburg Police Officer, Corey Smith is heading up the investigation into Christas disappearance. Police have actively pursued several leads but have had no luck into locating the missing girl. The phone number for the Leesburg Police is 703-771-4500.
Christa is 5 feet 7 inches tall, reddish brown hair, medium build. She wears braces and occasionally wire-rimmed glasses. She is possibly wearing a yellow and navy blue Tommy Hilfiger jacket and jeans.
Her distraught family and friends are desperately appealing to the public to give any information regarding Christa and her whereabouts to the Leesburg Police Department or any Local law enforcement agency as she is listed regionally as a missing person.
Permission is granted in advance by Supervisor Eugene Delgaudio to foreward this on to your distribution list.
Leesburg Police: 703.771.4500 (Officer Corey Smith and Detective T.F. Butler)
THESE TWO WEBSITES PROVIDE MORE INFORMATION
Web sites:
www.geocities.com/girlnovember/findchrista.htm
and
www.324mp.com/missing/christa.htm
HISTORIC SWEARING IN CEREMONY TODAY
everyone welcome, no party affiliation asked
All six of the newly elected Republican Supervisors will be sworn in at one location at one time TODAY.
That's me, your Sterling Supervisor, Eugene Delgaudio, and Jim Clem, Mick Staton, Steve Snow, Bruce Tulloch and Lori Waters.
You are invited. The Swearing In Ceremony is on Tuesday, December 16, from 5 to 7 p.m. with the actual ceremony at 5:45 p.m. sharp. It will be Lansdowne Resort at 44050 Woodbridge Parkway in Landsdowne, Virginia. There will be light refreshments and lots of Republican celebrities.
Added bonus: several school board members will swear in today also ---Warren Geurin, Joseph Guzman and Bob Ohneiser .
The Board of Supervisors met today for the last full business meeting. They ignored my pleas, the pleas of members of the public, and Treasurer Roger Zurn and gave the Howard Hughes Medical Institute their six million dollar tax exemption equal to the entire 300 tax exempt organizations already operating here in Loudoun!