Latest News
Missing Sterling Teen Girl
January 25, 2006
I will write later about the Puppets this Saturday, and the Tuesday
special election. Right now I have just been told there's a lost teen
girl in the area. Permission granted to send this on to your own
neighborhood list in the Loudoun County area.
This is what I have right now. I will send you more. If you can, report
her if you see her. Thank you all.
The Sheriff's Office is asking for the public's assistance in helping to
locate a missing Sterling teenager.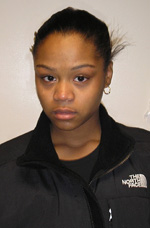 Ashley Meshawn McBride has been missing since December 28th when she
left her residence on Mornington Crescent Terrace on her own accord.
Ashley is 16-years-old, she is 5'4" tall, weighs 125 lbs., and has
black hair and brown eyes. She has a dark spot around left eye. Ashley
is believed to be staying at friend's homes in the Sterling, Ashburn,
or Leesburg areas.
Any with information is asked to please contact the Sheriff's Office
at (703) 777-1021 or contact Investigator C. Perinis at (703) 737-8102.
Photo Attached, resized for quick transmission. Will send you back
larger size if you wish.