Latest News
5,000 PATRIOTS JOIN SUNDAY TRUMP TRAIN and more
October 29, 2020
5,000 PATRIOTS JOIN SUNDAY TRUMP TRAIN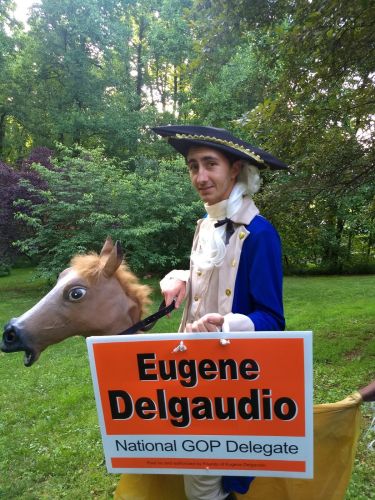 Dear Conservative,
Here are top ten things to do now for Republican Victory. Thank you.
1.
FRIDAY IS 25th WEEK OF Re-Open Virginia DEMONSTRATIONS in Leesburg. This is your last chance last time.
25 times is historic record of demonstrations in Loudoun. (see FOOLS ON THE HILL PERFORMED). Join us Friday Oct. 30 One Harrison Street, S.E. 10 am to 12 noon.
2.
FOOLS ON THE HILL
Singer Nick Liberty will perform "Fools on the Hill" song with Clowns Congressmen Jenefer Wexton, Nancy Pelosi, Adam Schiff, Alexandria Ocassio Cortez and Senator
Chuck Schumer. Friday 11 am Oct. 30 One Harrison St. SE, Leesburg Va.
Here are two Nick Liberty songs in support of Amy Coney Barrett, performed in Leesburg and performed in Washington with 14,000 views EACH.
Amy Coney Barrett Singers Leesburg
https://www.youtube.com/watch?v=Dgy-aigFd84
Amy Coney Barrett Singers Washington
https://www.youtube.com/watch?v=ob4Pwhf0vmo
3.
EARLY VOTING VOLUNTEERS NEEDED NOW.
FRIDAY AND SATURDAY
A handful of brave volunteers have stood for 40 hours in a row alone. They need some sleep and food and you must take over the remaining time slots Friday or Saturday
in Sterling on 21641 Ridgetop circle next to the Eastern Loudoun Treasurer's office. Go to the sign up genius and fill in your name for the slot at the bottom
of the list for Friday Oct. 30 or Saturday Oct. 31. Do it. Thanks.
Its been Daily except Sunday - Early in-person voting (ends 10/31) at Ridgetop Office Building, 21641 Ridgetop Circle, Sterling.
Th 12p-8p, F 10a-6p, Sa, 9a-5p No excuse needed to vote early. Avoid election day lines. Volunteers are needed to hand out flyers. Sign up to help at: https://www.signupgenius.com/go/70a0a45a4af28a1f49-sterling
4.
YOU ASKED FOR IT: VIRGINIA TRUMP RALLY
SUNDAY AROUND THE BELTWAY
5,000 CARS, TRUCKS, MOTORCYCLES, AND MORE IN TRUMP TRAIN SUNDAY
Thank you to all who drove in last week's Trump Train. Here's a GIANT TRUMP TRAIN
DETAILS AT THE BOTTOM OF THIS NEWSLETTER OR AT THIS LINK
MEET AT VARIOUS LOCATIONS 11 AM
DRIVE FOR ONE HOUR AROUND BELTWAY: 12 NOON
MATT TRUONG POSTED THIS SIGN UP for the Trump Train:
https://madmimi.com/p/8579711?pact=318989-160604756-12512275774-ce69bca53000f27cc7e56f91319d231bc26c989b
FACEBOOK DETAILS AT THE END OF THIS NEWSLETTER.
Sa, 10/31 - Trump Train, Capitol Beltwat I-495sign up here https://madmimi.com/signups/59796738d9024f0bb6dca86cb9207402/join
5.
ELECTION DAY NEXT TUESDAY
Tu, 11/3 from 6a-7p, General Election Day --- Vote for America vs. Socialism
Donald Trump for President of the United States, Daniel Gade for U.S. Senate, Aliscia Andrews for U.S. House of Representatives,
And, Vote YES For the two Amendments
Please Sign up to be a poll watcher, or sample ballot distributor. NEED YOUR HELP!
Take the day off, or give as many hours as you can! Sign up with Wally in Sterling, 571-481-0871

6.
EUGENE DELGAUDIO PROVIDES US SENATE EVIDENCE NEEDED TO PROSECUTE HI TECH CEO OF TWITTER
On the day of Senate Hearings involving clearly false testimony from Twitter CEO Jack Dorsey, Eugene Delgaudio, president of Public Advocate of the United States, Inc. formally submitted a legal complaint with evidence to the Federal Elections Commission today, October 27 against Twitter, Inc. and CEO Jack Dorsey.
Delgaudio says: "Public Advocate says in their complaint Twitter violated the Federal Election Campaign Act. Specifically, we charge that, based on the facts set out in our complaint, Respondents violated the following statutes: 1. the prohibition on corporations making in-kind contributions and 2.the limitations on making coordinated expenditures with a federal campaign.
A copy of the legal complaint is here
http://www.publicadvocateusa.org/library/Public_Advocate_Complaint_Regarding_Twitter.pdf
7.
Videos from Recent Eugene Delgaudio Singers, ETC.:
VIDEO FAMOUS CHRISTIAN OPERA SINGER CHUCKY SINGS AMERICAN DREAM TRUMP SONG (8,000 VIEWS)
https://www.youtube.com/watch?v=ld9LpT_8Gd0
VIDEO Christians: Time and Again Trump Has Stood for Our Godly Values (10,000 views)
https://www.youtube.com/watch?v=4U7V95VyTVo
8.
Videos Recommended by Wally Bunyea.
REAGAN & TRUMP: President Trump- Picking up where President Reagan left off
https://www.youtube.com/watch?v=oM4gxVHtkig
GADE: https://www.youtube.com/watch?v=HTaPBn0MOGA
ANDREWS: https://www.youtube.com/watch?v=MYWm43S_IDQ
PRESIDENT TRUMP: America First
https://www.youtube.com/watch?v=glWS3vAVhJU
9.
HAVE YOU RESPONDED TO HUNDREDS OF APPEALS FOR DONATIONS FROM THE TRUMPS?
Here's an authentic Virginia Bundler for Virginia Trump campaign. Its legal
and official. And it goes 100 per cent to Virginia. You can talk directly to
this volunteer, Barbara Bowie-Whitman, serving on the Trump Finance Team at
703 598 2461 or bowiewhitmanb@gmail.com
She needs you to donate right here for Official Trump Virginia.
https://secure.winred.com/trumpvictory/tvfcdonate?bundler_id=4381
And for ALL of you who have already contributed as much as you possibly can:THANK YOU
10.
FACEBOOK MESSAGE ON TRUMP TRAIN ON CAPITOL BELTWAY SUNDAY NOV. 1 - 12 NOON
https://www.facebook.com/events/670091563615539
We are AMERICANS FOR TRUMP!!!
#Trump2020DCBeltway
Patriots from around the DMV are being called upon to join in a MASSIVE display of patriotism, pride and support for our President.
THE RULES ARE SIMPLE! Decorate your cars with flags and positive messages of support for Donald J Trump and our great country!
On Sunday, November 1st, at 12pm, groups from all around the I-495 corridor will enter the Capital Beltway at their nearest access point. The expectation is they will drive roughly 65 miles to complete one loop, and exit from the same point from where they entered the beltway🇺🇸🇺🇸🇺🇸🇺🇸
Second Lane from the Right!!!
SAFETY. People who participate in this event are expected to obey all rules of the road and maintain safe distances and speeds. We suggested a slow consistent speed of no more then 35 mph as flags and signs can fly off and create debris on the road. Please drive safely and make sure your emergency flashers are on at all times. Your safety as well as others is our #1 concern. Do not engage in distracted driving or aggressive behavior of any kind. Try to avoid using controversial messages and flags as we are all trying to promote a positive message.

MEET US AT THESE LOCATIONS:

AREA: Loudoun County / Ashburn
MEETING LOCATION: commuter parking lot at Loudoun Station near Starplex movie theater
TIME: 11AM
AREA: Western Loudoun County
MEETING LOCATION: Heritage HS
TIME: 10:45AM
AREA: Tysons Corner / McLean / Falls Church
MEETING LOCATION: George C Marshall High School
TIME: 11:30AM
AREA: Herndon
MEETING LOCATION: Jimmy's Old Town Tavern
TIME: 11AM
AREA: Fredericksburg/Stafford/ Spotsy
MEETING LOCATION: TBD
TIME: 10:30AM
AREA: Prince William County - Eastern
MEETING LOCATION: Commuter Lot on Old Bridge Rd and Route 123
TIME: 11AM
AREA: West of 123, Centreville, Chantilly, Fairfax Station, Clifton
MEETING LOCATION: EagleBank Arena parking lot 4500 Patriot Circle, Fairfax
TIME: 11AM
AREA: Fairfax / Springfield
MEETING LOCATION: Kilroy's at Ravensworth Shopping Center
TIME: 11AM
AREA: College Park, MD
MEETING LOCATION: IKEA Parking lot
TIME: 11AM
AREA: Montgomery County,MD/ Rockville
MEETING LOCATION: Montgomery Mall parking lot near Macy's
TIME: 11:30AM
AREA: Southern MD
MEETING LOCATION: Walmart in Waldorf.....11930 Acton Ln, Waldorf, MD 20601
TIME: 11AM
AREA: Montgomery county/Bethesda
MEETING LOCATION: Connecticut Ave entrance to 495 , on Beach Drive
TIME: 11:30AM
AREA: Calvert County
MEETING LOCATION:
TIME: 10:45- 11:00AM
AREA: Anne Arundel County
MEETING LOCATION: The Village at Waugh Chapel, 1326 Main Chapel Way, Gambrills MD
TIME: 10AM
AREA: Mt. Vernon, VA.
MEETING LOCATION: j Pavilion A, parking lot just inside gate.
TIME: 11:30AM
AREA: Prince William County /Gainesville / Manassas City/ Manassas Park
MEETING LOCATION: Osborne High School, 8909 Euclid Ave, Manassas, VA
TIME: 10:30AM
AREA: Central Maryland/Damascus
MEETING LOCATION: Damascus - Safeway Parking Lot
TIME: 9AM
AREA: Clarksburg
MEETING LOCATION: Clarksburg Premium Outlets - Back Lot
TIME: 10AM
AREA: Potomac, MD
MEETING LOCATION: Westfield Montgomery Mall (Macy's furthest parking lot), 7107 Democracy Blvd, Potomac, MD
TIME: 11AM
AREA: McLean, VA
MEETING LOCATION: Giant parking lot in McLean shopping center, 1454 Chain Bridge Rd, McLean, VA
TIME: 12PM
AREA: Springfield, VA
MEETING LOCATION: National Right to Work legal defense foundation, 8001 Braddock Rd, Springfield, VA 22151
TIME: 12PM
AREA: Pasadena, MD
MEETING LOCATION:
Walmart Supercenter furthest parking lot from the store 8107 Governor Ritchie Hwy, Pasadena, MD 21122
TIME: 10am
AREA: Great Falls /Reston
MEETING LOCATION: Georgetown Pike at Cooper Middle School
TIME: 11:30AM