Latest News
Dynamic Duo, Masked Avenger, Jon Tigges, Patti Lyman all together Now
July 18, 2020
WELCOME STATE DELEGATES.
Most of you recieving this Delgaudio Alert are TENTH district delegates, but there are NEWBIES added to this list who are ONLY STATE DELEGATES.
As you may know, the state convention date is set for Saturday August 15 in the respective districts (11th and 8th combined at Waterford and 10th in Leesburg in northen Virginia) on Saturday, August 15. State delegates will decide the state chairman and national committeewoman (see below endorsement) and the rest of us can attend and watch.
As your National Republican Delegate candidate I promised to fight for your values and our Republican Candidates. As your elected National Delegate I am keeping the promise I made to you.
I am working with other delegates and guests daily to prepare for a great National Convention and regularly support Aliscia Andrews for Congress and Daniel Gade for Senate with referals of volunteers.
PROMISE TO KEEP HEAT ON EVIL RALPH NORTHAM
AMICUS LEGAL BRIEF FILED IN SUPPORT OF CHURCHES, BUSINESS AND SCHOOLS
No matter what the fake news reports, my lawyers and many other patriots work day and night to fight for freedom. As I promised recently at the RE-OPEN VIRGINIA rally, this legal brief was an extremely ambitious and aggressive project accomplished by a fantastic ARMY OF LAWYERS--a giant legal team comprised of William Olson and other top lawyers.
Jon Tigges has sponsored a weekly rally for ten weeks now and this filed legal brief is in support of a law suit against Ralph Northam. Local authorities in Virginia, Loudoun and Town of Leesburg attack Jon and us all and I stand with him and his brave band and invite you to join him.

JON TIGGES WAVES HIS HAND ASKING FOR YOUR HELP (PHOTO)
1,300 views so far and climbing:
See my full promise to help with the legal challenge in this online video here.
https://www.youtube.com/watch?v=U38KHZRDKQA
FROM THE LAW SUIT FILED BY MY LAWYERS REPRESENTING LIBERTY UNIIVERSITY:
From the Amicus Brief:
"& as one man dictates nearly every aspect of life in Virginia, the Governor claims that he does not even need to seek legislative input or approval until July 1, 2021, leaving him free to rule the Commonwealth by edict for a period spanning 16 calendar months."
"&over the last five months Governor Northam has issued no fewer than 30 executive actions, totaling more than 150 pages, imposing scores upon scores of unprecedented, ever-changing, arbitrary, and highly detailed rules regulating nearly every aspect of daily life in the Commonwealth.
Along the way, the Governor's executive actions have unilaterally decreed that Virginians may not routinely travel or even leave home (EO 55), may not engage in commerce (EOs 53, 61, 63, 65, 67), may not run a business or otherwise pursue their livelihoods, may not seek medical care (Order of Public Health Emergency Two) &may not exercise their Article I, Section 12 rights of speech and assembly or engage in religious worship and practices (EOs 53, 55, 65), may not exercise their Article I, Section 13 right to train with arms (EO 53), may not attend school in person (EOs 53, 55, 61, 63, 65, 67), and may not congregate with others. Other orders have postponed elections (EO 56), prescribed a manner of dress for the entire population (EO 61), and required individuals and businesses to engage in compelled speech (EOs 61, 63, 65)...."
join the DYNAMIC DUO AT THE RALLY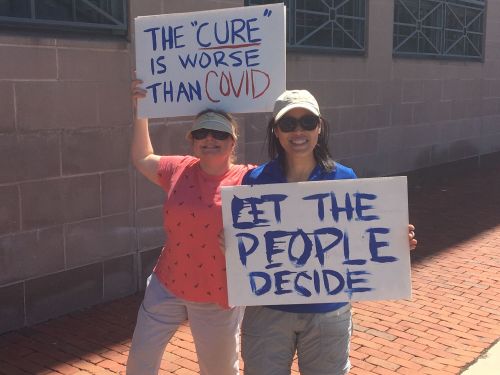 RALLY THIS FRIDAY -- WILL YOU BE THERE?
This Friday, July 17, will be the tenth week some of you drive to Leesburg to hear songs and short speeches from victims of Northam Communist Despotic Rule. Join us opposite the Loudoun County Government center 10 am to 12 noon. Address of the "liberal death star" where your friendly rebel alliance gathers to stand for freedom: 1 Harrison St SE, Leesburg, VA 20175
FUNDRAISER THIS SATURDAY -- WILL YOU BE THERE?
JOHN Tigges has organized 10 rallies including a rally this Friday, 10 am to 12 noon in front of the county government center in downtown Leesburg. You are invited.
I understand that most of you are busy Friday 10 am to 12 noon when the rallies are held. That is why conservative hero Jon Tigges is having a fundraiser Saturday Night July 18.

There will be media, no chanting, no horn beeping, just a quiet opportunity to drive out and give Jon some support behind the scenes for his $25,000 legal bill on your behalf and on behalf of all the victims of socialism here in Virginia.
Jon's Hamilton bed and breakfast caters to newlyweds and its a festive place since he and his family are gracious in every way. I guarantee you will have a wonderful experience
helping the bravest Christian businessman in Loudoun and Virginia.
John is asking for financial support this Saturday at his home SATURDAY, JULY 18, 7 PM AT 16660 Mandileight Ln, Hamilton, VA 20158-9478, United States
This is John Tigges Video inviting you. You can see it without joining facebook.


JOIN THE MASKED AVENGER AT THE RE-OPEN RALLY



JOB OPENING Public Advocate of the U.S. Looking for an Administrative Office Assistant
The Office Assistant reports to the President and Office Manager. Ideal candidate is a team player, detailed-oriented, excellent organizational and communication skills, a strong work ethic, a self-starter, and have a positive attitude. Some of the duties include: Social Media, Video Creation and Production, Database Maintenance, Marketing and Public Relations, Research and Writing. Part time, $16 per hour. Please contact Eugene Delgaudio if interested: Business #: (703) 845-1808 or E-Mail: publicadvocateusa.org@gmail.com
DELGAUDIO ENDORSES PATTI LYMAN FOR NAT. COMM.
DELGAUDIO ENDORSES PATTI LYMAN FOR NAT. COMM.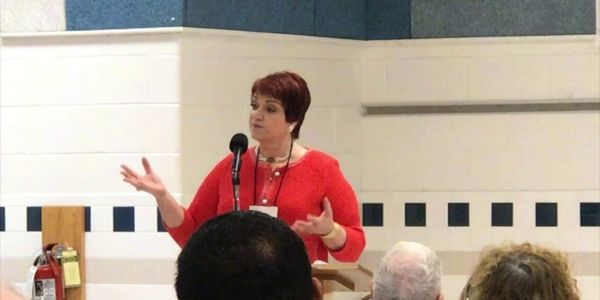 "Conservative leader Patti Lyman will make an outstanding RNC National Committeewoman representing Virginia. Based on my 50 years of active, winning conservative politics, Patti seems positively postured to provide a much needed political punch to the powerful Republican elites who are supposed to lead, but who instead strangle our Commonwealth and threaten our very nation with their pungent cowardice and refusal to act, even in the face of outright tyranny. Patti has the strength to speak truth to power, and she is beholden to no one but grassroots Republicans.

Moreover, as a seasoned religious liberty lawyer Patti has real fervor and spirit-filled talents guided by Godly values that she will use as Committeewoman. Both Virginia and America need that now more than ever." -Hon. Eugene Delgaudio
CLICK ON THE LINKS FOR TWO PATTI LYMAN VIDEOS:
Patti Lyman has videos on facebook from recent appearances in Fredericksburg for a quick talk here's link (you can see the video even if you are not a FB member)

Patti Lyman was in Portsmouth the other night and here's link to my great response in which she said "stop calling Virginia a blue state we are a red state" (you can see the video play even if you are not a facebook member)