Latest News
RALLIES 3 DAYS A WEEK IN RICHMOND AND LEESBURG NOW
May 16, 2020
DEAR CONSERVATIVE FRIEND
Thank you for receiving this email in your capacity as a friend, neighbor, supporter or REPUBLICAN DELEGATE to the tenth district convention.
CONVENTION DATE CHANGED

As you may know the convention date has been changed from May 30 to Saturday June 20. I hope you can make it June 20.
THANK YOU TO THOSE OF YOU WHO HAVE ENDORSED ME
Delegate David LaRock and former Delegate Tim Hugo have joined former PW chair Corey Stewart and the list of VIPS like many of you who have publicly or privately endorsed me. Thank you for this fantastic and humbling backing. I promise to work hard as your National Republican Delegate (you get three votes to select 3 Delegates on June 20).
RALLIES RALLIES RALLIES
I have led or sponsored contingents to the weekly Richmond car rallies for 3 weeks (Wednesdays, 11 am to 2 pm).
My favorite photo, among several,is of my volunteers going to Richmond is "Donald Trump" hanging out of the window a car with Recall Northam penants flying as broadcast on the nightly news nationally.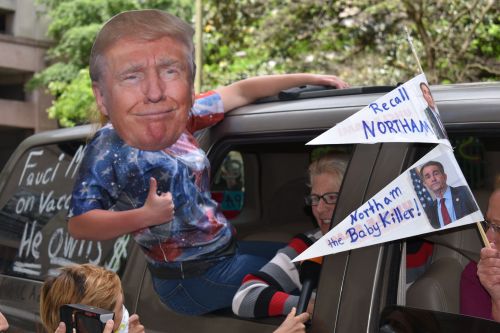 RALLIES IN LOUDOUN COUNTY
(Note: this is not a real portrait of the current chairman of the board of supervisors)
In Loudoun: there are two rallies planned each week in Loudoun County AT THE GOVERNMENT CENTER IN LEESBURG.

Tuesdays 12 noon (announced by Madaline SKINNER and on Loudoun County Republican facebook page)
https://www.facebook.com/events/240796456984008/?event_time_id=240796473650673
FRIDAYS, 9 am to 12 noon BY JOHN TIGGES which has been advanced and staged with heavy attendance, media reporting and elected officials and others in attendance.
I joined Delegate David LaRock, world famous Jon Erickson, and 100 others.
https://www.facebook.com/events/265419951267051/
ALSO VISIT AND SIGN UP WITH DELEGATE LAROCK
See Delegate LaRock's website for his Re-open Virginia petition and for more information, including the letter from some of our Supervisors encouraging Loudoun to re-open (thank you!):
https://www.votelarock.us/issues/re-open-virginia
Other Rallies Please let me know. It is okay to have more than one event protesting Loudoun shutdown.
TONIGHT TONIGHT TONIGHT 7 PM
TENTH DISTRICT DEBATE FORUM SPONSORED BY FAIRFAX GOP

You do not have to be registered to facebook. just go this website 7 pm tonight for debate.
https://www.facebook.com/FairfaxGOP/