Latest News
COREY STEWART JOINS THOUSANDS IN LEESBURG HALLOWEEN PARADE WEDNESDAY
October 28, 2018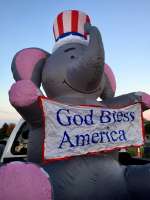 Dear Conservative Friend,
Thank you for the 200 RSVPs and fantastic turnout for Corey Stewart at Joe's Pizza for the Meatball Rebellion last month.
GIANT PIZZA RALLY FOR COREY
This Tuesday Corey Stewart has another giant pizza party and rally in Annandale, Virginia. Here are the details.
#JobsNotMobs Rally - Fairfax
Magills' Pizza
7201 Little River Tpke
Annandale, VA 22003
Tuesday, October 30, 7:00 PM
rsvp here
https://www.coreystewart.com/jobsnotmobsfairfax?utm_campaign=jobsnotmobstourprosp&utm_medium=email&utm_source=coreystewartusa
GIANT ELEPHANT ON GIANT TRUCK

This Wednesday, Republican Senator candidate Corey Stewart will march in the Leesburg Parade and meet at 5:15 pm in Ida Lee Park with the Republican contingent which includes giant signs for Corey Stewart, a large inflated elephant and a large contingent of Republicans.
The 62nd Annual Halloween Parade will be held Wednesday, October 31. The parade will begin at Ida Lee Park at 6:00 p.m., and travel down King Street to Fairfax Street.
PUT IN YOUR MAP APP: IDA LEE DRIVE LEESBURG VA. 20176
There is parking on the Ida Lee Park grounds for marchers and walking with candidate Corey Stewart will be fun. Join Corey and march with me and others. Thank you.
OTHER EVENTS FOR COREY STEWART NEARBY:
GIANT PILLOW FOR COREY STEWART

Mike Lindell, My Pillow CEO, Fundraiser for Stewart
Monday, October 29th, at 7 PM
Winery in Northern VA
Address provided upon RSVP
RSVP here
https://www.eventbrite.com/e/mike-lindell-my-pillow-ceo-fundraiser-for-corey-stewart-tickets-51634279520

TIM KAINE IS A ZERO
COREY STEWART IS 100 PER CENT PRO-FAMILY
Thank you to all who have helped me reach five million Virginia Voters with
an online campaign to promote the Public Advocate pro-family candidate survey.
Senator Tim Kaine is in deep with the Homosexual Lobby.
He has supported their attack on Real Marriage.
He tried to derail both of President Trump's Supreme Court picks -- purely because these two men represented pro-Family views.
Sen. Kaine earned a 0% Pro-Family rating and I am making sure five million Virginians know about it.
http://traditionalvalues.us/VA_election_2018.html