Latest News
Santa's RSVP? to Loudoun Money Bomb Fundraiser for Shak Hill
December 7, 2017
Dear Traditional Conservative:
Santa is real to some of us. And true believers are celebrating. Liberals and anti-God grinches are mad and angry and maybe we can get through to them if you put up an extra red or green light. I hope so.
Placing an actual lit Santa Claus with a bright white light bulb is a particular style of the late
John Geddie Sr. who always wrote lovingly in his "Loudoun Easterner" paper about Santa.

Homes in Sterling are placing lights for their respective observances of this holiday and Christmas season. As many of you know, I conduct an annual census of the homes in the Sterling area (that's each year for those of you in Hillsboro). Last year 2769 houses had lights, a new record.
On Tuesday, Dec. 12, Santa can not come to visit Shak Hill.
For those who were hoping to catch an early glimpse of the great Santa,
please try to catch Santa where you can.
On Tuesday December 12 conservatives who pin their hopes on the new hero
who is running for Congress in our tenth congressional district will donate
money in the most generous fashion in the spirit of the Christmas Season
to this candidate.
Santa Claus has been invited and but has to send his regrets due to Santa's Good and
Naughty list being so long this year. With all the liberal Senators, Congressmen
and Hollywood types abusing, attacking, grabbing young girls, boys and women
that naughty list is hard to keep up with.
And the poorly misguided low life types who spread lies about President Donald Trump and Roy Moore just keep on digging their hole deeper and deeper on Santa's naughty list.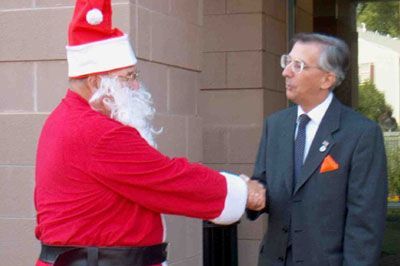 Please join Shak to hear his plans to be your next Congressman.

Date/time: Tuesday, December 12, from 7-9pm

Location:
The home of Famous Celebrity Republicans Deb and Ken Arthur
River Lee Farm
23450 Chase Hollow Lane Middleburg*, VA 20117

Donation Levels available:
Platinum $1000.00
Gold $500.00
Silver $250.00
Individual ticket $100.00

To RSVP:
Please contact Steve Thomas at (703) 819-0127
or steve@shakhill.com, no later than December 11.
Please mail checks made payable to Shak Hill for Congress,
P.O. Box 486, Centreville, VA 20122, with "Dec 12 event" in the memo
Paid for by Shak Hill for Congress, Inc.
*directions to Middleburg: go west until horses are pulling wagons or cowboys are throwing lassos around cows or steers (cattle).