Latest News
Happy Independence Day. And Crime Alert: "Suspicious" Death And Child Stalkers
July 4, 2016
Happy Independence Day. And Crime Alert.
I will be at the July 4th Conservative Soiree hosted by Morton Blackwell and the Leadership Institute Monday, July 4 from 11:00 am to 3:00 pm at Bull Run Regional Park
Centreville, VA 20121.
GRASSROOTS RESPONSE TO US SUPREME COURT EXONERATION
Billboard signs promoting Bob McDonnell for Governor were posted in Sterling, Va. in apparent reaction to the unanimous U.S. Supreme Court exoneration of Bob McDonnell.
More photos here or click on photo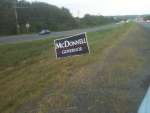 Sterling West Target Has Child Stalker With Camera This past Tuesday? (confirmed)
It has been confirmed: Target is hiding a report of a child stalker with a camera at its "Sterling West" store?
An official crime report describes a man with a camera photographing children but does not mention "Target" when the only store at this address or "block" is Target.
In light of the dozens of reports weekly, including a local Fairfax Target just last week, this is an ommission that is a disservice to the public.
This is clearly (Target) chain store policy to invite the abuse of women and children in their stores. Hiding the results is a travesty. And 3 liberal Democratic Party Supervisors on the current board of supervisors are partly to blame as well.
Crime Report and comments are posted here.
Update 2: More Bad news.
There are too many child molesters and drunk drivers around. It seems there
is an epidemic of child molesters I keep getting reports on and we need
to protect our children.
Update 3 Liberal Supervisors Push Lib Agenda
Liberals on the board of supervisors are attempting to destroy what moral
values we have by endorsing the homosexual lifestyle. Instead of seeking
the end of this current rash of rampant child molesting the liberals
are seeking to promote a bizarre political agenda.
The board voted six yes, 3 no, to table an anti-Gun resolution 3 weeks ago.
At the previous meeting, 2 weeks ago, the Republican board majority would not allow the placement of a pro-gay rights policy on the board agenda. Under the rules the 3 new Democratic Party liberal members of the Board of Supervisors will support a pro gay rights resolution placed on the July 5th agenda
TUESDAY JULY 5TH AGENDA!
Now, please tell the board of supervisors to vote to table yet another
resolution supporting the gay agenda. 3 liberal Democratic Party Supervisors have proposed
this for the Tuesday July 5 meeting at the personal request of Hillary Clinton who
is in constant contact with liberal members of the Loudoun Board of Supervisors.
Hillary has ordered it and as everyone knows does not believe in upholding the law, or reversing wrongful policies that result in the current immoral and violent attacks on all of US in Stelring and the rest of the USA.
Details on the pro-gay rights resolution follow the reports below on the increase in MS 13 violence and the Epidemic of Child Molesters and Assaults on Women in Sterling and Loudoun.
These board members happily and gleefully embrace anti-family policies at the expense of other priorities and urgent community topics like crime, unsolved assaults on women and children:
Supervisor Koran Saines, Chairman Phyllis J. Randall, Supervisor Kristen C. Umstattd.
Tell the board (email to bos@loudoun.gov goes to all 9 ) something short like

"Dear Members of the Loudoun County Board of Supervisors:
You should be spending time reducing taxes or addressing the epidemic of
attacks on women and children in recent weeks instead of trying to push
another bizarre political agenda to help Hillary Clinton. Some of you are
clearly derelict in the attending to your proper duties and are disgraceful."
Note: more details below on action to take. Any citizen can appear at the board and sign up for public comment to begin "as early as 6:30 p.m." (in lay terms, the board meets in executive session and while you have to sign up in advance, the board may be in "executive session" past 6:30 p.m.)
Plague of child molesters and assaults on women (Partial listing)
CHILD ENDANGERMENT, ABDUCTION
In Sterling June 21
45000 Block
Catalina Ct.Sterling
Deborah R. Gass, 51, of Sterling. (Assisted by Loudoun deputies)
Gass was arrested by Fairfax County Police on an outstanding warrant
and charged with Child Endangerment. She was
charged in Loudoun County with Abduction, Felony
Eluding, and Driving on Revoked License.
INVASION OF PRIVACY OF WOMEN
In Sterling June 18 22000 Block Enterprise St.Sterling
Suspicious Person: A witness observed a male
unlawfully filming a female in a fitting room of a
store.
More details here
http://joineugene.com/news/article.php?article=10668
ASSAULT ON YOUNG GIRL
In Ashburn June 16
Claiborne Pkwy/
Stone Hollow Dr.
Ashburn
Assault: The complainant stated that their juvenile
daughter was approached by two Middle Eastern
adult males and one male lifted her sweatshirt up.
The one suspect was described as wearing a
brown long sleeve shirt with baggy blue pants and
he had white hair that was bald on the top.
ATTEMPT ON ABDUCTION OF 8 YEAR OLD
CREEP AT LARGE
photo here: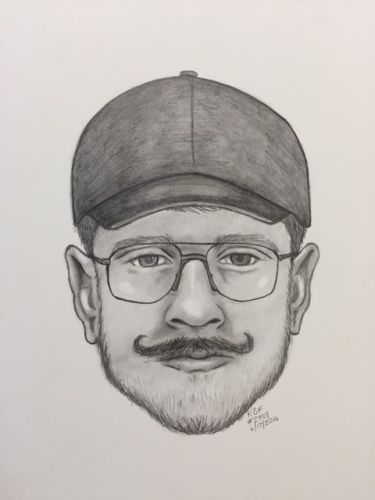 Attached is a Composite Sketch of the Subject
Loudoun County, VA- The Loudoun County Sheriff's Office is asking for the public's assistance to help identify a subject who approached a young girl on June 9 in the Lowes Island area of Sterling, Va.
GO to this link for the details
http://joineugene.com/news/article.php?article=10668
Former volunteer paramedic sentenced for sex offenses against minors
JUDGE IMPOSES THREE YEAR SENTENCE
Photo here

FULL REPORT on the Loudoun County website:
https://www.loudoun.gov/CivicAlerts.aspx?AID=3359
TARGET CREEPER PHOTO = OUR NEIGHBORS
ARREST CHILD ABUSER
(update there are reports that this "man" has been arrested)
PHOTO HERE

In a press release, Fairfax officials said an 11-year-old girl reported that a man touched her bottom as she was shopping with her father on June 18 around 5 p.m.
Officials say that surveillance video proves the girl's claims.
Police released a description; the molester was wearing a gray shirt and dark shorts. He may have left the store in a burgundy Ford Mustang.
link here to report, more details
http://joineugene.com/news/article.php?article=10668
DETAILS ON BIZARRE POLITICAL RESOLUTION
TO PROMOTE GAY RIGHTS PROPOSED BY LIBERALS
ON LOUDOUN BOARD OF SUPERVISORS
It has come to my attention that Leesburg Supervisor Kristen Umstattd
plans to call for a formal vote on the official board of supervisors agenda Tuesday July 5, the day after our national Independence Day celebrations.
Umstadd had previously failed in her attempt to introduce this at the Thursday, June 23 Board of Supervisors (BOS) meeting: a Proclamation recognizing June as LGBT Month.
Instead of focusing on the real concerns of ALL Loudoun residents,
like out of control assaults on women and children, rising taxes, traffic congestion, education, and how Loudoun County will respond to Metro's financial mess, leftists like Kristen
Umstattd focus on divisive social issues.
Please contact the BOS TODAY at bos@loudoun.gov (this email address goes to all Supervisors)!
Loudoun County Board of Supervisors
1 Harrison Street, S.E., Fifth Floor
P.O. Box 7000
Leesburg, VA 20177-7000
Phone: 703-777-0204
Comment Line: 703-777-0115
email the Board of Supervisors' Office: bos@loudoun.gov
Below is the proposed text
Proclamation Recognizing June 2016 as LGBT Pride Month
WHEREAS, Loudoun parents with LGBT children and Loudoun's LGBT
residents have requested that the Loudoun Board of Supervisors
acknowledge their struggle for equal rights; and
WHEREAS, June is celebrated as LGBT Pride Month nationwide; and
WHEREAS, Loudoun County has a diverse LGBT community that includes
people of all ethnicities, religions and professions; and
WHEREAS, everyone should be able to live without fear of prejudice,
discrimination, violence or hatred based on gender identity or sexual
orientation; and
THEREFORE BE IT RESOLVED, that the Loudoun County Board of

Supervisors, on behalf of all residents of Loudoun County, does hereby
proclaim June 2016 as Lesbian, Gay, Bisexual and Transgender Pride
Month in Loudoun County and urges all residents to respect and honor
our diverse community and celebrate and build a culture of
inclusiveness and acceptance.

Sheriff Investigating Suspicious Death of Sterling Woman
COMMENT: "The board of supervisors should have a special briefing at their Tuesday meeting rather than spending one minute on pushing anti-gun rights and pro-gay rights policies", says
Eugene Delgaudio, alternate National Delegate to the Republican Convention.
(Official Statement)The Loudoun County Sheriff's Office is investigating the July 1 death of an adult female at a Sterling, Va. home.
Loudoun County Sheriff's Deputies were called to the 300 block of Cardinal Glen Circle shortly after 11:45 a.m. where a family member discovered the female deceased inside her renovated apartment, inside the garage of the home.
Detectives are working with the Office of the Medical Examiner to determine the cause and manner of death.
More details will be released as they become available.
(LIBERAL POLICY FAIL)
FBI: Obama's "unaccompanied minors" shipped to Northern Virginia are now part of a horrific crime wave according to FBI
FAIRFAX COUNTY, Va. (ABC7)
Comment from Delgaudio: "This is clearly another concrete example of a liberal policy fail on the part of the 3 new liberal members of the board of supervisors of Loudoun County who want to ignore the results of their pro-illegal alien polcies resulting in more illegal alien criminals performing crimes in Sterling and Loudoun, " said Eugene Delgaudio, as alternate National Delegate to the Republican Convention..........................
The mass migration of unaccompanied minors from Central America into the States in 2014 created a whole new crop of recruits.
And these young men, some of them just 14 or 15 years old, are committing horrific crimes, such as decapitation and stoning.