Latest News
Sterling and Loudoun Salutes Helen Casey, Savior of the Goose Creek
January 30, 2016
Dear Sterling,
Along with many of you, I recieved this statement concerning the passing of Helen Casey who raised a wonderful family and provided volunteer assistance and civic leadership to Sterling and Loudoun for many years since the beginning of Sterling,Virginia as a community.
The Board of Supervisors honored her for her service to the Goose Creek Advisory Board and other leadership accomplishments and her passing is a loss to me and all of us.
Eugene Delgaudio
Supervisor,2000-2016
STATEMENT FROM THE FAMILY OF HELEN CASEY
"It is with great sadness that we share with you the news that our mother, Helen Casey, passed away peacefully on Saturday, January 23, as a result of cancer-related complications. She was 83.
Helen's life was well spent -- a loving mother to us; a devoted wife to our Dad (Bill) and full-time caregiver when he developed Alzheimer's; a doting grandmother so very proud of her six grandchildren; a caring sister, daughter, aunt, great aunt and cousin to our extended family; a good and faithful friend to many; and an activist who made a real difference in her community.
Mom was happiest when she was able to help someone else. Through uncounted acts of kindness she touched many lives. We already miss her tremendously.
TODAY SATURDAY JAN. 30
(Family and friends said their goodbyes today.) A celebration of Mom's life (took) place at 10:30 am on Saturday, January 30, 2016 in the chapel of Adams Green Funeral Home, Herndon, VA 20170
In lieu of flowers, donations may be made to the Alzheimers Association or to the Sterling Foundation."
End of statement from the family.
The family has indicated there will more information on the life of Helen Casey and the opportunity to post comments at the website at Adams Green Funeral Home later.
First Resolution Honoring Helen Casey and her works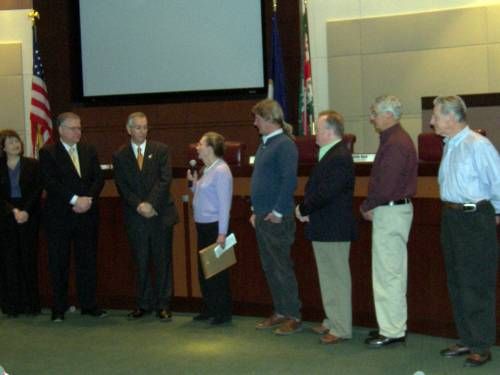 Passed at the Jan. 3, 2008 Board of Supervisors meeting and presented
to Helen Casey at the January 15 Board meeting per her request.
OFFICIAL RESOLUTION
LOUDOUN COUNTY BOARD OF SUPERVISORS

Whereas the Goose Creek Association has worked for over thirty years to
preserve the scenic river corridor of Goose Creek; and

Whereas Helen Casey has been a member of the Goose Creek Scenic River
Advisory Board since 1995; and
Whereas with Mrs. Casey's support the Goose Creek Scenic River Advisory
Board partnered with other members of the conservation community to
pursue Scenic River status for the Fauquier portion of the Goose Creek
and;
Whereas on July 1, 2007, after two years of focused effort, Goose Creek
was given full Scenic River Status by the Virginia General Assembly;
and
Whereas Helen Casey and the Goose Creek Scenic River Advisory Board's
efforts to achieve Scenic River status provides an extra measure of
protection for the headwaters in the foothills of the Blue Ridge
Mountains in Fauquier County to its confluence with the Potomac River 45
miles downstream--a 365 square mile watershed; and
Whereas in October of 2007, Helen Casey and her husband received on
behalf of the Goose Creek Scenic River Advisory Committee an award for
viewshed preservation from the Virginia Outdoors Foundation;
NOW THERFORE BE IT RESOLVED that the Loudoun County Board of
Supervisors does hereby congratulate and recognize the exemplary work of
Mrs. Helen Casey and the Goose Creek Scenic River Advisory Board in
achieving Scenic River status for Goose Creek.
BE IT FURTHER RESOLVED, that on today's date of January 3, 2008 a
copy of this resolution will be permanently included in the official
records of Loudoun County.
2nd Resolution Honoring Helen Casey and her works
October 6, 2009
Chairman York moved that the Board of Supervisors approve a Resolution of Appreciation to Helen Casey. (Attached at the conclusion of these Minutes.) Seconded by Supervisor Delgaudio. The motion passed 8-0-1, Supervisor Burk absent for the vote. Supervisor Delgaudio presented the Resolution of Appreciation to Helen Casey. Helen Casey thanked the Board for allowing her to serve on the Goose Creek Scenic Rivers Advisory Committee. (Supervisor Burk joined the meeting.)
A full written transcript of Chairman York's comments are here along with a copy of the Resolution of Appreciation.