Latest News
DELGAUDIO THANK YOU TOUR ON SCHEDULE
November 5, 2015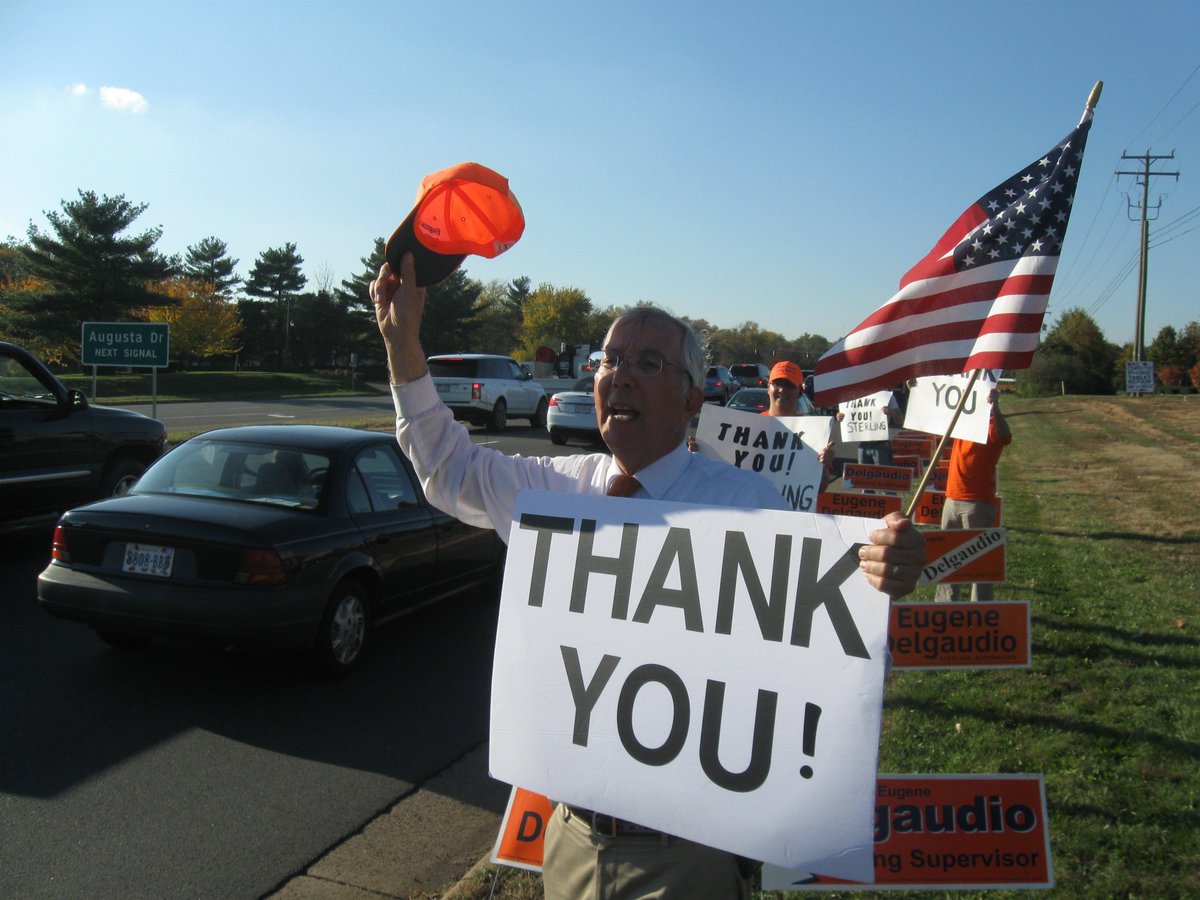 21 Photos posted here at this link online
Thank you for your vote. As I wrote you earlier it was not enough.
Just a few votes short. It is that way in Loudoun, so why would Sterling
be different. 200 vote margins for winners seem to be frequent.
Sterling is the most exciting place in Virginia and the world and it
remains so.
I will be thanking voters in my usual manner today and in the coming days:
personally, on the street, in the mail, with sign waves and by phone.
Voters turned out and elected a liberal Supervisor for now. Congratulations
to Koran Saines.
VOTE FOR SUPERVISOR
The vote for supervisor was a 191 vote margin for the winner:
Koran Saines, 3042 Eugene Delgaudio, 2851
Liberal Phyllis Randall was elected Chairman.
Scott York lost the chairmanship to Randall. York sometimes supported me and
yet returned to opposing me for political or other reasons.
VOTE FOR CHAIRMAN
The vote, in Sterling, for Chairman was:

Phyllis Randall, 2287 Scott York, 1691 Charlie King, 1494 Tom Bellanca, 219
Randall received 24,613 countywide out of 70,858, or 35 per cent.
There are two sure votes for density packing Sterling, for increased spending,
for new policies that will add millions to the budget.
In my experience on two Democrat dominated boards, liberals sometimes cut
the budget and hold the line. More often they simply add on to the
budget.
Congratulations to Dick Black being re-elected to the State Senate. Stephen Hollingshead did not win in his bid for the State Senate. Democrat liberals Kathleen Murphy, Jennefer Boysko, John Bell, took all 3 of Sterling's House of Delegate seats
Republicans Randy Minchew, David LaRock, Tag Greason, Jim LeMunyon were re-elected.
DEBT FROM CAMPAIGN?
Please consider an immediate donation. The campaign is over. I have collected all the signs and the hoopla is over. But I have $13,372.00 in campaign debts and if you can please donate so that I can move on with a clean slate. Thank you for your help in the past, please consider helping again.
Click on this link to donate online $100, $75, $50 or $25. Or donate whatever you can, $20, $15 or $5 will help very much. Thank you.
You can mail a check to "Friends of Delgaudio" c/o P.O. Box 1222 Sterling, Virginia 20164